Environment
Butting heads over rhino horns
Conservationists are furious as South Africa moves to reinstitute domestic horn trade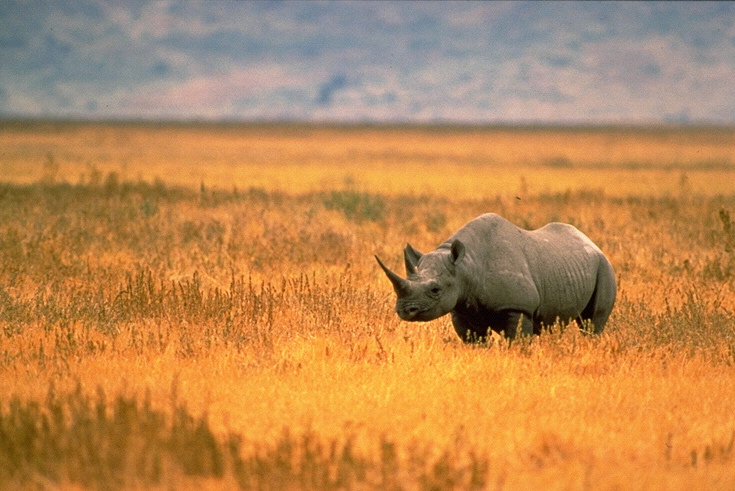 The rhino remains in peril as South Africans fiercely debate the best way to save the beloved animal. [Image credit: Wikimedia Commons, Public Domain]
The farm sweeps beyond the horizon, a patchwork of rich red earth, crisp grasses and the occasional green-yellow burst of savannah trees. In Klerksdorp, South Africa, a herd of more than 1,000 rhinos graze. Their famous horns are missing, blunted to mere nubs — a conspicuous sign of a ferocious battle gripping South Africa. Private rhino ranches like the one depicted in a recent National Geographic slideshow, serve as the backdrop for a raging conflict over the endangered animal's prized horn.
In a decision that outraged conservationists, the nation's highest court recently sided with private rhino ranchers and overturned a ban on the domestic sale of the iconic horns, which are the focus of a booming global black market that has decimated rhino populations. The ranchers argue they need the sales from the horn for their expensive breeding operations — which they assert are critical to saving the species — to remain economically feasible.
After the ruling, the South African government's Department of Environmental Affairs immediately asked the Supreme Court of Appeal to reconsider. If the decision stands, in-country sales of rhino horn will be allowed for the first time since 2009 in South Africa, home to more black rhinos than any other nation. Poaching is thriving thanks to insatiable demand from Vietnam and other Asian countries, where rhino horns are prized as status symbols and ground into powder for folk medicines. Currently, rhino horn costs $60,000 per kilogram on the black market, making it more valuable than gold, cocaine and diamonds.
Tensions are high as South Africa awaits the court's final decision: The loss of the fourth remaining northern white rhino from an infection in November attracted worldwide attention. And this coming September, the world's most important international anti-poaching effort — the Convention on International Trade in Endangered Species of Wild Fauna and Flora, or CITES — will meet in South Africa and address the fate of the rhino.
"The [South African] government is at loggerheads with private rhino owners," says zoologist, lawyer and wildlife conservationist Ronald Orenstein. "The ranchers have a big stake in this, and they think they know what's best for the rhino."
The dispute over the horn is part of a larger debate: Are private reserves — some of which allow high-priced hunting — a viable option for conserving big-game species? Private rhino ranchers, who own roughly a quarter of the approximately 20,000 white and 2,000 black rhino in South Africa, contend that their captive breeding programs deserve most of the credit for helping to increase the black rhino population by seven percent since 1988. "I think private owners can probably protect the rhino better than the public sector," says John Hume, owner of the largest rhino farm in South Africa in a 2013 TEDx Johannesburg Talk.
In the TED Talk, Hume cites successful breeding programs for other animals. The South American vicuña, a relative of the llama, was nearly hunted to extinction until CITES and the Peruvian government stepped in. Local communities started farming the species for its valuable wool, and the vicuña, although still threatened by poachers, has recovered. But the cost of maintaining private rhino ranches can become exorbitant. In a recent radio interview with the BBC, Hume estimates that his farm costs $760,000 a month to run, 60 percent of that just for security. To offset the enormous costs of maintaining these farms, some ranchers permit hunting, according to Pelham Jones, head of the Private Rhino Owners Association, in a video. But as indicated by widespread outrage over the death of Cecil the Lion, shot by a recreational big-game hunter in Hwange National Park, Zimbabwe, the world may be in an anti-hunting mood.
The issue is especially critical for rhinos, the most at-risk of the fabled "Big Five" safari animals of Africa (the others are the lion, leopard, elephant and Cape buffalo). Both species of African rhino are seriously threatened by poachers, with the black rhino still critically endangered despite conservation efforts. In 2011 alone, poachers killed nearly 500 South African rhinos, according to a South African Department of Environmental Affairs report.
Privately owned rhinos accounted for nearly 30 percent of all poaching in 2011. Many rhino ranchers, struggling to afford heightened security, have been forced to sell their farms. So, led by Hume, the ranchers have gone to court to reopen the domestic horn trade as a way to raise more revenue. Many ranchers cut off and store their rhinos' horns (they grow back like fingernails) because, they argue, poachers aren't interested in hornless rhinos.
Opponents say dehorning is more dangerous than the ranchers claim. The "horn usually grows back at about three to four inches every year, so you have to dehorn them again and again," says wildlife veterinarian Joseph Okori in a World Wildlife Fund interview. "It becomes expensive and increases the risk of death from frequent exposure to sedation."
Worse, many South Africans, including members of the government's Department of Environmental Affairs, suspect some ranchers of sneaking their horn stocks out of the country, contributing to black market sales. Vietnam imports more horn than any other country, which locals prize as a status symbol and a source of medicines they claim — without evidence — treat various life-threatening illnesses.
Critics of the court decision aren't just worried about rhinos. "This is not an animal issue alone, it's an issue of organized crime, corruption, and destabilization of government," Orenstein notes. "Poachers and rangers get into shooting battles, so many people are getting killed." Poachers killed more than 20 park rangers in Africa in 2014 alone, according to a report by the Rangers Association of Africa.
Because of these risks to both rhinos and humans alike, some South Africans argue that the horn trade should be banned worldwide. The upcoming CITES meeting provides the perfect opportunity to do so, contends Alexia Abnet, the founder of Southern Africa Fight for Rhino. "This is our fight," she says. "These are animals we've grown up with, they've been on this continent for thousands of years, and we don't want to have to visit a reserve halfway around the world to see them."
About the Author
Discussion