Tech
Hot roofs and high voltage: The case of the burning solar panels
Recent electrical fires at Walmart raise the question, is rooftop solar power safe?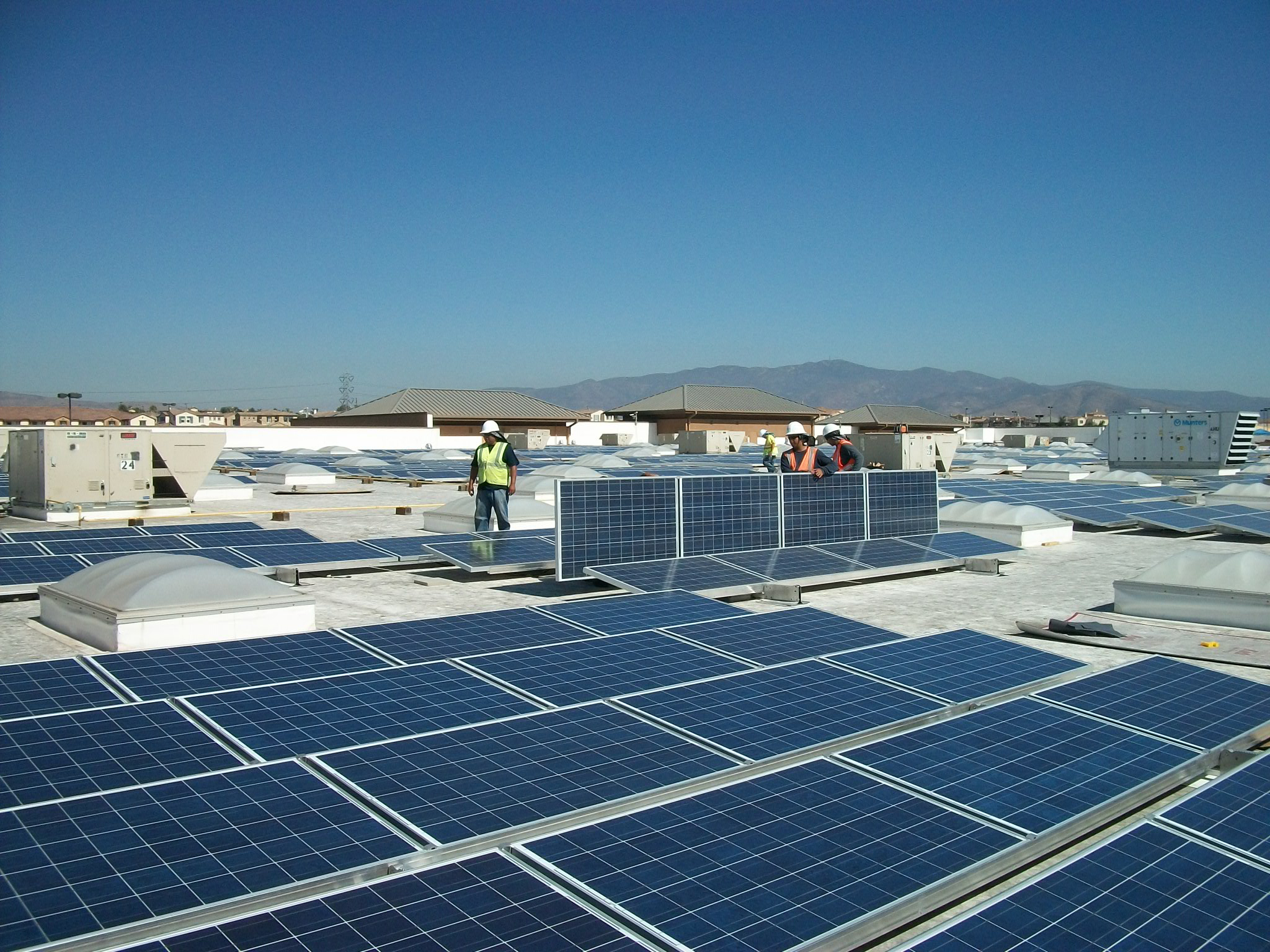 Solar panels at Walmart in Chula Vista, Calif. Walmart's lawsuit against Tesla for faulty solar panel installations is settled, but it's still unknown if Tesla's solar products are safe. [Walmart/Flickr | CC BY 2.0]
Roofs outfitted with solar panels are catching fire with alarming frequency lately. Two of America's highest-profile companies, Walmart and Tesla, recently settled a case in court regarding rooftop solar installations burning, according to news reports in November. 
Walmart sued Tesla in August, alleging that faulty installation had caused fires at seven of Walmart's stores between 2012 and 2018, causing millions of dollars in damage. Walmart's lawsuit asserted that Tesla had "no intention of correcting its past mistakes or doing what is needed to ensure safe conditions for Walmart shoppers and employees."
In May, 2018 alone, there were solar-rooftop electrical fires at Walmart stores in Denton, Md., and Indio, Calif. In the latter blaze, a firefighter was treated for smoke inhalation. These fires prompted Walmart to demand that Tesla unplug all their installed solar panels at Walmart's 244 sites that have them installed. But that didn't stop a seventh Walmart rooftop fire from breaking out in Yuba City, California in Nov. 2018.
Walmart does not know what caused this fire, but claims it was due to Tesla technicians not responding to a ground fault alert in the summer of 2018, according to the lawsuit. A ground fault alert occurs when "an energized wire comes in contact with a grounded piece of metal," such as the framing of the solar panel, Matthew Paiss, a former fire captain and now an electrical safety specialist at Pacific Northwest National Laboratory in Richland, Washington, said in an email. The shock hazard can result in a fire, he added. 
Terms of Walmart's and Tesla's settlement were not disclosed, according to AP News, but both companies are putting safety as a top priority and will reactivate the solar energy systems.  
Meanwhile, solar power engineers and fire-safety experts are scratching their heads over the recent spate of rooftop panel fires and considering potential causes that range from sloppy installation to poor design. They're also worried about risks to firefighters, including electric shock and potentially explosive batteries. 
"Solar panels are not intrinsically very likely to catch fire," says Joel Jean, chief executive and co-founder of Swift Solar, a startup working on next-generation solar panels. "What you've seen in these recent fires is probably a combination of incompatible parts and maybe a bit of negligence on the part of the installers." 
A third high-profile company, Amazon, also experienced a Tesla solar panel fire in 2018 at one of its warehouses, in Redlands, California and does not plan to install any more Tesla solar systems. Tesla has called that fire an "isolated event" and says it's inspecting and monitoring all of its Amazon installations.
But Tesla's problems aren't only at commercial installations, because even the insurers of residential homeowners are joining the parade of lawsuits. These lawsuits are still pending.
Choosing wires and connectors that are too small or otherwise inappropriate in solar panels will cause a heat buildup that may ultimately start a fire, according to Swift Solar's Jean. Connectors are the weakest link in solar panel systems, according to Paiss.
Most of the solar panel fires Paiss has seen reported have been related to electrical connectors. These kinds of installation errors are a special challenge for firms that are just gaining competency in solar technology, says Daniel M. Kammen, an energy policy specialist at the University of California, Berkeley.
Once a fire starts, firefighters must control it in the safest way possible. "I think the concerns about fire are not necessarily about PV panels themselves creating the fire," says Göksin Kavlak, an energy technology scientist at MIT. "It's more about if there's a fire in a building where there are solar panels, how do the fire departments respond to that? How do they respond without hurting themselves?"
If a building with PV solar panels has a fire, due to the panels or another reason, Kavlak says firefighters may need to be trained differently from their normal practices to respond safely to the fire. 
The lithium-ion batteries that store solar power are a special concern of first responders because they can explode if ignited, says Paiss.
In 2017, the National Electric Code added safety guidelines for solar panels including rapid shutdown, both to de-energize them and protect firefighters from electric shock, according to Paiss. 
But there is still a big gap to fill: there is no centralized record of solar panel fires, so no one knows whether the risk is increasing or decreasing, and whether certain designs and installation practices are riskier than others. "If you can't track what's burning or what's not burning, how can you determine whether the codes or the laws are working?" asks Robert Duval, a fire investigator at the National Fire Protection Association.
As solar companies mature, the hope is that higher standards, better technology and records, and the desire to avoid lawsuits will all lead to safer products that manufacturers and installers will stand behind, says Garth Heutel, an energy economist at Georgia State University. 
"Of course we don't want [solar panels] catching on fire, so if there's some engineering error that's causing these things or if it's an installation issue, I think it's definitely something that we want to know so that we can fix the problem and continue this transition to solar," says Heutel. 
About the Author
Discussion