Blogs
Nobel Peace Prize awarded to journalists Maria Ressa and Dmitry Muratov
Ressa and Muratov recognized for their efforts to safeguard freedom of expression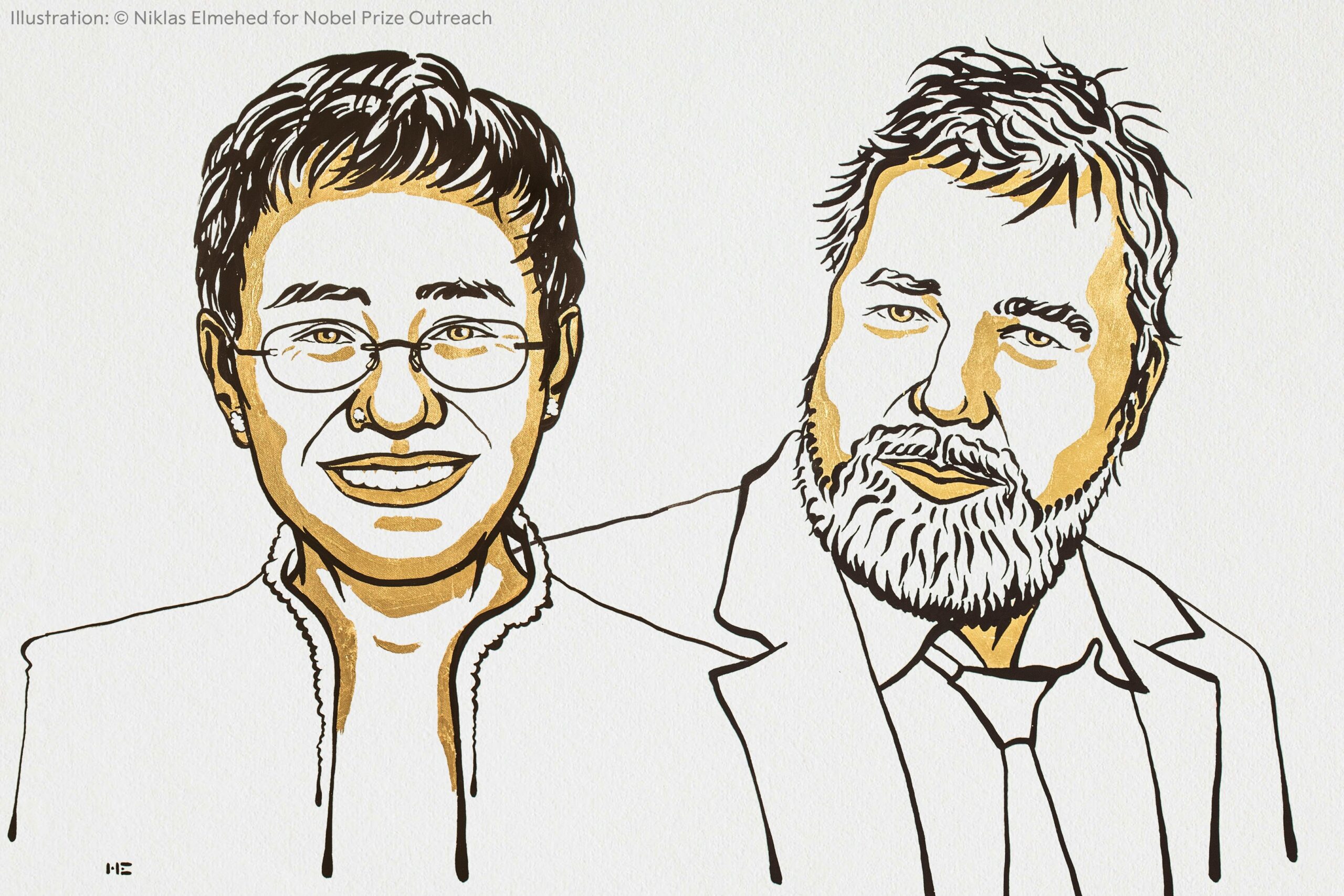 Maria Ressa and Dmitry Andreyevich Muratov, winners of The Nobel Peace Prize 2021. Niklas Elmehed © Nobel Prize Outreach
Journalists Maria Ressa and Dmitry Andreyevich Muratov were awarded the Nobel Peace Prize this morning for their efforts to safeguard freedom of expression. 
Ressa, from the Philippines, and Muratov, from Russia, have both been champions of free speech and expression in their respective countries, according to the Nobel Committee. In making their decision, the committee noted that "increasingly adverse conditions" are confronting many journalists around the world.
In 2012, Ressa co-founded the digital investigative journalism outlet Rappler, and remains its CEO. Since then, Ressa has covered Filipino President Rodrigo Duterte's violent anti-drug campaign, which the Nobel Committee described during the award announcement as reminiscent of "a war waged against the country's own population." She and other Rappler staff have faced many arrests and active court cases following critical coverage of Duterte's administration. Ressa is the first Nobel laureate of Filipino origin.
Muratov founded the independent newspaper Novaja Gazeta in 1993 and has served as its editor-in-chief since 1995. "Novaja Gazeta is the most independent newspaper in Russia today, with a fundamentally critical attitude towards power," the committee said in the press release. The newspaper's journalism provides the country with important information unavailable elsewhere in Russian media, the committee added.
In addition, the Nobel Committee pointed out that six Novaja Gazeta journalists have been killed since the paper's inception, including Anna Politkovskaya, a journalist covering violence in Chechnya killed 15 years ago yesterday. The Nobel Committee applauded Muratov's refusal to back down from the paper's journalistic standards against the backdrop of these kinds of threats.
During a press conference, Muratov said that the award represents posthumous recognition of his six killed colleagues, reports The New York Times. Muratov is the first Russian Nobel Peace Prize laureate since former Soviet leader Mikhail Gorbachev. Gorbachev donated Novaja Gazeta's first computers with his winnings from the 1990 prize, according to Novaja Gazeta.
The Nobel Committee underscored the importance of journalistic freedom as a counterforce to violence and a safeguard of democracy. "Without freedom of expression and freedom of the press, it will be difficult to successfully promote fraternity between nations, disarmament and a better world order to succeed in our time," the Nobel Committee said.
"It's a shock," said Ressa in a conversation with Rappler following the announcement. "But the fact that a journalist from the Philippines and a journalist from Russia won the Nobel Peace Prize tells you about the state of the world today and the state of the Philippines."
​​"There is no better time to be a journalist," said Ressa. "The times when it's the most dangerous is the times when it's most important."
About the Author
Discussion