Blogs
French writer Annie Ernaux wins Nobel Prize in Literature for her universal self-portraits
Ernaux was lauded for her "uncompromising" search for self within society's constraints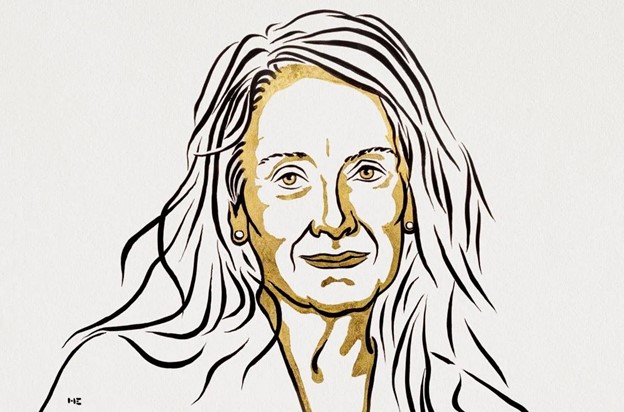 An illustration of Annie Ernaux, the winner of the 2022 Nobel Prize in Literature. [Credit: Niklas Elmehed © Nobel Prize Outreach]
The 2022 Nobel Prize for Literature was awarded to French writer Annie Ernaux, known for her autobiographical works that are at once intensely personal and universal. 
Born in 1940 in a small town in Normandy, Ernaux's work spans nearly five decades. She has described herself as "an ethnologist of her self," as her books cover significant people and events in her life. The Nobel Committee for Literature applauded her ability to describe moments of shame, humiliation and jealousy with "courage and clinical acuity."
Ernaux published her first book, an autobiographical novel called Les Armoires vides (Cleaned Out), in 1974. In later books, she shifted fully into autobiography, writing about everything from her parents, to her battle with breast cancer, to the ostracism she experienced after losing her virginity. 
Her historical memoir, Les Années (The Years), was published in 2008 and is considered "the first collective autobiography," according to the Nobel Committee. Written in the third person, she details French life from the 1940s to the 2000s: a portrait of an individual woman's life that gives a peek into the social change happening around her. The book was nominated for the International Booker Prize in 2019.
Ernaux's work is rooted in the French tradition of Marcel Proust — and yet it "guides the search in a quite new direction: a more social context," said committee chair Anders Olsson, in a livestreamed interview after the presentation. For instance, her 2000 book L'Événement (Happening) describes her experience receiving an illegal abortion in 1963. When asked if the Nobel Committee was making a social statement by giving the award to Ernaux, Olsson expressed that it chooses the winner based on literary quality, not what's going on in the world today. 
Still, "it's very important to us also that the laureate has universal consequence in her work, that it can reach everyone," said Olsson. "The message is that this is literature for everyone."
As of Thursday at 1 p.m. Central European Time, when the award was announced, the committee was unable to reach Ernaux to share the news. She will be presented with the prize on December 10th in Stockholm, becoming the 17th woman to receive this award. The first Nobel Prize in Literature was awarded back in 1901. 
Olsson recommended that readers new to Ernaux's work start with her 1983 novel La Place (A Man's Place). In just a hundred pages, Ernaux weaves an intricate portrait of her father that explores the social roots of shame in a way that is both "very critical and acute" but also sensitive and loving.
About the Author
Discussion