Social Science
A 'drunken' laboratory in Brooklyn combines sips and science
An interactive experience in NYC thinks it found the key ingredient for getting adults interested in science: alcohol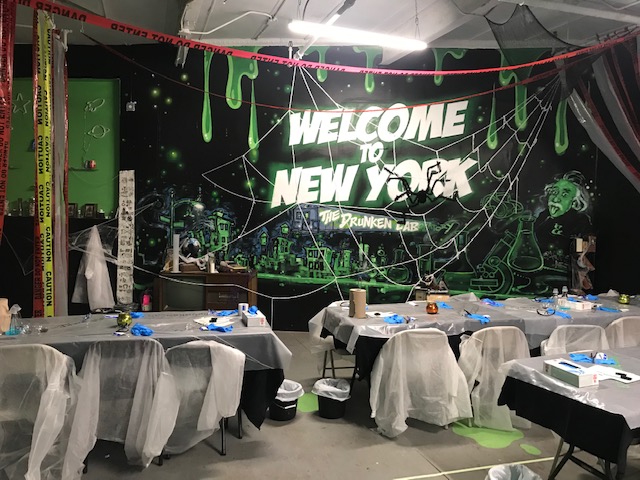 Inside The Drunken Laboratory, a cocktail experience that transforms participants into scientists for the night. [Credit: Kiley Price]
Drinking cocktails in a lab would normally be grounds for termination. But in a neon-decorated building called "The Drunken Laboratory" in the Bushwick neighborhood of New York City, sipping alcohol while performing science experiments is strongly encouraged.
The Drunken Laboratory is an interactive experience in which guests wearing lab coats and goggles complete a variety of science games and tests to win liquor shots and other prizes. The goal is to make science a part of people's lives, according to Brandon Richards, the manager of The Drunken Laboratory. "It combines my love for science and alcohol," he added with a laugh.
With musician Mario's popular song "Let Me Love You" blasting in the background, guests at a recent Drunken Laboratory event were tasked with creating an endothermic reaction — one that absorbs heat — by combining hydrogen peroxide, dish soap and a purple substance called potassium permanganate. The moment these ingredients met, a colorful, warm goo exploded from the beaker and squeals of surprise erupted from the roughly 50-person crowd.
In between a series of Halloween-themed "mini-games" — from karaoke to a pop quiz about animals — the participants completed their second experiment: dissecting a sheep's eye. While a few guests opted out, most picked up their scissors and got to work revealing the inner workings of the eye.
"The Drunken Lab is a sensational experience, welcoming and educational for all people, but especially a safe space for Black people," said Michael Mansaray, 28, who was visiting from Maryland. "It is a perfect mix for science, education and community. I wish they had this when I was in school."
The program kept the crowd engaged, with a majority of attendees asking questions and participating in the events. Some even volunteered to hold preserved snakes and squids.
"I've never been to anything like it. The experience was a breath of fresh air," said Crystal Campbell, 40, who is also from Maryland. "I would definitely do it again."
Founded by entrepreneur Cautney Nelson in 2019, the business that runs The Drunken Laboratory originally began as a non-alcoholic afterschool program for minority students to engage in science, technology, engineering and math. Now, they hope to do the same for adults by creating "a tiny world where all races, gender[s] and cultures interact through playful competition and purposeful experiences that treat people equally," according to the company's website.
This isn't the only tipsy science experience happening in the United States; museums like The Buffalo Museum of Science in upstate New York and The Franklin Institute in Philadelphia also offer after-hour cocktail experiences that explore topics like space, microbiology and forensic science.
Guests at the recent two-hour event found the Drunken Laboratory through a variety of channels, including TikTok, Groupon and Google. Tickets ranged from $55 to $80 depending on how much alcohol was included in the package.
The group is only in New York for now, but "the goal is to have a Drunken Laboratory in every city across the country," said Richards. "Don't forget to keep science in your life!"
About the Author
Discussion