Health
Hepatitis B Widespread in NYC Asians
Researchers suggest intervention is needed in immigrant populations.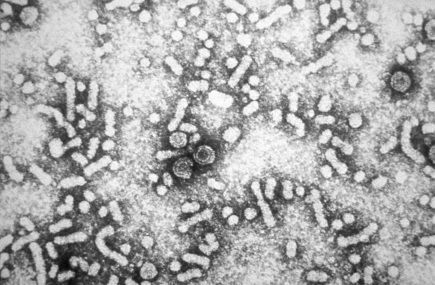 The hepatitis B virus is plaguing Asian Americans. CREDIT: CDC
A recent study found high rates of the hepatitis B virus within New York City's Asian population. While immigrants from China and South Korea were most likely to have the liver disease, the researchers recommend increased screenings and vaccinations for all Asian and Pacific Islander communities.
Fifteen percent of Asians in New York City are chronically infected with hepatitis B, according to the study, which was published by the Centers for Disease Control last March. This infection rate is 35 times greater than that of the general population. Most of the study's participants were born in Asia and had not been previously tested for the disease.
"Hepatitis B is an under-reported and under-recognized problem," said Henry Pollack, the study's lead author and associate professor in the department of Pediatric Infectious Diseases at New York University School of Medicine. "There has been a large influx of immigrants from countries where the prevalence of hepatitis B is very, very high," he added.
Hepatitis B causes liver inflammation. Most people with the illness suffer from a temporary infection marked by fever, fatigue, diarrhea, and jaundice, or a yellowing of the skin and eyes.
However, some people develop lifelong, or chronic, infections. They often don't show any symptoms and risk spreading the disease unknowingly to others through sexual contact, sharing of needles, or pregnancy.
"That's why a survey like this is so important. You want to immunize their sexual contacts, to immunize their children and any other close contacts," said Donald Kaye, Professor of Medicine at Drexel University and author of several publications on infectious diseases.
If left untreated, chronic hepatitis B can lead to severe liver problems, including cirrhosis and cancer. "Hepatitis B is like high blood pressure—you wouldn't know about it until you have a severe problem," said Pollack.
The study's results reflect infection rates observed in the participants' home countries, according to Pollack. For example, the study found that 30 percent of men between the ages of 20 and 39 and who were born in mainland China have the virus. China has 150 million chronically infected citizens. However, the disease's prevalence varies among provinces. Many recent Chinese immigrants come from Fujian Province, which has the highest rate of chronic infection.
The study also showed that men were more than twice as likely as women to be chronically infected. While pregnant women, babies, and children are often vaccinated through various healthcare and school systems, men typically are not. Furthermore, because chronic sufferers don't show any symptoms, few men think to be tested on their own, according to Pollack.
Young children are more susceptible to chronic hepatitis B infections. In Asia, the disease is primarily contracted at childbirth, with 90 percent of infected newborns developing the chronic form once they are infected with the virus.
"That cycle has been broken in the U.S.," said Kaye, referring to the success of prenatal programs that screen mothers and vaccinate infants.
Financial and language barriers, however, hinder an immigrant's access to healthcare. "It's a real problem to deliver care to a group that is below poverty level and has no insurance," said Pollack. His research was part of The Asian American Hepatitis B Program, which provides free or low cost vaccinations and treatment.
The New York City Council funded the study to assess the public health problem. Almost 2,000 volunteers were screened at 12 health care centers throughout the city. To prevent an overrepresentation of the disease, researchers disqualified participants who had already been tested but provided appropriate care to them and their families. Earlier studies in Philadelphia, Chicago, Atlanta and California showed similar rates of infection.
Updated July 13, 2006, 4:32pm
About the Author
Discussion