Life Science
Why does honey crystallize?
- asks K. York from Madrid, Spain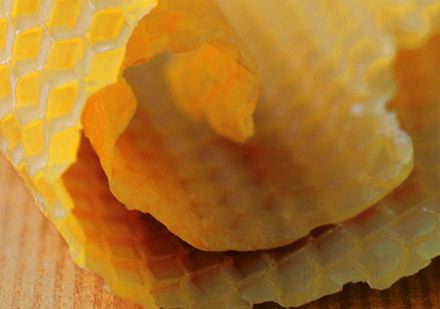 Honeycomb. [CREDIT: L'OCCITANE]
Some morning, when you go into your cabinet to grab honey for your toast, you may find something thick and cloudy in the bottle where your liquid gold treat once was. Has your honey gone bad? Should you throw it out? The answer is probably not. Stored properly, honey can actually last several years.
The main reason honey doesn't go bad is because of its simple composition: honey is primarily sugar mixed with a little water. This natural, low-moisture state deters bacteria and yeast, both of which find dry environments inhospitable. However, the sugary substance's inherent dryness can also lead to crystallization, the process that causes honey to become thick and cloudy. Crystallization, which can occur anywhere from a few weeks to a few months after honey has been bought, can be remedied by placing the honey container in a bowl of hot water for a few minutes. But be warned: While honey may naturally have a long shelf life, heating and cooling the spread too many times can cause it to lose its color and aroma, according to the Honey Hotline Fact Sheet. After multiple heating sessions, it's probably best to throw the honey away.
Several factors determine the time it will take honey to crystallize. First, there are the conditions of the room where the honey is stored. Hot conditions protect honey from crystallizing, but they also degrade the honey and make it vulnerable to yeast and bacteria. Temperatures that are too cold, however, can speed up crystallization. Honey resists crystallization best when kept in at about 70 degrees Fahrenheit, according to experts.
Crystallization rate also depends on the type of honey you keep in your cabinet. There are over 300 types of honey sold in the U.S., according to foodreference.com, and each type crystallizes at a slightly different rate. Tupelo, a high fructose honey, for example, can last for years without crystallizing. Meanwhile, honey from cotton and dandelion blossoms crystallizes more readily.
The last factor that affects crystallization is whether the honey purchased is raw, semi-processed (such as strained), or processed. There is evidence that when stored properly unprocessed or raw honey, which comes straight from the honeycomb and is slightly more expensive to the buyer, resists crystallization longer than processed honey.
Keep in mind, however, that crystallization is not always a bad thing. Beekeepers use a process called controlled crystallization to produce rich and creamy honeys, such as spun honey or churned honey, that are more "spreadable" than the common liquid form. Most beekeepers make these honeys using a variation of a process known as the Dyce Method. This process consists of combining alternating periods of heating and cooling with lots of stirring. If you're feeling ambitious, it is possible to try out Dyce's method at home.
In the end, your choice of honey all depends on what you prioritize – flavor, consistency, or longevity. Just be aware that your choice could affect how long it takes for your honey to turn from smooth liquid into crystallized solid.
About the Author
Discussion