Environment
Blue is rallying for green
Organizers prepare for the first National Day of Climate Action.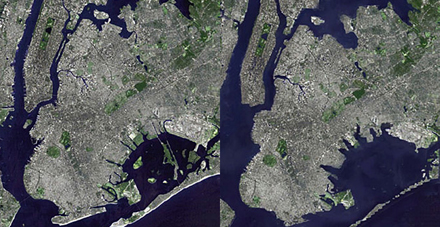 Manhattan before projected sea level rise (left) and after (right). [CREDIT: Daniel P. Schrag]
The Manhattan coasts will be flooded with marchers in blue shirts, pants, hats, and even Speedos on Saturday, April 14th, representing the sea level rise expected to result from global warming. The New York event, one of countless being held across the country, is aimed at convincing politicians that it is time to cut carbon emissions.
The first time event, called the "National Day of Climate Action," has been organized by Bill McKibbin and his environmental campaign 'Step it Up,' along with environmental writer Ben Jervey, and other activists. Its intent is to spread awareness of global warming from the community level up. "Events are coordinated across the country to inform people about global warming," said Luis Martinez, an attorney at the Natural Resource Defense Council who specializes in energy and climate policy. The NRDC is a supporter of the nationwide rally.
Over 1300 events are planned in cities around the country. In Berkley, California, marchers will parade and blow soap bubbles; all-day poetry readings are scheduled in Lubbox, Texas; and people will put on their scuba gear and dive down to the reefs in Key West, Florida.
In New York, the demonstration "will combine creative and artistic elements with powerful imagery [of sea level rise]," Jervey said. Organizer McKibbin will speak, as will several others involved in climate awareness programs.
Other scheduled speakers include climate scientist James Wang, environmental justice advocate Kizzy Guzman, Paul de Vries from the National Creation Care Leader, green financial advisor Bruce Kahn, and an array of young environmental activists from local schools.
Following the speeches, blue clad participants, along with Papa Smurf and Blue Man Group members, will line up and march up Manhattan's coasts.
Though the blue ensembles send a powerful message about climate change, sea level rise is not the most immediate threat to New York, according to the NRDC's Martinez. He predicts negative consequences for New Yorkers long before parts of Manhattan wash out to sea.
"New York will start to see impacts on public health from the heat," Martinez said, because warming will increase smog, which contributes to nose and lung irritation.
Weather is also expected to change drastically. "Part of what is coming is the intensifying of extremes," said Martinez. "We will have extended periods with no rain and then extended periods of precipitation."
Because hurricanes get their energy from warm oceans, some predict that a warmer Atlantic may fuel hurricanes in the New York area. "It is possible that strong storms or hurricanes will move further north than Florida," Martinez said.
Whatever the specific outcome, Cynthia Rosenzweig, the lead author of Chapter One of the Intergovernmental Panel on Climate Change Working Group II report agreed with Martinez's warnings, saying, "There are definite vulnerabilities here [in New York]."
The goal of this weekend's National Day of Climate Action is to convince congress to pass legislation aimed at reducing carbon emissions 80% by 2050. "We hope it will drive political action," organizer Jervey said.
Apparently, the message behind the National Day of Climate Action is already reaching some politicians. Recently Courtney Fryxell, an organizer of a Washington, D.C. 'Step it Up' event, asked presidential hopeful John Edwards if he would vote to reduce 80% of carbon emissions by 2050 – he replied yes.
Event organizers are convinced that environmental awareness is, and should be, one avenue to political success. "This issue [of global warming] is going to play a large role in who is elected," said Martinez.
Find out what 'Step it Up' events will happen near you April 14th
About the Author
Discussion