Life Science
Inuits live in very cold climates, why do they have dark skin?
- asks Anonymous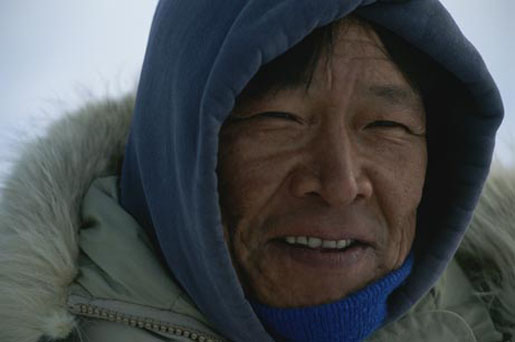 An Alaskan Inuk. [CREDIT: CULTUREBY.COM]
Despite the frigid, ice covered landscape of Northern Canada and Alaska, the Inuits remain warm beneath parkas of animal hide. Warm and…tan. Despite barely seeing the light of day, the native people's skin retains a bronze glow.
Even in the early 20th century, scientists were trying to understand and map skin color. Felix Von Luschan, a doctor and anthropologist, created a Human Skin Colour Distribution containing 36 different color tiles to characterize skin tones. The further a person's ancestors are from the equator, the fairer the person's skin should be, according to his scale.
More recently, Penn State anthropologists Nina Jablonski and George Chaplin wrote in a 2000 edition of Science that there is a correlation between the skin color in people residing in an area for more than 500 years and their exposure to ultraviolet light. They even came up with an equation that determined the pigments of a population based on sun exposure and length of time spent living in an area. But neither their nor Von Luschan's research answered the question of an Inuk's bronze complexion without exposure to a great deal of sun.
Jablonski and Chaplin were onto something though, when they realized that the body's interaction with UV rays from the sun, was tied together with skin tone. Skin color is determined genetically. Genes tell the body how much of the two types of melanin, the pigment that helps to determine the skin color, to produce. Pheomelanin causes reddish yellow pigments, and eumelanin gives deep brown coloring. But skin tone is not all genetic: more melanin is produced when you are out in the sun. Sunlight exposure causes the optic nerve to signal the pituitary glad to release more melanin. Thus, you tan.
Ultraviolet, or UV rays, from the sun are responsible for activating the melanin. As melanin levels rise and our body's natural pigment darkens, protection against the sun's rays increases. Too much UV exposure can deplete vitamin B folate –used by the cells to create DNA. On a smaller scale, the rays can also cause painful sunburns, with too much exposure leading to cancer.
However, UV rays aren't all bad for us: they naturally convert cholesterol into Vitamin D, which is crucial in protecting the body against certain cancers, heart disease, diabetes, and mental illnesses.
When the ancestors of modern man separated from apes, they were covered in hair. Little UV light reached their skin and as a result, anthropologists believe they were fair skinned. As modern humans evolved however, their body hair became finer and thinner, leaving their skin more exposed to the equatorial sun. To adapt, their bodies produced more melanin to protect them from damaging UV rays. Increased melanin made their skin become darker.
As early humans started migrating north into Europe and east into Asia, they were exposed to different amounts of sun. Those who went north found their dark skin worked against them–preventing them from absorbing enough sunlight to create vitamin D. To adapt, these humans started producing less melanin.
But Inuits' vitamin D intake wasn't dependent upon the sun. They get all that they need from their diet, heavy on types of fatty fish that are naturally rich in vitamin D. The plentiful amounts of the vitamin kept them from developing less melanin. In fact, before milk was fortified with D, people living outside of Northern Canada and Alaska loaded their diets with fishy products, such as cod liver oil, to get their daily supplement. So despite their chilly climate and lack of sun exposure, it's the Inuit diet that has kept them in their natural glow.
Editor's note: The content of this story has been changed based on a reader's comment about the plural and singular usage of the word Inuit. Where 'Inuit' was originally referencing a single person, the word has been changed to Inuk.
About the Author
Discussion