Health
What's Polycystic Ovarian Syndrome?
- asks Zoe from New York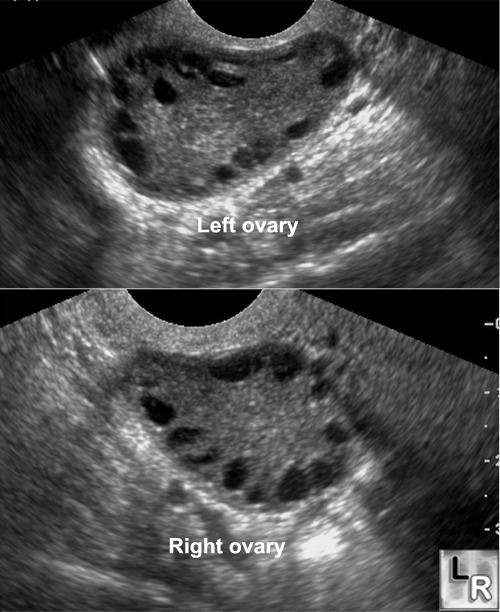 Ultrasound of ovaries showing many cysts. [Credit: Learningradiology.com]
What can cause ladies to grow hair on their faces, gain weight and have trouble conceiving? Nope, it's not steroids, but a feminine disorder called polycystic ovarian syndrome.
Commonly known as PCOS, the disorder was first identified in 1935 and is often called Stein-Leventhal disease, after the scientists which described it. Researchers assume that somewhere between seven and ten percent of women have the disease, and a recent article in the Lancet suggests that rising obesity rates will increase that number. A staple symptom of the disease is follicular cysts, or fluid filled sacs, in the ovary.
Reproductive health researchers, such as Robert Norman of the University of Adelaide in Australia, suggest that the disease, which is still largely under investigation, is borne of insulin resistant genes (though they've yet to be identified). Not all women with PCOS have symptoms, rather they are thought to be brought on by environmental factors, such as stress or weight gain.
The signs of PCOS are varied. Acne, male pattern hair growth (think chin and toes), and dandruff can be cosmetic — and self-esteem-killing — symptoms. Other side effects can range from irregular periods and obesity to sleep apnea. Serious long-lasting repercussions, which don't occur in all PCOS-ridden women, are nothing to write home about: Diabetes, cardiovascular disease, and infertility are common.
What's the cause of these unpleasantries? Researchers believe it's insulin resistance, coded by a set of as yet unidentified genes. Insulin can be thought of as the 'doorway' that allows glucose, a sugar, into the cells. When we eat something, say, a chocolate bar or piece of fruit, glucose builds in our bloodstream. Cells use glucose for energy, but they need something to move the glucose through the cell walls. That's where insulin comes in: It binds to the cell, opens a gate, and in flows glucose. In an insulin-resistant individual, however, insulin has trouble binding to the cell, so not only is glucose kept in the bloodstream, but insulin levels skyrocket.
It only makes sense that with all these hormones and sugars hanging out in our bloodstream, some nasty results are to be had. Insulin has been shown to cause a woman's ovaries to release extra levels of androgens, or male hormones, such as testosterone; this is what leads to hair on your chinny-chin-chin.
High hormone levels disrupt the menstrual cycle, which over the long term can lead to infertility. Wacky sugar and insulin levels can also lead to heart disease and diabetes. And because the glucose is not being used for energy, it feels the need to become nothing other than fat, making our curves a little less shapely, particularly around the mid-section. Even 'lean' women with PCOS are shown to have a disproportionate amount of body fat when compared with non-PCOS women of the same size, says Kathleen Hoeger of the University of Rochester (and, it supposedly is harder for PCOS women to maintain their trimness than it is for non-syndrome females. No good).
What's the upshot to this drudgery? Treatment. Hormone therapies, including anti-androgens and birth control pills, can be used to combat male hormone levels. Doctors have also begun using diabetes drugs, such as metformin, to help a PCOS patient process sugars and thereby control erratic insulin levels (which should consequently regulate periods and clear up the acne spots).
PCOS can also be managed naturally, with diet and exercise changes. High fiber diets that are low in processed sugars — this means whole grains, the elimination of white flour, and plenty of fiber — will help your body cope. Low-sugar foods such as fiber break down slowly, releasing small amounts of sucrose at a time, so our body isn't overwhelmed with processing sugar. High fiber, whole grain diets also make a person feel fuller longer, so chances are you'll crave — and eat — less. Saying goodbye to unnecessary body fat is an added bonus of a diet change, making you feel that much more fabulous.
About the Author
Discussion