Physical Science Blog
Play a Game, Win a Nobel
I never really liked computer games until I saw one that might help me win the Nobel Prize. A free new computer game from the University of Washington called Foldit […]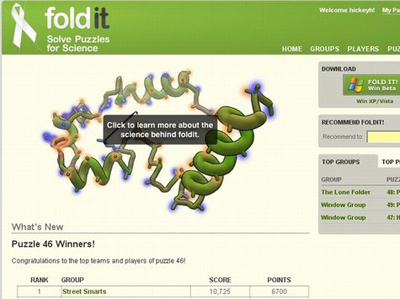 Screenshot of Foldit game. (Credit: University of Washington)
I never really liked computer games until I saw one that might help me win the Nobel Prize. A free new computer game from the University of Washington called Foldit challenges players to fold proteins–molecules found in places such as our cells and the foods we eat–into their natural shapes. For example, players must try to hide a protein's branches without packing them too tightly.
At least that's what I was asked to do before getting stumped. Right now, more adept gamers mostly fold proteins whose natural structure is known. In the coming months, Foldit's developers will ask the more than 25,000 registered users to design new proteins, says Seth Cooper, a computer science and engineering graduate student who helped develop the game. The researchers hope players might one day work on a protein to disable HIV and potentially win a Nobel Prize.
So don't let my inadequacies stop you from trying the game. "You don't need to be a hardcore gamer. You don't need to know anything about biochemistry," Cooper told me.
Foldit certainly doesn't look as high-tech as the popular Halo video games. At level 3-2, where I'm stuck, the graphic is a complex green squiggle. Its protrusions "clash" and turn red when they are too close together. And it's fun to rotate the protein in 3-D and easy to learn the few basic rules. I like the encouragement, such as "Expert Clash Clearing!"
Cooper says he doesn't know if Foldit is drawing Halo players. The gamers will, however, compete in an international protein folding contest to show that human ingenuity can win against complex computer programs.
About the Author
Discussion