Environment
Why China's Environmental Future May Depend on Reclaiming Some of Its Past
China is trying to modify its value system in a way that is scientifically sound and reflects its philosophical traditions.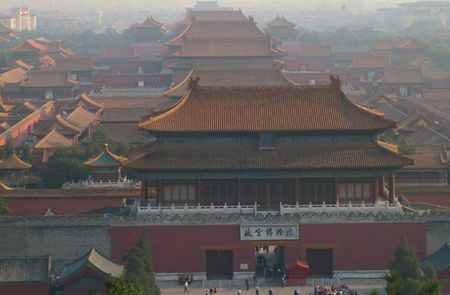 A haze settles over Beijing's Forbidden City in 2003. For the 2008 Olympics, China has taken
temporary steps to beat pollution, but some say they should explore other options to find a
long-term solution. [Credit: Molika Ashford]
The Chinese government has kept half of Beijing's 3.3 million vehicles off the streets, halted most construction projects and closed some factories in Beijing and its surrounding provinces since July 20 to hopefully clear the polluted air in time for today's opening ceremonies of the 2008 Summer Olympics.
But regardless of how effective these measures are for the next three weeks, they cannot realistically be maintained after the completion of the summer games on August 24. They are just temporary fixes.
So to address their environmental challenges, the Chinese are searching for long-term solutions in the form of a more eco-friendly value system. And there is evidence they may be starting to discover an answer that may help develop environmental policies: process thought. This modern philosophy maintains core Chinese-philosophy themes like understanding humans to be a part of nature rather than apart from it.
But process thought not only offers the Chinese a way to improve their environment. It also can address the revived interest in religion among the Chinese and their government because the changes induced by capitalism have eroded traditional Confucian and Marxist values, according to Karen Torjesen, vice president of The Institute of Post-Modern Development in China. "There is a vacuum with regard to the framework in which to think about the kind of social change that China is contemplating," said Torjesen.
By combining the value-based Chinese philosophies with a more fact-based Western philosophy, process thought provides a hybrid approach that the Chinese government is beginning to consider as a step towards remedying China's environment. "Process thought can help China revalue our own tradition," said Zhihe Wang of the Center for Process Studies at the Claremont School of Theology in Claremont, Calif. "That's why the Chinese government officials welcome this idea," said this native of China who has lived in America for the past ten years.
Process Thought and Environmental Policy
In the early 20th century, the now-deceased mathematician and physicist Alfred North Whitehead developed process thought, also known as constructive postmodernism. As an attempt to incorporate various facets of human experience like science, ethics and religion, it is already being discussed among academics as a coherent way to understand fields of study such as ecology, biology, physics and education.
Sharing many common themes with Chinese philosophies, it emphasizes the connected and creative quality of life. But in response to critics who decry the use of traditional Chinese philosophies like Daoism, Buddhism and Confucianism, this modern philosophy remains valid in a scientific world.
As a result, process thought offers several useful themes for developing environmental policy. From Whitehead's perspective, nature is a continuously creative process that strives for harmony, not simply for survival. Reality is more like a verb than a noun: it refers to a constant state of action rather than a fixed state of being. And social groups working together are more effective than one person acting alone.
"There's always been an affinity between process thought and people working in ecology because of its relational nature," said John Berthrong, professor of both process thought and Chinese philosophy at Boston University.
Led by Wang, an initiative by the Center for Process Studies called The China Project actively fosters the development and application of process thought in China, especially to guide the country's environmental policies. This program promotes dialogue among Eastern and Western countries about how process thought can make Marxist views of nature and humanity more ecological in both urban and rural settings. The message is that nature can be inherently meaningful, humans are not the only source of value in this world and communal activities and goals trump individual needs.
John Cobb, a co-founder of the Center for Process Studies, said the Chinese government is very eager to classify Marxism as ecological, which he admitted is "a rather bold definition." China's President Hu Jintao proposed the concept of an "ecological civilization" to emphasize that the focus of China's continued development will no longer just be economic, in his report to China's 17th National Congress last fall.
Chinese universities traditionally react to government statements such as Hu's by organizing conferences to discuss national policy. But less than two weeks after Hu's speech, the China Project and one of the top think tanks in the Chinese government, the Central Compilation and Translation Bureau, jointly sponsored a conference at the Center for Process Studies with Hu's term in its title: "Constructive Postmodernism, Marxism, and Ecological Civilization." The China Project had the honor of hosting the first conference to address China's new environmental mindset.
The momentum building in Chinese universities and environmental organizations demonstrates that the Chinese government is granting credibility to process thought. "They recognize that process thought might help them to rethink what real development means," said Cobb.
And it is no surprise that this country craves environmental reform. The national resurrection that has elevated China to become a dominant player in the world economy has also inflicted environmental wounds that China is currently unable to heal. For example, in 2007, China lowered its goal of reducing national water consumption 30 percent by 2010 to just 20 percent. And Chinese economists predicted in 2000 that their country would double its energy usage by 2020. China beat this prediction, 13 years early. Simply setting impressive benchmarks and funding cleanup projects has not pulled a teetering China off of this ecological precipice.
A frustrated Chinese population is responding. From 2005 to 2007, the weekly rate of environmental complaints to the government increased nine-fold. And thousands of environmental organizations saturate China, up from a mere handful in the mid 1990s.
About the Author
Discussion