Health Blog
Sneezing For Some Means a Bit More(gasm)
Have you ever heard your date sneeze and thought: "Ooh. She wants me." No? Me neither. But that apparent non-sequitur isn't as far-fetched as it seems. One hundred forty-six people […]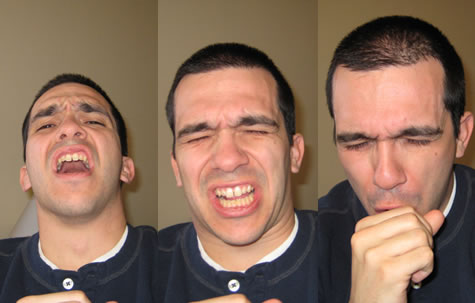 He doesn't have allergies. He probably just wants you. [credit: Dave Levitan]
Have you ever heard your date sneeze and thought: "Ooh. She wants me." No? Me neither. But that apparent non-sequitur isn't as far-fetched as it seems. One hundred forty-six people told researchers at Wexham Park Hospital in the United Kingdom that they sneeze when they think sexy thoughts, and seven more reported sneezing at orgasm.
It certainly doesn't seem like the best way to set the mood, but the investigators say that this phenomenon likely affects a substantial amount of people. The numbers reported in an article and a follow-up letter in the Journal of the Royal Society of Medicine indicated to the researchers that the sneezy-sexy connection might exist in thousands of people in the UK alone.
Because there appeared to be familial patterns in the links between thinking about sex and sneezing, there may be a genetic reason underlying the connection. If you happen to be among those who sneeze at orgasm, then, it is hard to avoid the thought that your moment of conception may have been punctuated by a snotty, less-than-graceful exhalation.
Next time you say "bless you" to someone, look around: did a model just walk in? Is Basic Instinct playing on T.V.? It may be romance, and not dust, that's in the air.
About the Author
Discussion