Environment Blog
On the ground: Hogs on the Buffalo National River
The first National River faces the threat of pollution from a large pig farm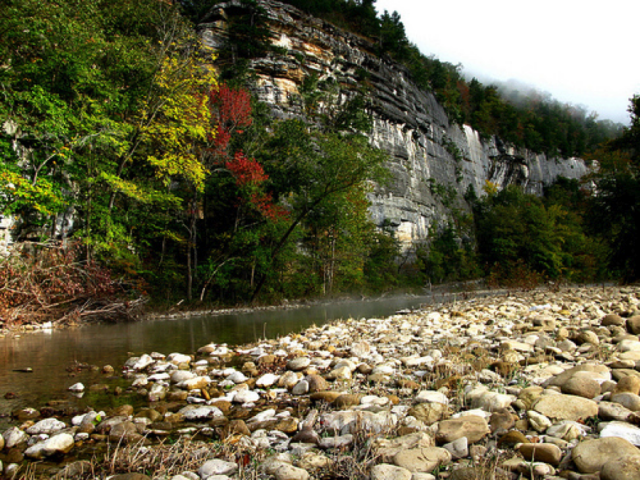 The Buffalo National River on a crisp fall morning. [Image credit: OakleyOriginals on flickr]
As an Arkansas native, I grew up visiting the Buffalo National River, the first river in the country to be designated a National River. It's a beautiful area with rough sandstone bluffs and active wildlife. The water is clear and fairly deep, making it perfect for kayaking, canoeing, fishing and swimming, especially during the hot and sticky summer months. However, over the past year the Buffalo River National Park's pristine natural beauty has become threatened. And the threat comes in the form of a large pig farm.
The issue has already received attention from the Arkansas Times, a piece in the New York Times, several public radio and television pieces — including one on the local NPR station, it's still an issue of great debate.
Located in northern Arkansas within the Ozark Mountains, the Buffalo River is considered by many to be one of the key places that define Arkansas as the Natural State. It is a nationally protected mountainous region that has a complex network of tributaries and groundwater reserves throughout. Despite all of that, C&H Hog Farm, located in Mt. Judea, Ark. and owned by the international food and agriculture company Cargill, received approval from the Arkansas Department of Environmental Quality (ADEQ) last spring to build a hog farm that has the potential to hold 6,500 hogs.
Calling this facility a farm might be misleading since it is technically a Concentrated Animal Feeding Operation (CAFO). This means that the operation intends to fatten up the hogs quickly in a small, contained area. This is not a novel practice, but C&H Hog Farm is the first CAFO in the state of Arkansas. A new precedent for the state was set, but no one really knew it was happening. The local residents were not kept well informed of the proceedings. According to the Buffalo River Watershed Alliance, a nonprofit organization dedicated  to protecting the Buffalo National River, the ADEQ's only form of public notification was a post on their website that was not easy to find. Consequently, very few residents were aware that this facility was being proposed and most people were unaware of C&H Hog Farm until it was actually being constructed. Although the website notification does follow with the law, the local community did not deem that adequate and were upset that they were not given the opportunity to raise their concerns about the project before construction began.
The real concern here is that C&H Hog Farm is not adequately prepared to prevent hog waste from leaking into Big Creek, a major tributary of Buffalo National River near Mt. Judea. Currently the C&H Hog Farm plans to store waste in lined holding ponds and then remove the waste periodically to be sprayed on some of their own agricultural land. Their holding ponds might pass muster for the safety of surface water. However, the spraying of fertilizer on agriculture fields could negatively affect the environment in ways that the hog farm hasn't put into consideration.
Not only does hog waste have an unpleasant odor, but it also contains high levels of phosphorous, a compound used in many farming operations to increase plant growth. While it is commonplace in agricultural practice, it is toxic to humans in high concentrations. Many local residents are concerned about the possibility of runoff from the sprayed fields getting into the Buffalo National River Watershed and contaminating the water running into the Buffalo National River. According to the National Parks Traveler, C&H Hog Farm's management plant didn't take into consideration the karst landscape of the area, which means that the land is very porous and water easily travels throughout the region.
In September, State Governor Mike Beebe set aside over $300,000 to have the University of Arkansas monitor the river and the farm. They have an extensive plan to monitor the effects and efficacy of current management strategies as well as research alternative waste management options. Additionally, a federal lawsuit is being filed on behalf of several conservation and citizens groups against the ADEQ and the U.S. Small Business Administration for failing to conduct a proper environmental impact study.
"There is a probably greater than 95 percent chance that we are going to see impacts of degraded water quality and major environmental degradation," says John Van Brahana, recently retired hydrogeologist from the University of Arkansas in the New York Times article. To him it is not a question of if there will be an environmental impact but when. And that seems to be the question that local residents are asking as well.
Editor's note: This post is part of a mini-series in which Scienceline reporters write on location from around the globe during winter break. See related posts for a story on how Alaska's national parks are planning for climate change and check back this week for a report on putting radio collars on bustards in India. 
About the Author
Discussion