Featured
Israel's Silicon Valley
The biggest tech sector you've never heard of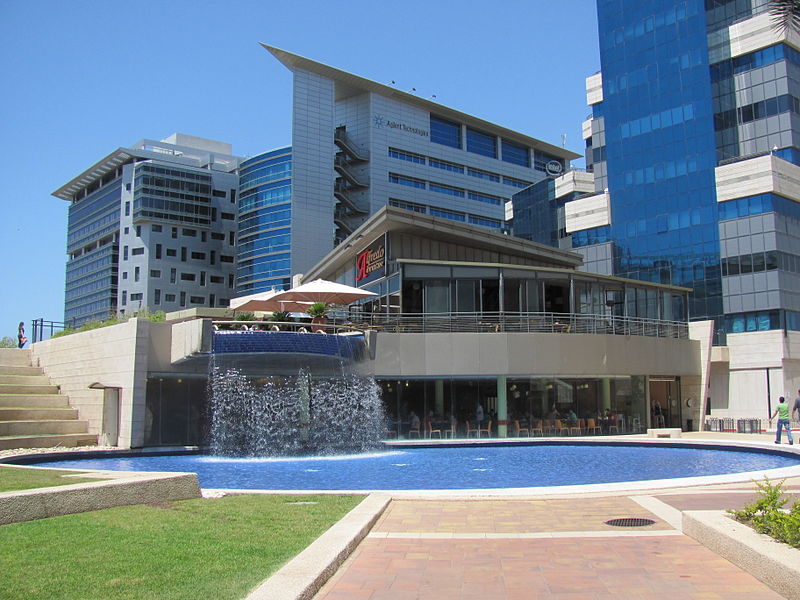 The Azorim High-Tech Park outside Tel Aviv [Image credit: Gellerj via Wikimedia Commons]
My trip to Israel in May was my first visit to one of the most disputed stretches of land on the planet. While I couldn't wait to visit the ancient sites that make it such a popular tourist destination, I quickly saw how this tiny country is more than just a compendium of its ancient parts. Mere miles from sites immortalized in religious texts, cutting-edge technological development is happening under some of the most astute entrepreneurs in the world. Dubbed Silicon Wadi (wadi is valley or riverbed in Hebrew), Israel's tech sector is primarily concentrated on the outskirts of Tel Aviv. According to the seminal book Start-Up Nation, Israel has the largest tech sector per capita in the world. Indeed, the manufacture of high-technology products is the country's biggest industry; in 2012, Tel Aviv was named the second best place for startups. At one point in 2013, 61 NASDAQ-listed companies had come out of Israel, which was more than those from Europe, Japan, Korea and China combined.
Silicon Wadi got its start in the 1960s, at first with a few homegrown telecommunications companies and research and development (R&D) for international corporations like Motorola. When international sanctions made arms scarce in the late 60s, the young country had to invest heavily in military manufacturing and technological development. Young entrepreneurs who completed their compulsory military service in their early 20s quickly found themselves with a basic knowledge of telecommunications (especially data security), as well as strong connections with other young entrepreneurs to make burgeoning ideas into successful startups.
Israeli companies began to really flourish in the 80s and 90s. A number of key innovations came out of Israel during this time: the first chip in IBM's original PC, the messaging system that later became AOL Instant Messenger, the world's first cell phone at Motorola's R&D, and several Windows' operating systems, to name a few. More funding to the sector meant more startups, so smaller Israeli companies were some of the first to be purchased during the dot com boom of the late 90s.  Today, more than half the investments made in Silicon Wadi come from abroad, and the country enjoys lucrative and largely unfettered trade with China and Korea.
So what exactly makes Israelis so successful in tech? It may stem partly from government provisions (and, occasionally, defense funding) to boost the sector economically. But most experts point to the fortuitous circumstances of the Israeli entrepreneur. Israel's long-term advantage, reads one 2001 paper, is born of its high number of underemployed but highly skilled individuals, a plethora of research knowledge in telecommunications and a natural knack for entrepreneurialism. Characterizing the Israeli entrepreneur, another  2008 Economist article reads, "He" (and it is usually a he, for there are even fewer female entrepreneurs than in Silicon Valley) "is more of a nuts-and-bolts innovator than a clever marketer." This means that innovative companies set themselves up to be bought by international companies earlier than in other places, and they have no problem selling. The result has meant a certain cushion of cash for harsh economic times, like the global financial crisis, which Israel weathered laudably.
For countries hoping to grow their own tech sectors, it's hard to say where they should start. History and cultural philosophies do a lot to determine how each country's tech sector functions. Government support, in the form of tax breaks or direct funding to research projects, is definitely a boon to any burgeoning industry. A growing international demand for technology innovations means that other countries may soon find themselves with their own Silicon Valley, perhaps springing up even faster than did Silicon Wadi.
About the Author
Discussion