Environment
Do I have to be vegan to combat climate change?
A hunger for both meat and a sustainable lifestyle can be combined, but with some caveats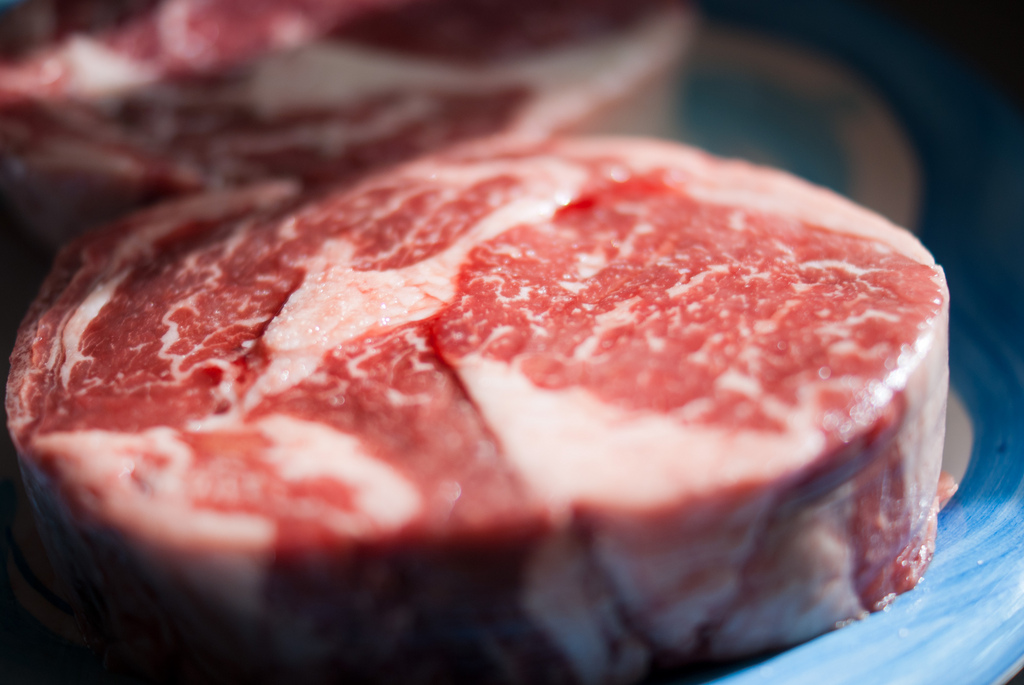 Oh so tempting, but not worth the price. [Image Credit Flickr user Taryn]
It's the same internal struggle every Saturday afternoon at the grocery store: I sidle past the steak, eyeing those creamy veins of fat marbling the thick, weighty cuts. With some caramelized onions and sea salt, I'd have a delectable dinner. Then I catch myself, and shake my head. Beef is supposed to be bad for the environment, and I'm building a career on my passion for nature. I'll say "no" today.
But …

It's just one steak, and I'm just one person. The rest of my cart is environmentally responsible. And steak is delicious. A perfect porterhouse joins the organic lettuce and locally sourced squash and apples in my cart. I won't feel guilty until I'm washing my plate.
The recently published USDA 2015 Dietary Guidelines includes an entire chapter on sustainable diets. It concludes that cardiovascular and anti-cancer benefits aside, low-meat and vegetarian diets are the most eco-friendly.
Since "hypocrite" isn't a label I'm comfortable wearing, I needed to push past the headlines and political catchphrases and examine the data to ensure I could still call myself both a "tree-hugger" and "almost-carnivore."
My first look at the research was not reassuring. One of the first numbers I saw said that livestock agriculture causes 80 percent of the 652 million tons of agricultural greenhouse gas emissions, which make up 10 percent of the nation's total greenhouse gas contributions. As we clog our atmosphere with these gases, every extra kilogram of CO2 or methane counts.
I looked at study after study, trying to find any conclusion that didn't single out beef as one of the worst environmental offenders. One new study finds that beef requires 30 times the land and five times the greenhouse gas emissions needed to make an equivalent caloric amount of pork, poultry, eggs or dairy.
"Eating beef, in my book, is an environmental transgression," Gidon Eshel told me. Eshel, a climatologist at Bard College in New York, co-authored that study.
The problem with beef, he said, is that a cow is a fundamentally inefficient animal. Cows are ruminants, meaning they eat bulk forage and ferment it in a special organ called a rumen. There, bacteria break the fodder down into energy the cow can use. Ruminants therefore have a huge evolutionary advantage, as they can get nutrition from plants that other animals can't. This digestive innovation isn't so great for agriculture, though. Cows need six times the amount of feed as pigs do to make a single pound of meat.
All that feed — the corn, the soy, the grain — has to be grown and transported, requiring tractors and trucks, which use fossil fuels. The greenhouse gas emitted during fertilizer production further adds to the environmental cost. The U.S.'s consumption of beef is the largest in the world, and drives an $88 billion industry, according to the USDA. About $500 a year of that, plus hundreds of kilograms of CO2, come from my own thrice-a-week beef habit.
"We are headed on a collision course between current patterns of food consumption and sustainability," said Samuel Soret, who studies the environment and public health at Loma Linda University.
My quest toward guilt-free steak was looking grim, until I had a revelation. Cows don't have to be fed on corn! For tens of thousands of years they happily munched on grass. If the major issue with beef husbandry was crop production, it couldn't do any harm to have one lone little cow grazing by the side of the road, right?
Eliot Coleman, a beef farmer in upstate New York, is dismayed that people have written the cow off as environmentally unfeasible. "These are all the mistakes of industrial agriculture, and [we] blame it on the animal?" Under natural conditions where the animal gets its food from grazing, he said, "the cow just turns what we can't eat into food."
While some grass-fed beef production practices just stick the animals on a plot of land that they quickly demolish, other farmers like Coleman are exploring grazing options that mimic natural migration patterns. Joe Salatin, a farmer in Virginia, has pastures that are five times as productive as his neighbors' because he rotates his cattle between areas, letting the grass blaze into its full growth rather than being clipped off before it can regrow after the last visit from a cow.
So all I had to do was buy grass-fed beef from farmers like Salatin to avoid the negative environmental impact. Triumphant, I redialed Eshel to prove that I could enjoy my steak without "transgressing" against nature.
Eshel quickly quashed my hopes for a perfect, grass-fed loophole. "I've never found one shred of evidence persuasive enough to support the notion that grass feeding somehow offers a waiver from the environmental liability of beef," he said. I hoped he was exaggerating, but he carefully laid out the facts for me.
It's complicated to quantify these sorts of environmental conundrums, because we end up balancing things that are difficult to compare, like the impacts of pesticide use versus water use, for example. But Eshel is trying to put a number on how bad a grass-fed cow is for the environment compared to a corn-fed cow. His preliminary research indicates that it might be up to twice as bad in terms of greenhouse gas emissions. Methane gas lasts longer and stores more heat than CO2, making it a more dangerous greenhouse gas. Grass-fed animals burp more methane than corn fed cows because of the way grass interacts with their rumen bacteria.
Eshel also noted that in most cases, cows can't graze all year-round. Salatin's farm in Virginia is in one of the few places where the animals don't normally need supplemental feeding. His animals graze all but 40 days of the year, during which they are fed stockpiled hay harvested from his pastures. The cows can even graze in the winter because grass retains most of its nutrients when dried. Grass may ease the feed burden, but in most places cows will need grain during some months.
But perhaps most importantly, there aren't enough places with conditions like those at Saladin's farm to meet our societal meat demand. There isn't enough land to support America's beef herds, unless we were willing to push crop agriculture off of our most fertile land and turn it over to cows. Clearing forest to make room for pasture reduces habitat for wildlife, and can decrease natural CO2 storage.
I could buy a carefully selected cut of grass-fed beef for myself, but it isn't feasible to satisfy our entire consumption of meat with all grass-fed animals. And at twice the cost of corn-fed meat, it could only be an occasional luxury for me, not an easy substitution. Many people couldn't afford it at all.
Soret pointed out, "There are certain things beyond my control, but [food] choices are under my direct control. I can choose whether to eat more or less meat."
I may not be able to change everyone else's meat consumption, but I can change my own and reduce my own carbon footprint as much as possible.
Soret's studies have found that vegetarian or semi-vegetarian diets (eating meat fewer than once a week) produce a bit less than half of the associated greenhouse gas emissions as a meat-eating diet. His work has been echoed by U.K. researchers, whose study found an even greater reduction in greenhouse gases. Both of these studies looked at tens of thousands of real diets that people were eating, not modeled or theoretical plates. Both also found significant health benefits, including a longer life, associated with vegetarian and semi-vegetarian diets.
These conversations with the scientists left me slumped in my chair, mentally cataloguing which of my favorite recipes I would have to modify or eliminate altogether. But when I asked if I really had to be a vegan, both Eshel and Soret let me off the hook a little.
Soret entreated me to "just please come down a few levels on the food chain." Most of the studies done on sustainability of diets emphasize that this is not an all or nothing question — any reduction can have important benefits both for personal health and the health of the planet.
In the end, my love for wild spaces and desire for a well-functioning ecosystem will win out over my taste buds. I'll be reaching for more vegetarian- and fish-based options. And when I sidle past the beef, just every once in a while, maybe a nice grass-fed slab will end up in my cart. Sometimes, guilt makes a good garnish.
*Correction, July 9, 2015:
A previous version of this story stated that beef requires seven times the greenhouse gas emissions needed to make an equivalent caloric amount of pork, poultry, eggs or dairy. It is actually five times the amount.
About the Author
Discussion