Blogs
A chef's handiwork may convince kids to eat their veggies, study suggests
But a gourmet touch may not be in reach of all schools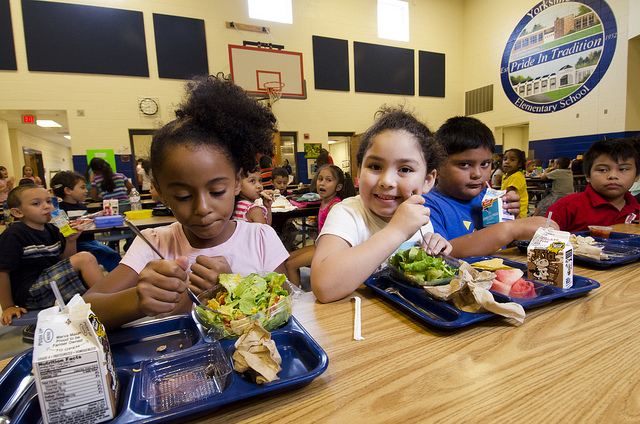 American children eat almost half their lunches each year at school, so it's a key place for encouraging healthy food habits. [Image credit: U.S. Department of Agriculture.]
For many Americans, grade school lunches meant soggy pizza, canned corn and other uninspiring fare. Now, a study suggests that bringing professional chefs into schools to spice up recipes may encourage students to eat more fruits and vegetables.
The finding may also shape how schools look to meet school nutrition requirements strengthened in 2012. The federal government estimates one in five American children and teenagers are obese, and the eating habits developed during childhood can last a lifetime.
"[Our study] gives us evidence that we don't need to weaken nutrition standards," said Juliana Cohen, nutritionist at Harvard University and lead author on the study, which was published in "JAMA Pediatrics." "We really need to emphasize palatability of school meals."
Cohen and her team tested two possible techniques to improve diets in low-income schools. One approach enlisted chefs to develop tastier recipes, the other relied on subtle techniques like putting vegetables first along the lunch line, moving chocolate milk behind white milk and serving fruit in colorful bowls.
The study is unique because it lasted seven months after the chefs began their work, a longer time frame than is usually feasible, according to David Just, a behavioral economist who studies food choices at Cornell University. It also went further than most nutrition studies by tracking not only what dishes the students selected, but also how much of each they actually ate by weighing what was left uneaten.
Researchers tested four different conditions: schools continuing as usual, schools working with a chef, schools that slightly redesigned cafeterias to encourage healthy selections, and schools that both hosted a chef and subtly rearranged halfway through the study period.
The researchers found no real change in eating habits three months after the chefs began partnering with schools. But seven months after the chefs arrived, more children were choosing fruits and vegetables and less of these dishes was thrown away. Cohen thinks the students needed time to get used to the chef-inspired dishes. The small redesign strategies, however, made little difference.
Cornell's Just worries that trying two techniques in the same study may have muddled the data because the strategies may have interfered with each other. Nevertheless, "I think it's actually a fairly well-done study," he said. "It's some of the best evidence that [partnering with chefs] actually works." But he's skeptical professional help can fit in school budgets.
A program to bring chefs into schools is one aspect of first lady Michelle Obama's "Let's Move" children's health campaign. According to Jason Morse, chair of the program's advisory council, about 400 chefs currently participate, with a presence in almost every state. He recommends chefs expect to begin as volunteers but notes that some program participants are now salaried employees earning between $38,000 and $55,000.
Morse acknowledges small districts in particular may struggle to find the resources to pay a chef or attract an interested volunteer. Cohen believes two or three school districts could share a chef, a move that may save money in the long run through more efficient food management techniques.
About the Author
Discussion