Environment Blog
Q+A Louis Masai
This environmentally-inclined artist lets no wall go wasted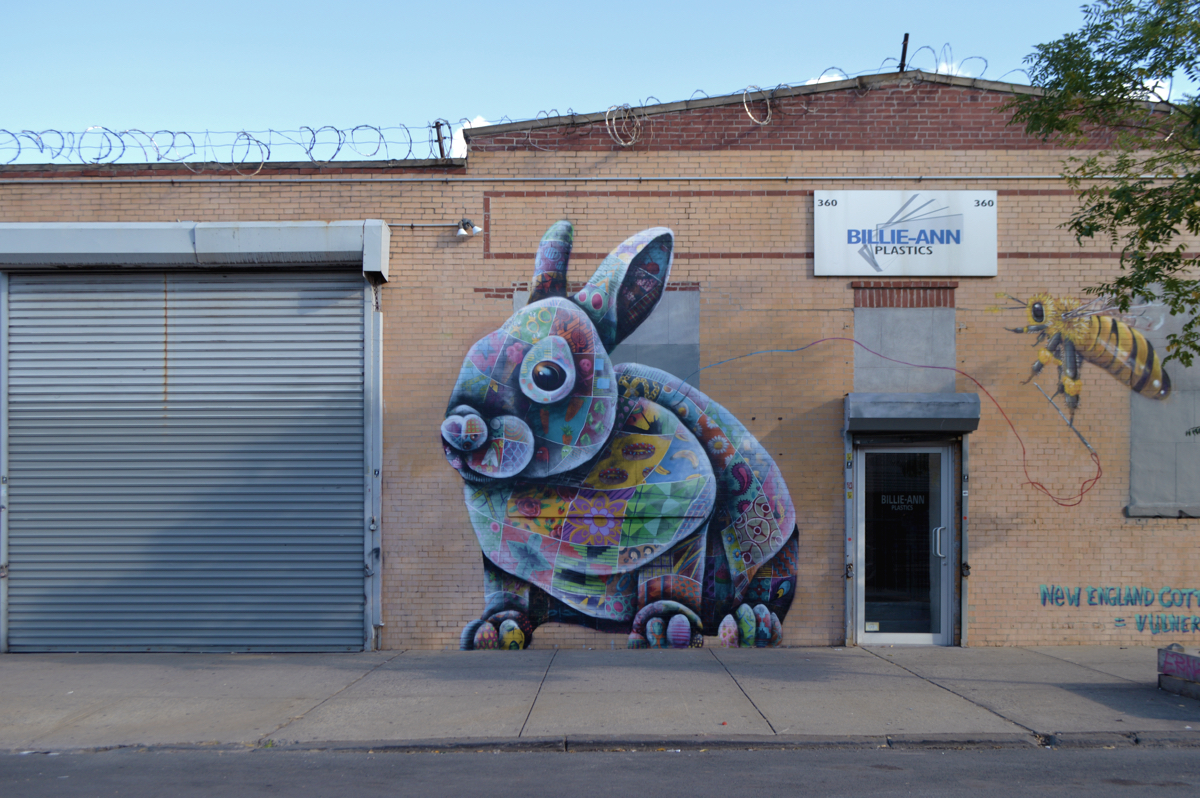 Masai painted this mural of an endangered New England cottontail rabbit in New York City. [Image credit: Tee Byford]
Last year, British artist Louis Masai embarked on "The Art of Beeing" tour. He and his team visited 11 American cities, produced 16 murals and produced video updates on Masai's travels and artistic process.
Scienceline spoke with Masai about the motivation behind his work. The interview has been edited for clarity.
Q: Was this project a natural continuation of your earlier work, or more of a response in response to a crisis you saw happening?
From a very young age, I've always been interested in nature and wildlife. I moved to London and I wanted to start completely fresh. But eventually, I went back to something I consider much closer to my interests, which is animals. I was typing 'rare animals' into Google and I realized there really isn't a 'rare' animal — they're endangered. And realizing they're endangered made me upset.
If it's just a painting for the sake of the painting, it seems like I'm wasting a voice.
Q: How do you design the mural itself? It's not just the animal figure — it's tons of patterns inside the figure.
A lot of it comes from just my head. But I also look at what walks past me, and if they're wearing paisley or eating a banana, it just becomes part of the piece. I was painting the cottontail rabbit and so I painted some carrots in it.
There are many times when I am having conversations with people who already know what this topic's about. The avenue I access as an artist is people who are interested in art who suddenly become interested in endangered species because of my art. I know that people have stopped eating meat and palm oil, or started working with charities, purely based on the fact they love art and are tuned into what I'm doing. [Note: many environmentalists critique palm oil production due to deforestation and other damage.]
Q: What inspired you to do this tour in the U.S. instead of your native England, which, like most countries today, has similar issues of extinction?
My feed was filled with environmental concern. And I saw some posts coming through about the ridiculous things going on in the U.S. in the past couple years, so I wanted to explore the American natural environment and understand individual situations in different states.
Over the last twelve months there was a lot of controversy about whether climate change was real or not. And the bee population was rapidly dwindling. And the Zika virus spraying. And the last wild horses of the states were going to be culled for land for cattle. [Note: this last one turned out to be partially a rumor.]
Q: Once you decided you were going to do this in the U.S., how did you get started?
I spent four months researching environmental issues in the states, doing an insane amount of research about which species were endangered. I wanted to challenge people's mindsets. If you say, rabbit, people say, aw yeah they breed like rabbits. Of course it's ridiculous rabbits should be endangered. But the cottontail is massively declining in numbers. I was picking species that challenged people's perception of the word 'endangered.'
Q: What was it like once you got on the road?
One of the things that was inspiring to me was how vast your landscape is, and how rapidly it changes. Being a little tiny being inside Salt Lake City, or some of your redwood forests, inside those natural environments, and quite often the only person, is quite incredible. I don't know of anywhere else where the environment changes that drastically over such a short period of time. I wanted to feel that and understand that more.
When you think about animals, you don't automatically think about America. Whereas if you actually break it down, Americans probably would at one point have had the most diverse species on the planet. They've been slowly pushed out and have diminished in numbers.
I could go do the whole thing again and see a lot more.
Q: You've talked about how this art has changed others. But how has it changed you?
The artist is an artist because he can't be anything else. Once an artist becomes fixated on something it, it becomes them. With me, that's 100 percent happened. I can't stop painting and when I stop painting I get miserable. But concentrating on my specific work has totally changed my whole life. I've been vegan for 4 years, I've been vegetarian for 15. I refuse to buy things with palm oil. And I refuse to accept that all my vegetables need plastic packaging.
Even more so, I don't want to be a contradiction. If I'm saying 'don't palm oil' through my social media, but I'm just sitting there chomping on a pack of biscuits with palm oil, then I'm just an idiot. If people listen to what I say, then I need to listen to myself more than ever before.
About the Author
Discussion