Health
Trump's transgender memo could damage trans mental health, experts say
Transgender people have higher rates of depression, anxiety, and suicide, partly due to state-backed discrimination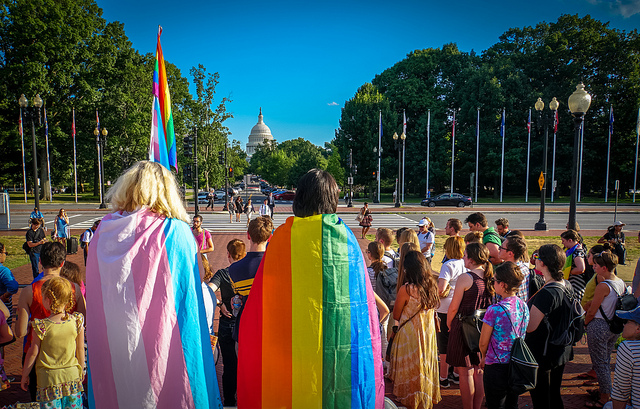 "Living in our country as a transgender individual, especially in this political climate, is very difficult," says mental health researcher Ashli Owen-Smith. [Image courtesy of Flickr user Ted Eytan | CC BY-SA 2.0]
On October 21, the New York Times revealed a federal memo that could roll back Obama-era protections for the 1.4 million transgender people living in the U.S. While trans people have responded with outrage and the promise that they're not going anywhere, the government's actions could still jeopardize their mental health. It likely already has.
The day after the Times revealed the Department of Health and Human Services' transgender memo, calls to the crisis hotline Trans Lifeline quadrupled — increasing from an average of 187 per day to 471, according to Willamette Week. For context, 40 percent of trans people in the U.S. attempt suicide in their lifetime, nearly nine times the national average. The suicide risk is even higher for disabled trans people and trans people of color, according to the National Transgender Discrimination Survey.
"These types of policies can create a culture in our country whereby transgender individuals may feel even more marginalized, even more at risk for discrimination, thereby increasing their risk of depression, anxiety, and other mental health issues," says Ashli Owen-Smith, a mental health researcher at Georgia State University in Atlanta.
In general, trans people have significantly more mental health problems than cisgender (non-transgender) people. At any given time, about 40 percent of trans people in the U.S. experience serious psychological distress, eight times higher than the overall population.
As many as two out of three trans people have anxiety, and about half will suffer from depression at some point in their lives, according to recent reviews. Both these rates are three times higher than U.S. averages. Studies have also suggested that trans adults have higher rates of post-traumatic stress disorder and substance abuse and that trans youth develop higher rates of attention deficit disorder and self-harm.
"Living through the experiences of stigma and discrimination day in and day out can have profound effects on mental health," says Owen-Smith.
While discrimination in general can harm trans mental health, state-backed discrimination in particular is associated with higher suicide rates, according to a 2015 study of 1,229 trans people across the U.S. This recent transgender memo is one such example.
The memo's proposed policy would define sex as male or female at birth based on genitalia alone. If the genitalia doesn't fit the typical penis/vagina binary, any questions would be settled through genetic testing. It's unclear how this would be applied to people outside the sex chromosome binary (XX and XY), such as those with Klinefelter's syndrome (XXY) or Turner's syndrome (X).
The redefinition would occur under Title XI, the federal civil rights law that protects against discrimination in education. This would roll back an Obama-era decision that sex discrimination under Title XI includes gender discrimination. And once the 'M' or 'F' is stamped on a birth certificate, the person behind the paper couldn't change it, ever.
Not only is this determination of sex scientifically inaccurate; trans and intersex people feel it also attempts to erase their own existence.
"Redefining sex discrimination to not cover trans people is just another way society — and particularly this Republican, conservative, transphobic administration — is trying to erase people who have always existed," says AC Dumlao, a non-binary advocate and educator at the Transgender Legal Defense & Education Fund (TLDEF), a New York-based nonprofit.
Trans people also worry that the memo's proposed policies could limit their access to gender-affirming medical care. If access to surgical procedures and hormone therapy is removed, "trans people will resort to butcher shop, black market survival in order to live their lives authentically," says Tabytha Gonzalez, a trans woman and activist at TLDEF.
Although not all trans people want to physically transition, many do. Access to gender-affirming care decreases transgender anxiety and depression rates, and potentially suicide rates too, according to a 2015 review and a 2006 Belgian study, respectively.
"It's important to think of this as life-saving treatment for transgender and non-binary people," says Dr. Alex Keuroghlian, a psychiatrist and director of the National LGBT Health Education Center at the Fenway Institute in Boston.
In light of the threats to their mental well-being, the trans community and their allies continue to protest the memo and the Trump administration's other discriminatory actions, like banning transgender people from serving in the military.
"We encourage all people, especially cisgender allies, to continue advocating for us," says Dumlao. "We're only a small percentage of the population. We need help and support to turn the tide so we won't have to talk about mental health issues because of being trans."
About the Author
Discussion