Environment
Unrecognized Latin American 'Gretas' struggle to bring climate strikes home
A region most vulnerable to climate change was barely visible during the Global Climate Strike.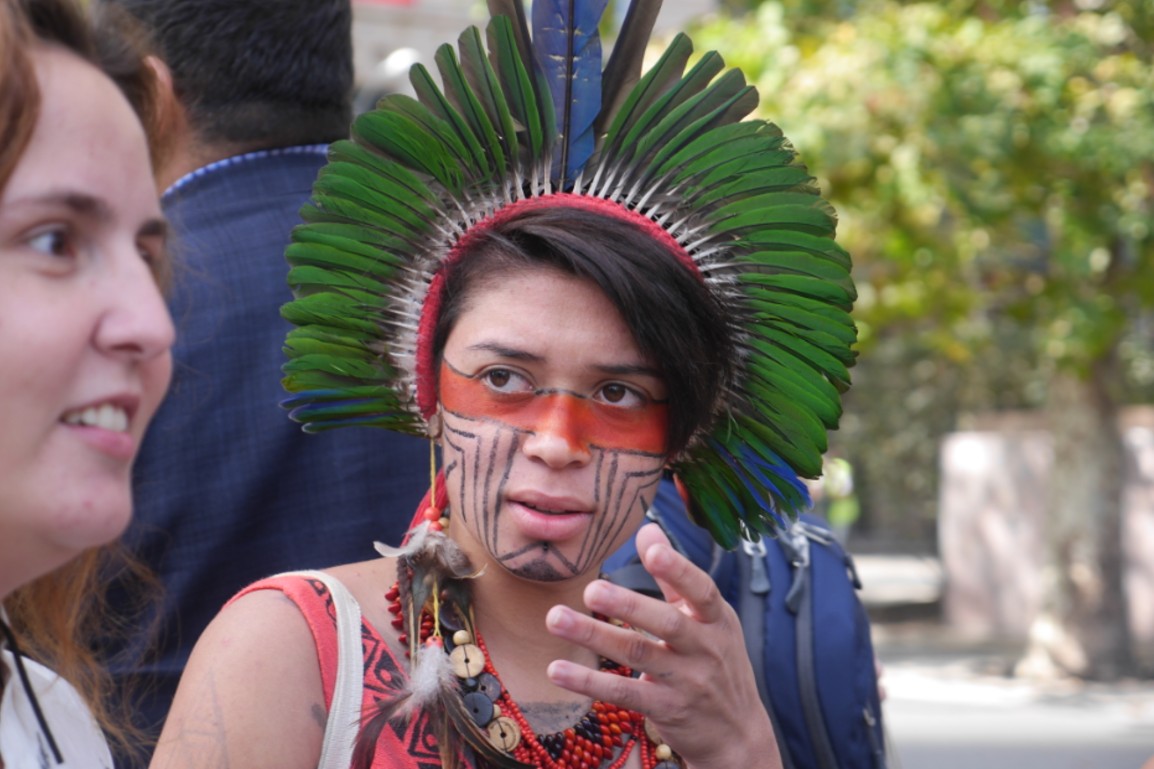 Artemisa Xabriabá (right), 17-year-old indigenous climate activist from Brazil. Artemisa became an activist at age 7, when she helped to reforest 37 acres in the lands of her native community who lives on the left bank of the São Francisco River, in the state of Minas Gerais, southeastern Brazil. Credit: Maria Paula Rubiano
Of the 4 million people marching in the Global Climate Strike on September 20, which took place at 4,500 locations around the globe, only one was a member of the Xabriabá indigenous community in Southern Brazil. Artemisia Xakriabá, a 17-year old activist, traveled nearly 5,000 miles to represent her community at the New York City and Washington, D.C. marches.
It wasn't from lack of interest. Climate change is already disrupting the lives of the 12,000 people in her hometown, almost all of whom are subsistence hunters and fishers, according to Xakriabá.
The problem was that the closest climate strike march to the Xabriabá community was in São Paulo, a 17-hour bus ride away.  "But the distance or the time isn't the most important thing," says Xakriabá, who went to New York with the support of the organization Guardians of the Forest. As an indigenous person, not working for a day means not eating for a day.
"It also takes money to get to the places where the strikes are taking place," she says.
Her situation is quite common. Maria Judite Guajajara, 24, who was also in the New York strike, said the situation in her native region of the Brazilian Amazon is similar. So did Maria Jose Bejarano, a non-indigenous, 18-year-old activist from Chiquitania, in southern Bolivia.
"All of the indigenous communities there, as we speak, are fighting the devastating fires that have been burning for months. They couldn't come here, they can't march or strike. They are literally saving their home," she says.
Their stories speak of a reality about the climate strikes, and the broader climate activism they have helped spur. Even if over 152 countries participated, according to the organizers of the event, the big crowds were almost exclusively in the older, wealthier Northern Hemisphere, not in developing countries where the effects of climate change are most stark.
According to the official map of Climate Strike, there were just 107 events in Latin America and 100 in Africa, where 60 percent of its 1.3 billion people are under 25 years-old. By comparison, in Germany alone, there were 500 strikes in a country of just 82 million people. Nearly half of the protest sites were in Europe and the U.S., including the biggest crowds thanks to massive rallies in cities like New York, San Francisco and London.
The question is: why is there such an abysmal difference?
Fear of the police is part of the problem, according to Sofía Garcés, a 20 year-old activist from Colombia who organized one of the few strikes that took place there. "It's hard, because here protests are not usually respected by the police," she says.
Just three days before the climate strike, student protesters in Soacha, a little town near Bogotá, filmed at least six officers brutally beating a young student.
She also thinks that over time, Colombia's tumultuous national history has given them a thick skin — now, they're numbed the gravity of this emergency. "We are always on a crisis," she says with resignation.  "A climate crisis means nothing for a lot of people here."
Artemisa Xabriabá agrees, and adds that lack of education about climate change is also holding back Latin American young people.
The very act of striking is a privilege most lower-income communities cannot share, says Katie Eder, 19, an organizer of the U.S. strikes.  "It is such a privileged action… so you know it's like a very hard balance on how can we still engage in this action that is powerful, but still ensuring that this is accessible and that people can participate," says Eder. 
Organizers of the strikes tried to address the issue in their demands: one demand calls for respect for indigenous communities' land and sovereignty. They also gave indigenous people prominent speaking roles: Artemisa Xabriabá and Rebeca Sabnam, a 16-year-old Bangladashi who lives in New York, spoke on the same stage as Sweden's Greta Thunberg, addressing the estimated crowd of 60,000 people in New York City's Battery Park.
By prominently including indigenous and vulnerable communities, the environmental movement can finally move past its over-reliance on powerful institutions like governments and corporations, according to University of Minnesota historian David N. Pellow, who studies environmentalism. "Indigenous people and vulnerable communities have always known they can't rely on the powerful to solve their problems. That is why they can provide more creative approaches to solve this crisis," he says.
About the Author
Discussion