Environment
The lost and future wildlife of New York City's East River
New York City's East River was once a bustling wildlife habitat. Could yesterday's ecosystem return to today's metropolis?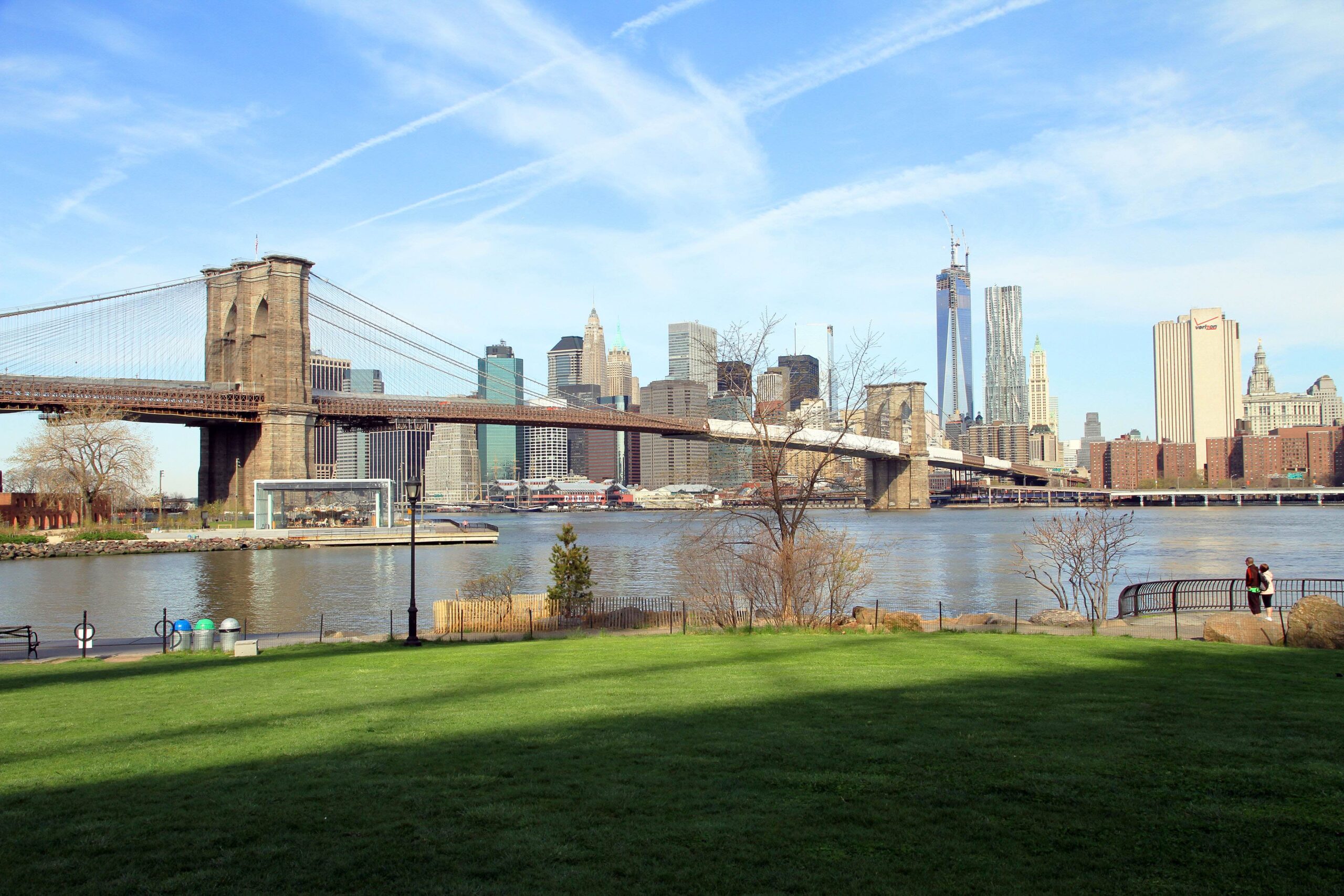 New York City's East River is lined by numerous green spaces and parks, including Brooklyn Bridge Park in Brooklyn and the East River Esplanade in Manhattan. [Photo: Ingfbruno | CC BY-SA 3.0]
Right in the heart of New York City is the East River, separating Manhattan and the Bronx from Brooklyn, Queens and the suburbia of Long Island. For many New Yorkers, the river is just water running under the many bridges they cross over during their daily commute. 
But before the confluence of the Hudson River and the harbor became New York City, the East River was home to a diversity of wildlife including fish, oysters and whales. 
What would it take to reincarnate this lost ecosystem of New York City's central body of water? In this episode of the Scienceline podcast, we try to find the answer.
You can also listen to this episode of the Scienceline podcast on Apple Podcasts, Spotify or Stitcher.
Ethan Freedman: New York City's East River isn't known as a sparkling, clean body of water. You might remember the Seinfeld episode where Kramer takes up swimming in the East River. 
Essentially, the river's water is so smelly that Kramer's new hobby starts stinking up his whole life. It's a good episode. But the East River deserves to be more than the butt of a joke. I, for one, love to ride my bike along the river. And I'm not the only person who thinks the East River is misunderstood.
Ted Steinberg: Well, first of all, I mean, the East River is a misnomer. It's actually a tidal strait.
Ethan Freedman: That's Ted Steinberg, a history professor at Case Western and the author of Gotham Unbound: The Ecological History of Greater New York. He says the East River — I mean "tidal strait" — is really a connection between the ocean in lower New York Harbor and Long Island Sound. And 400 years ago, swimming in these waters wouldn't have been considered such an odorous concept. 
Ted Steinberg: Four hundred years ago or so, when the Dutch sailed into New York Harbor, in all likelihood at least, because we don't know exactly what it looked like, but it was a very complex marine environment with bays and creeks and inlets.
Ethan Freedman: Steinberg told me about some of the habitats and animals that you would have found in New York back then. And that place — it sounds like something from another world.
(Ethereal music comes up as Steinberg describes the lost wildlife of the East River. Steinberg's voice gets slower and echo-y.)
Ted Steinberg: Meadows, salt marsh, intertidal mudflats, bogs where you might find blueberries…. lobsters and crabs, no doubt… sturgeon, sunfish, pike, sheepshead, American shad, alewives… oysters galore… blackbirds and redstarts, woodpeckers, great horned owls, clapper rails… whales and porpoises. 
(Steinberg's words echo as a whale call fades into the distance)
Ethan Freedman: That version of New York, of course, no longer exists. But I wanted to know — could we ever get it back? Could the East River once again host such a beautiful array of wildlife?
If that's ever going to happen, the river would need to look a lot different than it does now. One place to start might be with the water itself. Steinberg tells me that as New York grew in population in the 1800s, the city started using more and more water.
Ted Steinberg: The water then had to go somewhere. Well, where did it go? Well, a lot of it went into the East River and other surrounding waters around New York. Well, this was untreated sewage.
(Piano comes in)
Ethan Freedman: Ah yes, nothing ruins a good tidal strait like untreated sewage. Sewage adds excess nutrients to the water, causing algae to grow like crazy. That algae can suck up all the oxygen, and without any oxygen — well, good luck fish.
Things started getting cleaner after 1972, with updates to the Clean Water Act and investment from the New York City Department of Environmental Protection. But sewage overflow can still be a problem during heavy rain, and waterway advocates say more updates are needed to the city's wastewater treatment system.
But cleaner water alone also isn't going to bring back the wildlife. These animals will need what every animal needs: a habitat. And in New York Harbor, habitat starts and ends with one specific shellfish.
(Piano fades out)
Pete Malinowski: New York Harbor used to be full of oyster reefs.
Ethan Freedman: That's Pete Malinowski, the Executive Director of the Billion Oyster Project. They're a group that works with students and scientists in the city to restore oysters to the harbor. He tells me that people have dug up most of the area's original oyster beds — and that's had a dramatic impact on the ecosystem. Think of oysters, he says, like trees in a forest.
Pete Malinowski: If you have a 200,000-acre forest, and you chop down all the trees and remove them, what you're left with is 200,000 acres of dirt. And that's essentially what's happened in New York Harbor. It's a barren landscape.
Ethan Freedman: That's a big reason why the Billion Oyster Project is trying to restore the oyster beds in the harbor. And yes, they're really counting to 1 billion. 
Pete Malinowski: It's about 45 million so far. So we only have 955 million to go before we get to a billion.
Ethan Freedman: But that's in the water. Habitats along the water's edge could be harder to restore — the obvious reason being that New York is a big, industrial city, without a lot of room for meadows and marshes. But Michael Marrella, the Director of Waterfront and Open Space Planning at the Department of City Planning, pointed out a few spots where some natural space has returned along the East River.
Michael Marrella: Brooklyn Bridge Park, and the wetlands that have been created as portions of those shorelines, or further north at Randall's Island and similar projects, where the city has intentionally taken down some of the hardened structures that were built in the past. I wouldn't say restoring, I would say creating a new ecological niche.
Ethan Freedman: A new ecological niche. Maybe that's the answer to whether we could ever restore the ecosystem of the East River. Probably not — there's a big city and 8.5 million people in the way. But maybe we can create something new. Malinowski tells me that in many parts of the harbor, you can already spot a lot of wildlife, if you know where to look.
Pete Malinowski: I mean, I've seen dolphins in New York Harbor, I've seen whales, I've seen seals. I've seen seahorses. I've seen, you know, giant schools of menhaden, kingfishers, ibises.
Ethan Freedman: And it's not just wildlife you can spot along the water today. Another iconic species — humans — also enjoys the parks and habitats along the East River.
(Sounds from crowds in the park along the river.)
(Ethereal music comes back in, with nature sounds like woodpeckers and frogs.)
There's still a perception that the river is… gross. But maybe, if we can improve water quality, restore oysters and rebuild habitat along the river, we might also be able to change that perception. 
One day, New Yorkers might be able to look at the rivers and bays around them and think about more than sewage and industry. One day, it could be common to see things like dolphins and striped bass and oysters along the harbor. Fifty years from now, when Seinfeld reruns are still on the air, maybe the younger generations won't understand the joke about the smelly, polluted East River.
(Ethereal music reaches a crescendo as a whale sound calls.)
Music:
Waltz in B Minor, Op. 69 no. 2 by Olga Gurevich | Public Domain Mark 1.0
Fairy Chant – Elven Song – Epic Music & Vocals by Julius H | Pixabay License
Sound Effects:
Whale: davidou | CC0 1.0
Birds: hargissssound | CC0 1.0
Woodpecker: shelf_employed | CC BY 3.0
Owl: shelf_employed | CC BY 3.0
Frogs: sweetjuniper | CC0 1.0
River: CastleofSamples | CC BY 3.0
About the Author
Discussion