Environment
Fighting Fast Fashion
The mass-produced and over-consumed cycle of fast fashion has taken a serious environmental toll on the planet. But there are ways to fight back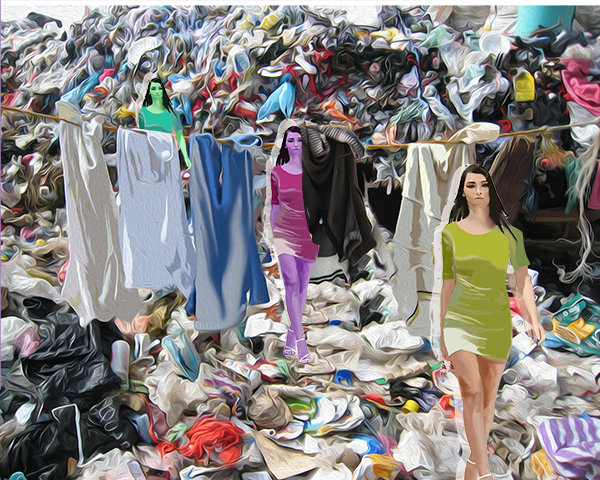 Clothing that gets thrown away or can't be used by second-hand stores often ends up in landfills where the items decay slowly and release greenhouse gases. [Illustration: Maiya Focht | Base photo: The Donkey Sanctuary]
Sometimes, being a "material girl" comes with a downside. An endless cycle of fashion trends doesn't only weigh on your wallet; it takes a toll on the planet too.  
In 2020, the fashion industry accounted for 10% of the world's carbon emissions, which is more than the oceanic shipping and international flight industries combined. If current practices continue undeterred, experts predict emissions will only increase. 
Just like the larger issue of climate change, the path to fixing the fashion industry is disagreed upon. The good news? There are personal changes you can make to your shopping habits and potential policy changes that could help.
Scienceline reporter Maiya Focht dives deeper into the fast fashion industry, giving you an overview of the most important trend: caring for the environment.
(Music begins playing quietly and slowly builds)
Maiya Focht: We're constantly inundated with messages that tell us what to wear. From billboards to TikToks to conversations amongst friends, we're a society drunk on fashion trends. 
Clothes can be a powerful tool for self-expression, but we've landed ourselves in a dire environmental crisis. And the fashion industry bears part of that blame. In a world constantly shouting "shop, shop, shop", how can you help fight against fast fashion?
(The rhythm of a sewing machine and foreboding music grow underneath the narration. The sound blends into a montage of newscasts)
Vice News: Fashion is now one of the most polluting industries in the world.
Teen Vogue: It works on exploitative labor conditions.
DW Documentary: Produced cheaply, worn briefly, discarded quickly.
MTV Impact: Harming not only the independent designers but drastically contributing to the climate crisis.
MTV Impact: Fast fashion 
Teen Vogue: Fast fashion
CBS News: Fast fashion 
Maiya Focht:  Maxine Bèdat is a former lawyer turned fast fashion crusader. She founded the New Standard Institute, which advocates for fashion regulation policies like providing a transparent supply chain to consumers. She says right now, the data we have is not encouraging. 
Maxine Bèdat: The fashion industry contributes more greenhouse gas emissions than France, Germany, and the United Kingdom combined.
Maiya Focht: Add to that the fact that most of our unused products end up in the landfill. The average American throws away 81 pounds of clothing per year. No wonder Bèdat feels like the current outlook is bleak. 
Maxine Bèdat: It's a really challenging time that we're in because we have an industry that has managed to evade all laws. And an industry that is just becoming more and more disposable.
Maiya Focht: Society, and in turn the government, has failed to put the proper checks on the fashion industry, which is known for abusing outsourced labor, poor manufacturing practices and negligent environmental management.
But it's an industry that sold over $435 billion in products in the U.S. this past year alone. Charlie Orenstein, an industrial designer with a background in sustainability research at Syracuse University, says she takes that into consideration whenever she shops.

Charlie Orenstein: I mean I don't shop often, but when I do look through brands it's having the lens that if a company is selling clothes, it is for profit. So that is their number one motivation, regardless of whether or not they are ethical or they maybe are driven by sustainable practices, the end of the day is they want to make money.
Maiya Focht: Some companies have started trying to address the problem. H&M, which is often cited as one of the biggest offenders, has even promised to reform. On their website, they cite responsible purchasing practices, to quote-unquote "evaluate, develop and reward responsible suppliers" — in short, to be fairer buyers.
Other companies like Adidas have made efforts to incorporate ocean plastics into their materials. And others yet have formed their whole business model around sustainability, like the women's fashion brand Reformation. To be clear, though, sustainable brands are often much less affordable and less size-inclusive, which means not everybody has the luxury to shop there.
Many experts critique their efforts. Lisa McNeill, a professor at Otago University in New Zealand, researches brand management and its relationship to sustainability. Right now, she thinks most reform efforts by companies don't do enough.  
Lisa McNeill: What they don't tell you is okay, they did use a polymer or plastic to make that stretchy top that you've bought. But it can't be recycled again. So you know, it's all very well that you've bought it and think "Great! This is made out of plastic bottles", but it's still an endpoint. And it's still going to end up in the landfill at some point.
Maiya Focht: So we're in a position where there's pollution at the front end — with manufacturing issues— and pollution at the back end — with tons of clothes ending up in the landfill. But there are things we can all do, on the micro and the macro level to try and help. 
You can shop secondhand at vintage and thrift stores, which reduces the demand for new clothes. And as Orenstein tells us, once you own your clothes, the way you care for them can also help keep them out of the landfill and reduce water waste. 
Charlie Orenstein: A great thing that you can do is wash your clothes on cold and to dry line them instead of using the dryer. Also, your clothes don't need to be washed as often as you think. So wash your clothes less if you can.
Maiya Focht: McNeill agrees, and says that everyone needs to do their part if we're going to avoid climate disaster. 
Lisa McNeill: I really think that's a cop-out on the part of the consumer to say: "Why is it our problem?" Well, it's your problem because you keep buying it and you keep throwing it away, you keep wasting it. If you didn't send those signals into the marketplace, people wouldn't keep making it. 
Maiya Focht:  Across the board, opponents of the fast fashion industry say the best thing you can do is become a conscious consumer. Orenstein suggests asking yourself these questions before adding that hot new top to your shopping cart.
Charlie Orenstein: Is this a trend, or do I actually need this? What is the function of this clothing? Is it an item that is seasonless? Will it last me a long time? Is it well made? Because at the end of the day, you're better off investing, regardless of your, like, your income, investing in a piece that will last you a long time, and that you actually wear multiple times versus, like, buying into trends.
(Music plays, along with a montage of various YouTube personalities showing off their fashion hauls)
Sisters Forever: (Scream) Oh my god!
Kerina Wang: Giant SheIn Black Friday haul! 
Model Mouth: Two boxes here from Zara. 
Sisters Forever: We have a bunch of packages from Amazon.
Laini Ozark: So I really like this trend. 
Sisters Forever: Look at that outfit.
(Music fades out)
Maiya Focht: But what about changes on a macro level? Is there any force that could persuade the fashion industry to do better about climate change? Bèdat says a lot of the current conversation focuses too much on individual responsibility. She thinks it's great to be a conscious consumer, but that advocating on a policy level is actually much more effective. 
Maxine Bèdat: In order to fundamentally change these systems, we need to change the laws. And that also goes back to us the people. You know it's really up to us as citizens to show that these are issues that we care about. Calling your local representative and saying that you want their support in a bill is going to do a lot more than your individual purchase choice.
(Music fades in)
Maiya Focht: There's no one simple fix to this issue, but that's an idea we're growing more accustomed to these days. It's not the end of the world to say the path forward is complicated. But for now, a good place to start is with your own mindset. 
Charlie Orenstein: I think it's important for consumers to be curious and to make an effort to understand how their clothes are made and get more in touch with the process. It's important to be mindful of all the hands that touch your clothes, how they got here, the resources that you use the materials [and] the water. And I think with that empathy, you'd have more appreciation for your clothing and be a little bit more selective about what you buy.
(Music fades out)
Maiya Focht: For Scienceline, I'm Maiya Focht.
MUSIC USED IN ORDER:
Dark Fog by Kevin MacLeod | Filmmusic.io standard license
Raving Energy by Kevin MacLeod | Filmmusic.io standard license
Beauty Flow by Kevin MacLeod | Filmmusic.io standard license
SOUND EFFECTS
Newscast waterfall: 
Trend waterfall:
About the Author
Discussion