Health
Do stutterers always stutter? Not really
One's perception of being heard by others might be as important as their speech motor system, a study suggests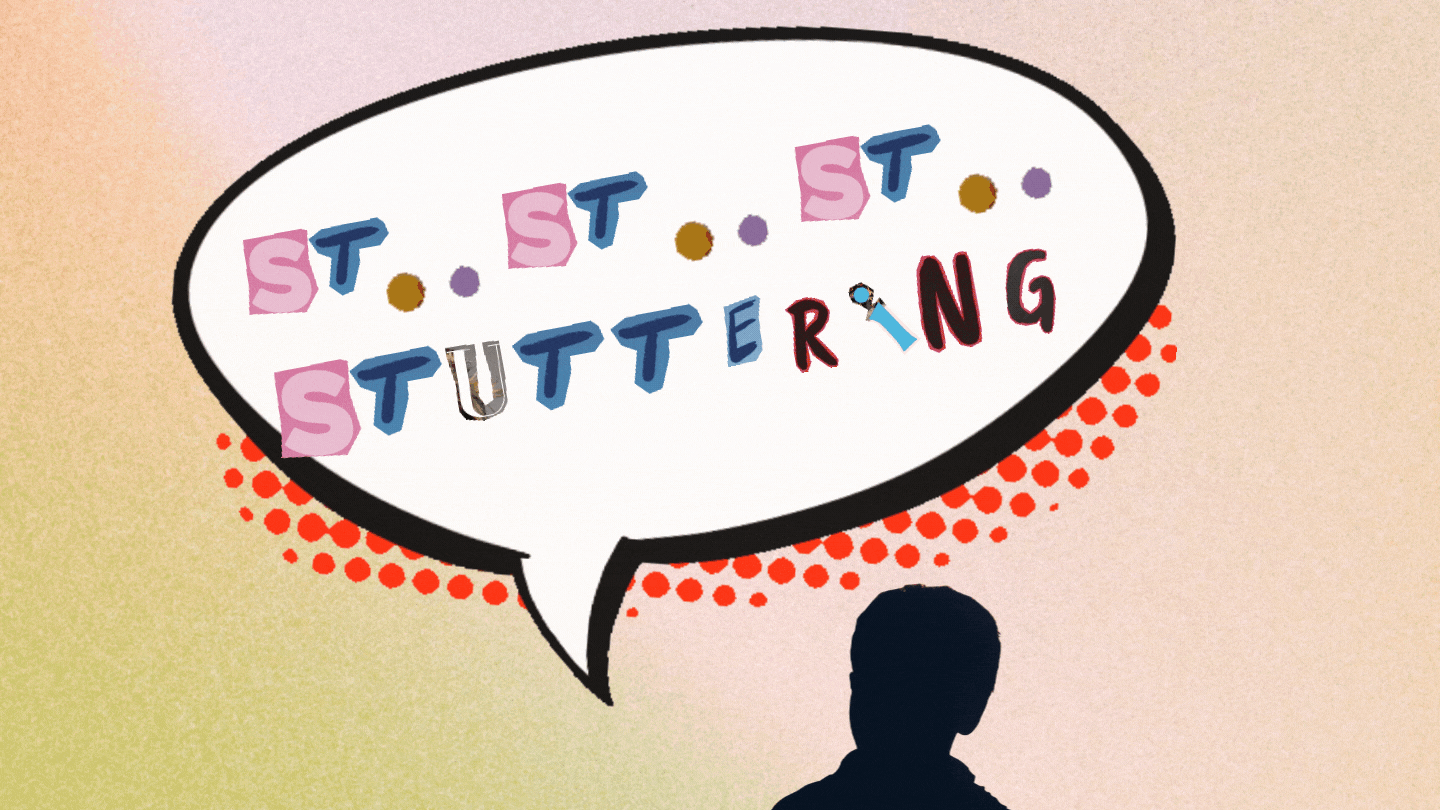 People who stutter may have different types of disfluencies, including repetition or repeating parts of words. [Credit: Kharishar Kahfi]
What do Tiger Woods, Michelle Williams and President Joe Biden all have in common? Like around 3 million people in the United States, they are all people who stutter.
Stuttering commonly develops around childhood and most people stop stuttering by the time they reach adulthood. However, stuttering persists for some adults and researchers haven't been able to figure out why. But findings from a recent study may get them one step closer to finding out: Adults don't stutter when they talk alone.
Join Scienceline reporter Kharishar Kahfi as he learns more about the communication disorder and what the new discovery adds to the field of stuttering research.
Kharishar Kahfi: For most of his life, Jeff Olevson has been aware that he is different than the rest of his friends. Jeff stutters.

Jeff Olevson: People who don't stutter, when they meet someone who stutters, they might think we're dumb or we don't know what we're saying. But we often do know what to say. It just takes us a little bit longer to say what we want to say.

Kharishar Kahfi: When he was a kid, Jeff wanted to do things that his older brother did, like play sports and go to homecoming and even prom. But often he didn't, because his stutter held him back. Even picking up the phone was not so simple for Jeff.

(telephone starts ringing)

Jeff Olevson: So, I never wanted to pick it up in front of people because I would stutter and wouldn't want anyone else to hear me. So it does feel better if I had to make phone calls in private or by myself and stuff.

(telephone stops ringing, music plays)

Kharishar Kahfi: Symptoms of stuttering usually appear when someone is between two and three years old, just like in Jeff's case. According to the National Stuttering Association, five percent of all children go through a stuttering phase. Some people grow out of it during their teenage years. But stuttering persists in one out of 100 adults. So why does stuttering resolve itself in some cases, but not in others?

(music pauses) 

Eric Jackson: I would love to share that information. The problem is… is that we don't know why yet.

(music continues)

Kharishar Kahfi: That is Eric Jackson from New York University who has been studying stuttering. He himself is actually a person who stutters, even as an adult.  

Eric Jackson: S…so it's actually one of the holy grail research questions in our field is why most kids just naturally recover and… and why this small percent of kids will persist.

Kharishar Kahfi: While researchers are still working to find the answer, there is one characteristic of stuttering that may provide some hope for persistent stutterers: People who stutter, like Jeff, don't always do it, especially when they are alone. 

(music ends)

Kharishar Kahfi: This happens because of what scientists call the "talking alone effect." Here's Dr. Jackson again.

Eric Jackson: We've known about the talk alone effect ever since the beginning of the field, and probably even well, and definitely even before, in the sense that people who stutter know that when they are alone, it's much, much, much easier to talk and there's much, much less stuttering.

(music plays)

Kharishar Kahfi: The talk alone effect is the focus of Dr. Jackson's latest study. Previous studies have tried to look at this effect by observing a participant talking in an empty room through a camera. But the camera sometimes leaves study participants with a feeling that they are being watched. So they cannot do what scientists call "private speech."

Eric Jackson: Private speech is speech that's… that's just meant for the speaker. Like it's not meant for anybody else, right? And when you're alone, like in the early studies, you might not have private speech, because the stutterers will be thinking about a listener.

Kharishar Kahfi: So how can we observe the stutterers using private speech without making them think that they are being watched?

Eric Jackson: S..so we had a whole script about how the cameras weren't on and they were only on in certain conditions. We… we told the participants that it is really helpful for them to talk out loud when they're completing the task, just because there's research that shows that when you talk out loud to yourself, your performance on any kind of task is going to increase.

Kharishar Kahfi: But that was a lie. The researchers secretly observed the participants through the cameras. So did the stutterers stutter while they were talking out loud to themselves?

Eric Jackson: S..so the… the… the results were that there was virtually no stuttering during the private speech condition.

Kharishar Kahfi: Eureka! This must be good news for stuttering adults like Jeff, right?

(music ends)

Eric Jackson: It… it… it doesn't and it won't have a direct impact, necessarily on speech therapy for people who stutter.

Kharishar Kahfi: Oh bother.

Eric Jackson: What I think these results do is that they show that this element of social cognition, that's another way to put it, or the perception of being heard, is just as critical to stuttering as something like the speech motor system.

(music plays)

Kharishar Kahfi: While the finding might not lead to a direct application, this might open new doors for researchers working in the field. Stuttering has been studied for decades, longer than other speech disorders. Yet, scientists only know a few things about it. 

Nan Bernstein Ratner: In terms of wanting to look at young children, I think [it] is very important, if only to show how early children who stutter become aware that people are listening to them and may judge them badly.

Kharishar Kahfi: This is Professor Nan Bernstein Ratner, a speech and language researcher from University of Maryland who was not involved in the experiment. She would love to see Dr. Jackson's study replicated with kids who stutter. 

Nan Bernstein Ratner: Young children have been studied in exactly this way to see if when they talk out a problem, they solve it better. So I think you could use this with kindergarten children, maybe preschool children.

(music ends) 

Kharishar Kahfi: Jeff, who now works as an accountant, hopes that the study can help raise awareness and reduce stigma against stutterers. He personally thinks that stuttering and people who do it are often misunderstood by most people.

Jeff Olevson: The big thing is be patient with people who stutter. I love people who are patient, who aren't so fast paced, but are just willing to let us say what we want to say. And so I just think it's important, just have patience. 

Kharishar Kahfi: For Scienceline, I'm Kharishar Kahfi.
Music:
Thinking Music by Kevin MacLeod | Filmmusic.io Standard License
Western Streets by Kevin MacLeod | Filmmusic.io Standard License
Sound effect:
Phone Ringing by acclivity | CC BY 3.0
About the Author
Discussion