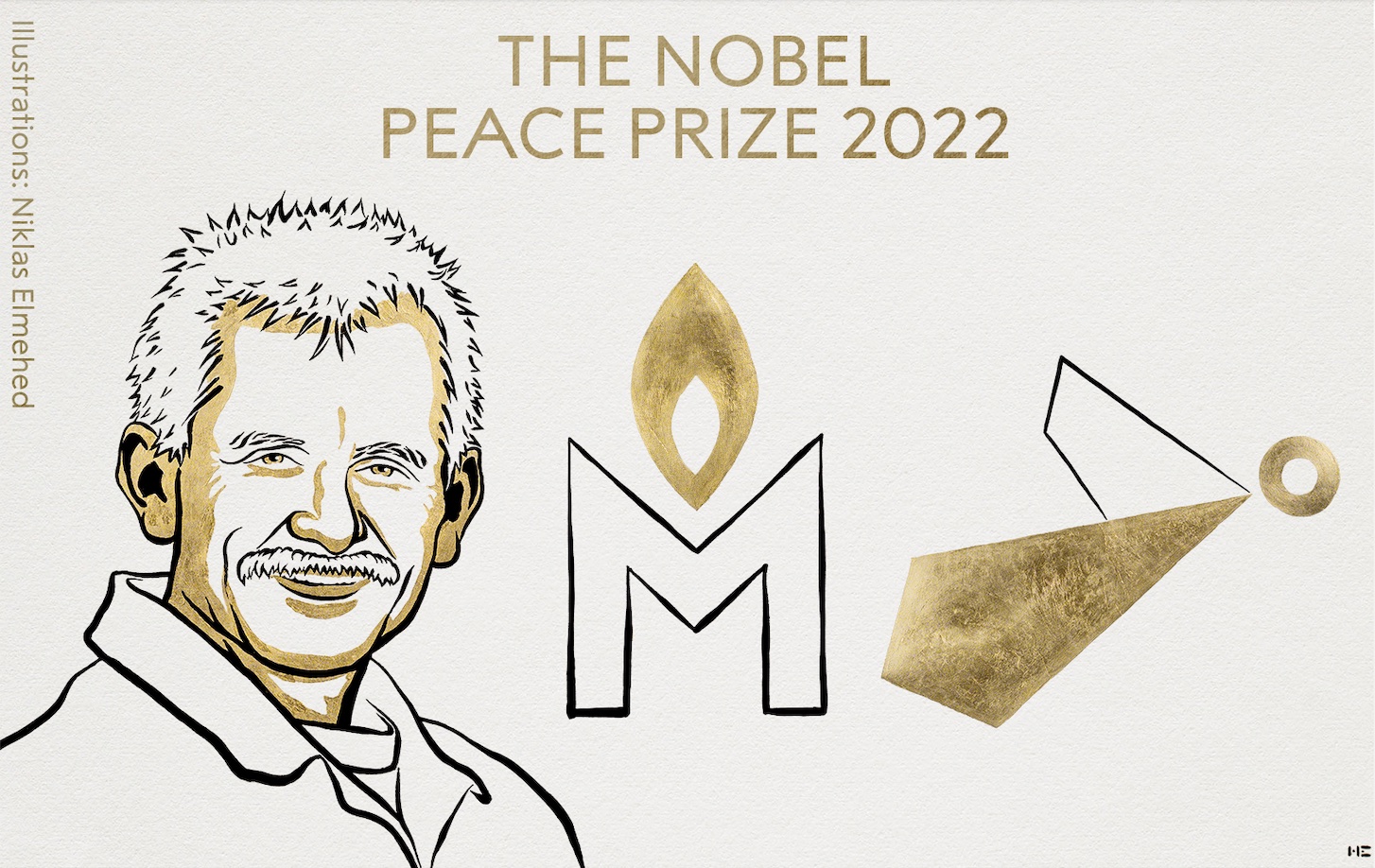 An illustration of the 2022 Peace Prize laureates: Ales Bialiatski, Memorial and Center for Civil Liberties. [Credit: Niklas Elmehed © Nobel Prize Outreach]
An activist and two human rights groups are the joint winners of the Nobel Peace Prize for 2022. Ales Bialiatski from Belarus, the Russian organization Memorial, and the Ukrainian Center for Civil Liberties are recognized for their fight for civil societies in their respective home countries.
The announcement comes at a time when Russia's invasion of Ukraine has destabilized the region and displaced millions of people. The Norwegian Nobel Committee chose to honor these champions of "human rights, democracy and peaceful co-existence" in the neighboring countries of Ukraine, Belarus and Russia. 
"This year's laureates have revitalized and honored Alfred Nobel's vision of peace and fraternity between nations," said Berit Reiss-Anderson, the chair of the Norwegian Nobel Committee in a livestream on Friday morning. "A vision most needed in the world today."
In the mid-1980s, Bialiatski helped initiate the democratic movement in Belarus. He founded the Viasna Human Rights Centre in 1996, which documents and protests against the torture of political prisoners. Bialiatski himself was imprisoned for his efforts from 2011 to 2014, and more recently, in 2021. He is currently "detained without trial," says the Nobel Committee, but notes that Bialiatski "has not yielded one inch in his fight for human rights and democracy in Belarus."
Upon discovering the announcement, Bialiatski's wife said she was "overwhelmed with emotion," according to the BBC.
One of the oldest human rights groups in Russia, Memorial works to expose incidents of communist oppression in the USSR as a push for civil societies. Founded in the fall of the Soviet Union in 1987, Memorial is most well-known for documenting crimes and abuses in the Stalin era and the Chechen wars. The Nobel Committee mentions Natalia Estemirova, who was killed in Memorial's office in Chechnya, highlighting the organization's dedication despite dealing with "threats, imprisonment, disappearances and murder for many years." As of April of this year, Memorial was forcibly dissolved by the Russian government. But in a statement to CNN, the group says that "Memorial is alive and will stay alive."
Anastasia Garina, Executive Director of the Memorial Human Rights Center, says the decision was a surprise. "The news of receiving the Nobel Prize was completely unexpected for us and caught us in the middle of the working day," she said in a statement. "Of course, we are very pleased." 
Finally, the Center of Civil Liberties, founded in 2007 in Kyiv, does ongoing work to develop Ukraine into a "fully-fledged democracy," says the Nobel Committee, advocating for the country to join the International Criminal Court. After Russia's invasion in February 2022, the center now focuses its efforts on documenting Russian war crimes against Ukrainian civilians.
"We are trying to honor and highlight to all the women and men to take responsibility on the platform that they are citizens," Reiss-Andersen said during the press conference following the announcement. "If such movements become strong enough, they do make a difference."
About the Author
Discussion