Health
Tanners Anonymous
Some people might be addicted to UV light.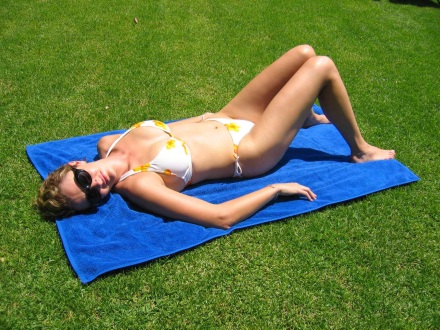 Getting her fix?
Mallory Cunard is wearing a petite blue paisley bikini and no sunscreen. She has been lounging on her rainbow patterned beach chair by the 11th street boardwalk entrance to Belmar Beach, New Jersey, since 2pm. She is angled toward the sun and a few feet away from a flock of children with plastic buckets and groups of young adults with stereos.
"I think it's a habit that's hard to break," the 20-year-old says of tanning.
She came alone, and when she's done tanning, she says that she won't just look better, she'll feel better—that's what keeps her coming back despite her family's advice.
To many people, the bronzy glow of a sun-kissed face represents relaxation, fitness, and attractiveness—but some research suggests it may also be a sign of a dangerous addiction.
Steven Feldman, a professor of dermatology at Wake Forest University Baptist Medical Center, became interested in the idea of tanning addiction after having difficulty convincing some of his patients to stay out of the sun. In a study appearing in 2004, he and his colleagues showed that ultraviolet light (UVL) results in greater relaxation and lower tension in tanners.
In a follow-up study, published in the April issue of the Journal of the American Academy of Dermatology, some of the same Wake Forest researchers observed that tanners might experience withdrawal symptoms typical of addiction.
The researchers exposed eight frequent tanners and eight infrequent tanners to two tanning beds. One bed emitted UV light, but the other bed did not. Some tanners were also given naltroxene—a drug which blocks feel-good chemicals, called endorphins, which are made by the body. As the tanners took higher doses of naltroxene, half of the frequent tanners experienced withdrawal symptoms, such as nausea and jitteriness.
This withdrawal may have occurred because the frequent tanners couldn't feel the positive effects of the endorphins that they had grown dependent on, according to the authors. In contrast, the infrequent tanners who took the drug never experienced withdrawal symptoms.
"It wouldn't surprise me if [UVL] releases feel-good factors," said Antony R. Young, a professor of experimental photobiology at St. John's Institute of Dermatology in England, who was not involved in the study.
Other research has examined the concept of tanning addiction from a psychological standpoint. Last year, a study found that some beachgoers, who were given psychological questionnaires while sunning themselves, showed a dependence on tanning.
"What we were thinking was that the behavior was controlling the person, not the person controlling the behavior, because some of these people were just getting up in the morning to tan. It was taking over their lives," said Richard Wagner Jr., lead author of the study and the deputy chairman of dermatology at the University of Texas Medical Branch at Galveston.
Those who "chronically and repetitively expose themselves to UVL to tan may have a novel type of UVL substance-related disorder," wrote the authors. But the findings may not be applicable to the entire population, or even to all tanners, Wagner added.
Although studies like these suggest that frequent tanning might be a sign of UVL addiction, some addiction experts say the evidence is still too slim to call frequent tanners addicts.
Studies using larger populations―including non-beachgoers and non-tanners, as well as people with other substance-related disorders―would help researchers to better examine the association between UVL and addiction, according to Eugene A. Kiyatkin, a senior research fellow with the National Institute on Drug Abuse.
For example, the recent Wake Forrest study only included a small sample of tanners. "While it may look exciting, the study compares only two groups of people: a normal group and an 'unusual' group," Kiyatkin wrote in an e-mail.
It is possible that the group of frequent tanners had other addictions or psychological problems, like obsessive-compulsive disorder, that may have caused them to respond differently than the average person to the drug used in the study, according to Kiyatkin.
Stronger evidence linking tanning to UVL addiction could also come from studies that directly measure a person's endorphins after tanning. Research done in the 1980s found increased levels of endorphins following UVL exposure, but recent studies have not confirmed those results.
And there are other reasons why people go tanning, according to Wagner of the University of Texas. For example, Mallory says one of her main motivations is how much clearer her skin is when she tans regularly.
Regardless of whether or not tanning is proven to be addictive, doctors agree that the goal is to make people aware of the health risks associated with UV light exposure. In 2000, the National Toxicology Program listed exposure to sunlamps and sun beds, as well as solar radiation, as known human carcinogens in their "Report on Carcinogens."
But tanning in salons and at home have never been more popular. The Indoor Tanning Association now estimates a 28 million customer base—about 10 percent of the total US population.
It is clear to many dermatologists that people like Mallory have been slow to heed warnings of the health risks associated with outdoor and indoor tanning.
"You get good results from tanning right away when you're young," says Mallory, adding that the consequences "don't show up until later."
Whether it is because of vanity, a sense of relaxation, or an addiction, Mallory will continue to tan. "I know it's bad for me," she says, "but I still do it. It's like anything else people tell you not to do but you just don't stop."
About the Author
Discussion