Space, Physics, and Math
Stray Voltage Still on the Loose
New York City's power utility seeks ways to lessen the danger.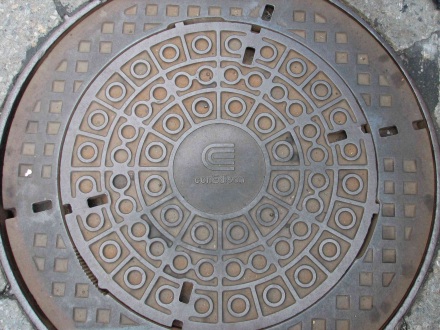 Mind the manhole. [CREDIT: BOB GRANT]
As Consolidated Edison, New York City's electricity provider, fields criticism for a recent blackout that left thousands of New Yorkers without power for nine days, the utility continues to address a serious danger that may still slumber beneath city streets: stray voltage.
Last Wednesday, Con Ed officials met with a panel of electrical engineers to discuss ways to avoid shocks to and electrocutions of pedestrians who come in contact with street-level structures that leak stray voltage. The meeting was mandated by a landmark court settlement made in the wake of the fatal electrocution of Jodie Lane, a 30-year-old doctoral student at Columbia University's Teachers College. Lane was killed by stray voltage in January 2004 after falling onto an electrified metal Con Ed service box cover as she walked her dogs in the East Village.
In addition to Lane's death two and a half years ago, several people, hundreds of dogs, and even one carriage-horse have been shocked by stray voltage on New York City streets in recent years.
Accidents involving stray voltage occur when metal structures, like manholes, service box covers, or streetlights, become electrified by malfunctions in underlying wires. When pedestrians or animals touch bare skin, paws or hooves to these "hotspots," they instantly become living wires, electricity shooting through their bodies.
Sakis Meliopoulos, one of the electrical experts who participated in the Con Ed meeting, says that progress is being made in addressing the problem of stray voltage, but the utility has not yet implemented structural changes to New York's underground electrical system that are necessary to make the city safer for pedestrians.
"The problem is the construction of the underground system," said Meliopoulos, a professor of electrical and computer engineering at the Georgia Institute of Technology. "[Con Ed] has to alter the design of the system to make sure stray voltage is detected and corrected immediately. They have to do a lot more."
Con Ed's most recent annual report, made public earlier this year, confirms Meliopoulos' assertions that stray voltage is still a problem in New York City. From December 2004 to December 2005, there were 1,214 instances of stray voltage among the utility's publicly accessible electrical structures found throughout the city and most of Westchester County. Streetlight posts made up the bulk of these incidents, with 1,083 found to be electrified by stray voltage.
But how do street-level metal structures become electrified in the first place? In Lane's case, the culprit was shoddy workmanship. In the investigation that followed her death, Con Ed acknowledged that the metal service box cover that killed Lane became electrified because an underlying wire was improperly insulated. "It was human error," said Con Ed spokesperson Chris Olert. "The people who were involved were retrained."
A more common cause of these types of accidents, however, is the age and poor condition of the wires that crisscross the city's underside. Some have been in place for more than 70 years. Decades of melting snow, deicing salt, and the rumble of a constant stream of traffic cause insulation to crumble, junctions to jiggle loose, and circuits to short out. Michael Stringfellow, chief scientist at California-based electronic consultancy PowerCET Corporation, said that the older a city is, the more prone it is to stray voltage. "In the older metropolitan areas where we have old infrastructure, it is a big problem," Stringfellow said. "Most of the time it appears to be degradation or a lack of maintenance."
Given the inevitability of insulation degradation, Con Ed has concentrated on increasing and improving their testing for stray voltage. Meliopoulos said that Con Ed has spent about $90 million dollars on stray voltage testing since Lane's death. After the accident, the New York State Public Service Commission ordered Con Ed to test each of its more than 700,000 publicly accessible electrical structures at least once per year. When the utility detects stray voltage leaking from its equipment or if a shock is reported, the problem is immediately investigated and corrected.
This increased testing has been the brightest spot in Con Ed's response to the problem of stray voltage, said Meliopoulos. He insists, however, that the utility should redesign the electrical system to avoid electrocutions from happening in the first place. "They've done excellent work to develop devices to detect stray voltages in the system," he said, referring to Con Ed's use of new truck-mounted mobile detection units. "The problem is you have to have a system that can minimize or eliminate all the possibilities for problems."
A relatively inexpensive device called a ground fault circuit interrupter is the most feasible way to prevent stray voltage accidents, said Meliopoulos.
GFCIs have been required for most outlets in American homes, apartments, and businesses since 1971. They are recognizable by the "Test" and "Reset" buttons on outlets in bathrooms or around sinks. This simple device prevents severe shocks by cutting off power to an outlet that receives a sudden surge of returning electricity, like when a hairdryer is dropped into a bathtub. When this happens, the GFCI senses the spike in electricity returning from the shorted hairdryer and trips the circuit, cutting off power at that particular outlet.
When installed at manholes, service box covers, or streetlights, GFCIs work the same way. If a GFCI-fitted manhole became electrified by an underground wire, the device would sense the surge, cut off power to the underlying electrical circuit, and safely divert electricity away from the manhole.
These devices have been required in the public electrical systems of many European cities for nearly 20 years, explained Meliopoulos, who helped install similar devices in the municipal electrical system of New Haven, Connecticut.
Meliopoulos says that installing GFCIs at every street-level electrical apparatus in New York would have a huge impact on pedestrian safety in the city. "The number of electrocutions can be reduced drastically," he said.
Though Meliopoulos has been urging Con Ed to take a serious look at using GFCIs to make New York streets safer, he says that the company doesn't yet "appreciate that ground fault circuit interrupters can solve their problems."
He did, however, say that Con Ed assured him at last Wednesday's meeting that they would "look into it." Con Ed spokesperson Olert echoed this sentiment in a recent telephone interview, but said that the sheer size of the city's underground electrical system makes implementation of such changes difficult. Con Ed maintains more than a quarter of a million publicly accessible manholes, service boxes, and transformer vaults throughout its service territory. "We have to do what's safe and what's practical," Olert said. "Putting 250,000 of anything into a system doesn't happen instantly."
Roger Lane, Jodie Lane's father, agrees that Con Ed needs to do more to keep New York City pedestrians safe from stray voltage. "They're not doing anything that automatically detects and warns the public of stray voltage. And that's what they need to do to fix the problem," Lane said. "It is continually producing risky situations."
And New Yorkers do continue to get shocked by the electrical structures under their feet. Con Ed received over 400 calls reporting pedestrian shocks last year alone. This March, a nine-year-old Harlem boy was hospitalized after being shocked by a metal plate on the corner of 127th Street and Lennox Avenue. And in May, an eight-year-old Staten Island girl's feet were badly burned by a service box that was electrified by an improperly wired streetlight nearby.
Meliopoulos is hopeful that Con Ed will make progress in implementing structural changes to New York's underground electrical infrastructure by his next meeting with the utility, scheduled for this December. "Eventually, there will be some good work that will put them in the right direction," he said.
Con Ed maintains that they are already doing everything in their power.
"We're giving it our very best shot," said Con Ed spokesperson Olert.
About the Author
Discussion