Environment
Big Problems, Little Solutions
Nanotechnology could ease the world's water woes.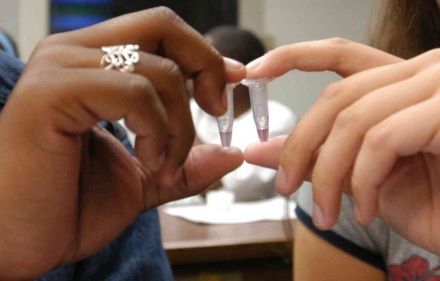 Nanotechnology that can identify contaminants in your water. [CREDIT: WaterCAMPWS, NSF]
When EPA advisory committee member Richard Sustich walked into his house on a stormy July morning, he was soaking wet. He had just checked to see how the lake near his home in Lake Zurich, Illinois, was holding up in the deluge.
He dried himself off and brewed a fresh cup of coffee before sitting down to discuss another of the projects he works on. A retired Water Reclamation District employee, Sustich already made a 30-year career out of addressing water issues, but he just can't seem to stay away. Now he works towards finding ways to clean water using the tiniest technology available: nanotechnology.
Essentially nanoscale science and engineering, nanotechnolgy is driving scientists to look to the submicroscopic world—the molecules of water in a lake and pores in a filter, for example—to understand the properties of these tiny parts and to find ways to apply them to big problems. Nanotechnology is already used in many electronic applications and in biological research, but now scientists are exploring the possibility of using nanotechnology to purify public water supplies.
The availability of clean water may not seem like a problem in most areas of our country. But according to Sustich and other experts, even places with an abundance of drinkable water today may soon run out. Within the next decade, the suburbs of Chicago might find their supply running dry. "Here you are within a 30 minute drive from the Great Lakes, and in the foreseeable future we won't have clean water," he says. Some of the reasons for this problem include population growth and an aversion to water reuse. But the solution, he says, could be nanotechnology.
In some areas of the country, people already feel the pressure of limited water supplies. In those places, local water companies either try to find ways to desalinate the water or they consider other sources—like wastewater. The City of Aurora, Colorado, is spending $800 million on a major water reuse project. "Where water is already limited, you have people who are already making capital investments," says Sustich. Nanotechnology could make water reuse a more feasible alternative, because it could be used to identify and remove contaminants that conventional technology cannot.
When attacking problems like water availability, nanotechnology is an attractive option because it has the potential to alleviate water woes worldwide. According to the World Health Organization, as many as 35 percent of all deaths are due to contaminated drinking water. Sustich says that nanotechnology could lower these death rates.
Dr. Mamadou Diallo, the Director of Molecular Environmental Technology at the California Institute of Technology, agrees. A recipient of an EPA grant for nanotechnology research, Diallo sees nano-water purification methods as the wave of the future. "We envision that nanomaterials will become critical components of industrial and public water purification systems," he writes in a paper published in the Journal of Nanoparticle Research.
When it comes to cleaning and filtering water the traditional way, "we've gotten as far as we can go on the larger scale," says Sustich, who currently works at The Center of Advanced Materials for the Purification of Water with Systems, or WaterCAMPWS. Water purification methods and chemicals in use today can be miniaturized and used to clean water and prevent illness. In a smaller form, these chemicals could identify impurities and clean water more efficiently.
For example, titanium dioxide, a chemical used in sunscreen, reacts with UV light. On the nanoscale, the chemical could be used to decontaminate bacteria-ridden water. When water comes in contact with titanium dioxide and is exposed to light, the chemical breaks down bacterial cell membranes, killing bacteria like the ubiquitous E. coli.
Another way WaterCAMPWS, which is run through the University of Illinois and funded by the National Science Foundation, hopes to improve water quality with nanotechnology is through better filtration. Over time, filtering leaves a residue on one side of the screen. Although it can be washed, the filter will never reach full efficiency again, explains Sustich. But by thinking on the nanoscale, scientists could study how individual molecules sit on filters and then design filter systems that are less likely get clogged.
Using similar logic, scientists can also look at how the molecules and the surface interact so that when a filter does need to be cleaned, scientists know when and how aggressively to do it.
"The more you delve into it and see the capabilities at the nanoscale of what is already out there, your mind just starts to rush," says Sustich. "Your mind goes crazy."
Sustich says that some of the technologies may be implemented within the next five to 10 years. Titanium dioxide technology is being tested and presented to industry right now. The Department of Energy's Pacific Northwest National Laboratory (PNNL) is also researching and developing nanotechnology to remove metals from contaminated water. "These novel materials are ready to be commercialized," PNNL writes on its website.
But this commercialization could also bring unintended consequences. Scientists don't quite understand how nanotechnology might negatively affect human health, but they do think that inhaled nanoparticles could penetrate deep into the lungs. "It's not black and white," says Diallo. "No one wants to drink nanoparticles with their water."
Some non-profit agencies like the Natural Resources Defense Council (NRDC) and Environmental Defense caution that nanotechnology could hurt the environment and human health. The NRDC's website states that if there is no government oversight and the public is not involved, "we will be allowing the nanotechnology industry to conduct an uncontrolled experiment on the American people." In order for NRDC to fully support using nanotechnology to purify water, "there would have to be new research," says Amy Greer, a spokesperson for the agency.
Physicist Andrew Maynard, chief science advisor to the Woodrow Wilson Center's Project on Emerging Nanotechnologies, also calls for greater government oversight. Maynard recently wrote a report titled "Nanotechnology: A Research Strategy for Addressing Risk," which recommends that the government spend $100 million to investigate the risks of nanotechnology over the next two years. That would equate to $40 million more per year than the government is currently spending.
Even if scientists find that nanotechnology can be used to purify water without any negative health affects, implementing the technology may be difficult. The water industry is typically conservative and risk adverse, so convincing its employees that nanotechnology is the next best thing could be difficult, says Sustich. Since most water companies are publicly owned, they aren't allowed to make a profit. And if something went wrong, the water company could be held responsible for a public health crisis, he says.
Despite the obstacles, Diallo and Sustich stand behind their belief that nanotechnology will ultimately help a growing world that uses water more quickly than the earth can replenish it. "I'm still a positivist, I think that we are at the beginning of finding out where nanotechnology can take us," says Sustich.
Until the nanotechnologies being developed are put in place, Sustich will continue to work on improving water systems with the EPA, at WaterCAMPWS, and at home. "If it wasn't fun and it wasn't going to go anywhere, I have the luxury of saying it's time to move on to other things like protecting my little lake," he says.
Suddenly reminded of his local project, Sustich excuses himself. There's another band of rain clouds on the way, and another round of observation close at hand.
Ed. note: When initially published, the third paragraph incorrectly referred to nanotechnology as "micro-scale science and engineering." We corrected our mistake on September 22, 2006.
About the Author
Discussion