Health
The Cord Blood Cure
Rich in stem cells, umbilical cord blood has become a viable alternative to bone marrow transplantation in adults.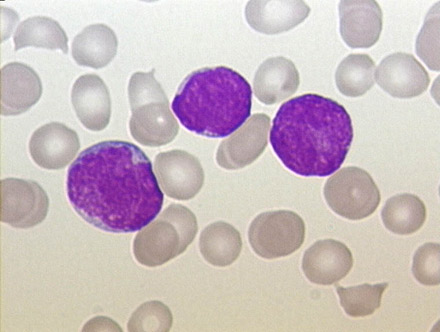 Leukemia cells highlighted with a Pappenheim stain. [CREDIT: CHRISTARAS A]
It was hot that summer in 1996, Gayle Serls recalled, so she had blamed her constant fatigue on a sweltering Southern July. It wasn't until August that the pain and symptoms—the nausea, the fainting, the vomiting—became unbearable. At that point, the athletic Durham, N.C., native who exercised frequently and ate healthfully became a patient at Duke University Medical Center. She was diagnosed with acute lymphocytic leukemia, a fast-growing cancer of the white blood cells.
Serls suffered through weeks of chemotherapy, and was able to beat the disease into remission within a month. But that wasn't the end of her treatment. Follow-up tests revealed Serls's leukemia was a rare kind that would not stay in remission. That's when her doctor started talking about a bone marrow transplant.
Since Duke didn't have an adult bone marrow transplant program at the time, Serls was sent to Johns Hopkins University instead. There, doctors told the 45-year-old that she was too old for a regular bone marrow transplant. They could perform an autologous bone marrow transplant instead, which would "clean up" her own cells and put them back into her body.
But before she could begin her treatment at Hopkins, Serls relapsed, literally on the medical center's doorstep. She couldn't go through with the bone marrow treatment, and was immediately flown back to Duke for chemo again.
Just days before her daughter's severe relapse, Serls's mother watched a television news report on a new leukemia treatment. It was called an umbilical cord blood transplant, and it was very experimental, with a low survival rate. Serls didn't care—she was desperate.
Though it wasn't common during Serls's treatment 10 years ago, adult cord blood transplantation has now gained popularity as an alternative to bone marrow transplantation in diseases such as leukemia and lymphoma. In 2005, there were more than 1,400 cord blood transplantations in adults, according to NETCORD, an international network that coordinates umbilical cord blood banks. This year, journals have published reviews of the state-of-the-art of the procedure. Their consensus: cord blood transplantation in adults is a viable alternative to bone marrow transplant, is often easier to obtain and enables more efficient donor-recipient coordination.
This wasn't the case in 1996, when Serls was dying from acute lymphocytic leukemia. The procedure was largely experimental, and though she didn't have much to lose, she also didn't have much of a choice.
Finding hope in an experimental procedure
Cord blood is the blood leftover in a baby's umbilical cord immediately after birth. It is usually thrown away. Lately, its collection has gained popularity because of the value of the stem cells found in the blood. These are cells in a state of "identity crisis," which have not morphed into specific cell types (such as liver or heart tissue), giving them excellent potential to adapt to another person's body. In patients with leukemia, a cancer that prevents the body from creating healthy blood cells, transplanted stem cells can become the blood-making cells the body lacks.
The first recipient of cord blood transplantation was a six-year-old boy suffering from Fanconi anemia. His 1988 procedure was a success, and cord blood transplantation has since become a popular treatment for childhood leukemias.
Over the years, researchers have also been experimenting with the use of cord blood transplantation in adults. Claudio Brunstein, a researcher at the University of Minnesota Cancer Center's cord blood transplantation program, focuses on using cord blood to treat adult leukemias. He was an author of the June 2006 cord blood transplantation review published in the journal Bone Marrow Transplantation, a sister publication of the journal Nature.
In the article, he notes some of the limitations of the treatment—such as survival rates and the amount of cord blood needed to treat an adult patient—but also notes its many benefits, which have increased over the years.
At the time Serls underwent treatment, many kinks in the procedure hadn't yet been worked out. As soon as her mother told her about cord blood transplantation, Serls tracked down Mary Laughlin, then an assistant professor of medicine at Duke University, who was conducting a clinical trial on cord blood transplants in adults. Laughlin was a pioneer; the treatment had been common only in children at the time.
About the Author
Discussion