Health
Is it true that you shouldn't drink while on antibiotics?
-- asks Anonymous from New York, NY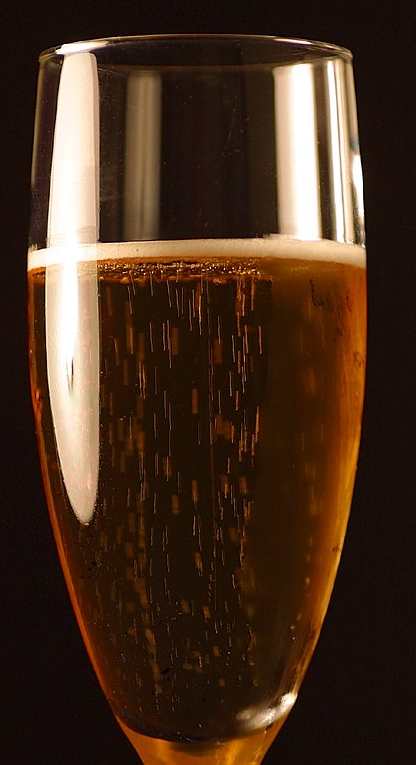 Is mixing Amoxicillin with bubbly asking for troubly? [CREDIT: Jon Sullivan]
First, it must be said that mixing alcohol and prescription drugs can be VERY DANGEROUS. Please consult your doctor if you have any real concerns about drinking while on any medication.
That being said, those who enjoy bellying up to the bar might hesitate to pop that early-winter sinus infection prescription. But how can one properly ring in the New Year or watch the Bowl Games without cracking open a cold one? Is it really true that antibiotics mean no Popov?
The situation is not as grim as you might've heard. There is a general consensus among pharmacists that you can imbibe one or two drinks while on antibiotics, though there are some specific medicines in the "never" category, such as Flagyl (metronidazole) or Fasigyn (tinidazole). Washing these meds down with firewater can cause intense vomiting and nausea, abdominal cramping, flushing, and a rapid heartbeat. In fact, it is recommended that no alcohol be consumed until 72 hours after you've stopped taking them. Other antibiotics, though, don't seem to be as much of a problem. But don't break into a keg-stand just yet.
While doctors have conceded that having a drink or two when on medication is acceptable, interactions between the two substances do occur. It is always recommended to talk to your doctor if you're hoping to drink while on any medication. And, of course, you should always be aware of your own tolerance levels.
Even if they are not taken at the same time, it has been shown that alcohol enhances the side effects of prescriptions—including antihistamines—and over the counter medicines. Feeling nauseous due to your daily 150 mg? Expect it to intensify due to the "pharmaocodynamic interaction" between drugs and drink.
Not only that, alcohol brings its own nasty side effects to the table, including but not limited to dizziness, sedation, and slow motor skills—impediments that have proved disastrous to gents trying to pitch their tried-and-true pick-up lines. Girls should watch out too: since they lack some of the enzymes needed to metabolize alcohol, and get woozier quicker, meds can make them tipsy much faster.
The combination of legal drugs and alcohol can also do a number on your liver. In "pharmacokinetic reactions," booze and antibiotics compete for the same metabolic sites in your liver. As a result, the organ can become overtaxed—which may lead to liver problems. Combine that with the money lost on unabsorbed antibiotics, and the possibility of medicinal toxicity, and the thought of beer pong looses its luster.
All this being said, if physicians are allowing a little wiggle room in the alcohol versus antibiotic debate, where did the "zero tolerance" policy come from? Legend has it that strict adherence to the rule arose in the mid-twentieth century when penicillin was being used to treat venereal diseases.
Prescribing physicians would tell their patients that the pill could not be washed down with their poison of choice, but not because of any lethal reactions. This advice was a doctor's way to try and prevent the STD-spreading, uninhibited trysts that often follow a few too many.
So, no need to hide away in the house when on your next round of antibiotics. But perhaps it's not the best idea to attend after-hours at the local pub (especially if you should be getting some rejuvenating shut-eye). When you do choose to have a pint, take it slow. It may even be a nice change to wake up Friday morning without your usual Thirsty Thursday hangover.
—–
Got a question for us? ASK!
About the Author
Discussion