Environment
Where the Elephants Used to Roam
The struggle to repair lost connections between wildlife and humans in Zambia's Luangwa Valley.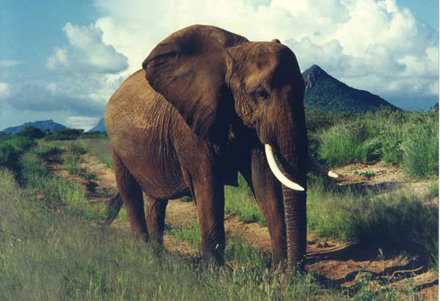 Wildlife in the Savanna. [African elephant. CREDIT: cdc.gov]
Secrets of the Savanna.
By: Mark and Delia Owens.
Houghton Mifflin Company, 2006. $26.00.
Going on an African safari or research expedition without seeing wildlife is much like eating a flavorful dish that's missing its main ingredient. This is how the Owenses may have described their first impression of the drained North Luangwa National Park.
When Mark and Delia Owens chose Zambia's North Luangwa National Park as their research site in 1986, the beautiful valley was isolated and devastated. Poachers who flourished under a corrupt political regime nearly wiped out the park's once abundant wildlife populations. At that time, the Owenses were lucky to catch even a glimpse of a fleeing elephant through their binoculars, and many young natives had only seen an elephant's costly and characteristic ivory tusks, rather than the commanding animal itself.
This book tells the thorny tale of how the park and its surrounding villages eventually became a model for community development programs and conservation in the region. The Owenses recount their efforts to establish a conservation project, conduct research, and adapt in this endearing account of the ten years they spent skirting gun-toting, crooked officials and curious lions.
The two authors alternate writing chapters, creating an appealing blend of prose that captures the essence of descriptive journal entries and historical context. The vivid imagery transports the reader from the copilot seat in Mark's Cessna 180 helicopter as he conducts aerial elephant surveys to Delia's adolescent adventures in Georgia.
The couple has a difficult time substituting a more sustainable small business system for the poaching-dominated economy. They strive to introduce long-term change in Zambia, but they find their goals harder to reach than they had imagined.
Surprisingly, the two conservationists do not devote the majority of this book or their time in Zambia to wildlife research. Instead, they adopt a holistic approach to conservation, describing the people and animals they encounter in equal detail. And the lessons—and secrets—they learn about animals, nature, and evolution are revealed both by unaffected poachers and orphaned elephants.
The theme that carries this story, and ultimately makes it meaningful, are the parallels between wildlife and humans. The reader learns that humans and wildlife desire the same things, and that we are troubled by similar concerns. The Owenses witness elephant populations struggling to survive as reproductively fit females perish at the hands of poachers. Simultaneously villagers attempt to endure the pressures of political strife and a scarcity of vital provisions. The authors often wonder if "man ha[s] more to learn from elephants or they from us."
The authors note numerous similarities between behaviors and actions across different animal species. These similarities, such as bonding in youth, a sense of community, and competition, not only allow the couple to find common ground and gain a deeper understanding of their wild study subjects, but also to relate to local villagers and poachers, with whom they otherwise seem to have nothing in common.
Ultimately, the authors maintain that wild lands and wildlife hold the key to understanding who we are and where we came from. Throughout this riveting adventure, Mark and Delia plant a hopeful message that perhaps while trading secrets, wildlife and humans can more peacefully coexist.
At times, the book suffers from a preachy, didactic overtone, which halts the otherwise easy flow of the story . The Owens's account is so powerful that it could speak for itself, without such blatant statements. Overall, though, this genuine narrative thrills and educates the reader at once.
About the Author
Discussion