Physical Science Blog
Will XO Laptops be Available in the US?
People want the $100 laptop, but the story of its commercialization keeps changing.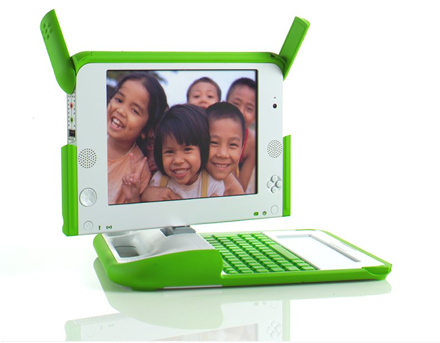 OLPC production prototype [CREDIT: OLPC user: Walter]
The XO laptop (often erringly referred to as the "$100 laptop") is designed to bring computing to children in the developing world by utilizing innovative technology, and has created a media frenzy. Among its features are an innovative display that can utilize reflected sunlight and the ability to create wireless networks that share a single internet connection, all while keeping cost and power consumption to a minimum.
Americans should get a chance to buy the computers, despite recent claims to the contrary from One Laptop Per Child, the group behind the XO.
On January 10th, a BBC News article ran with the headline "Public can purchase $100 laptop," where one of the project's leaders described a plan to sell laptops to consumers above cost to fund additional units for children overseas, an idea that has been kicked around for a long time.
But by the next day, the headline and tone of the article had changed drastically, apparently when the author received a frantic phone call. On January 12, the OLPC issued a press release that stated that they had "no plans to commercialize the XO computer."
So why did they change their tune?
When I inquired about the discrepancy, the OLPC's public relations agency declined an interview and rephrased the press release, saying that "XO will be made available to governments in very large quantities to be given to all children free, as part of the education system. This is OLPC's mission and sole focus right now."
I find it hard to believe that commercialization plans have been completely abandoned- the OLPC admits, "many commercial ventures have been considered and proposed that may surface in 2008 or beyond." For a venture to possibly surface in the next few years, it must be reasonably far along at this point. The project's chief connectivity officer was quoted as saying "more than a third" of every board meeting is dedicated to exploring commercial sales of the laptops.
There's no need for the OLPC to be so secretive and defensive about commercialization plans– selling the laptops in the US makes sense.
First, there's the market demand. Just look at the OLPC's wiki on the subject, which includes comments of people who can't wait to buy the XO, even though many posts have been deleted.
Retiree Mike Liveright was one of many impressed by both the cause and technology of OLPC. He decided that he would willingly spend three times the cost of the laptop to get his hands on one while simultaneously funding two laptops for children overseas.
The idea of "buy two (or three), get one" has been proposed many times as an ethical way to get American consumers the laptop, and OLPC has considered the idea, according to their press releases. Liveright set up an online pledge that said, "I will purchase the $100 laptop at $300 but only if 100,000 other will do the same." Without publicizing, Liveright's pledge attracted 3,500 like-minded supporters.
"I think $300 for a laptop, even a very small laptop is not a bad price, and I think there are a lot of people who feel that way," Liveright told me. "I established it to try to get MIT to think about something like this."
Critics who jumped on the relatively low number of responses to the pledge missed the point. "If you only get ten thousand people, you still can give out ten thousand extra laptops," said Liveright. "It shouldn't be a major decision to make it happen."
In addition, selling laptops to satisfy even a modest demand would solve the "grey market" problem. Many observers have suggested that recipients of an XO in developing nations could readily sell them for profit on eBay rather than use them for their intended purposes. By selling the laptops themselves, OLPC (who has mentioned eBay as a possible distributor) could fund additional laptops while keeping those already deployed in the hands they were intended for.
As a final benefit, greater access to the XO in the states would only strengthen and improve the open source software it runs, by giving more access to the digital community.
I can understand if the OLPC leaders aren't ready to release the details of their commercialization plan yet, but I hope they're still working on it. And until the laptops go on sale, they should do a better job of keeping their story straight.
About the Author
Discussion