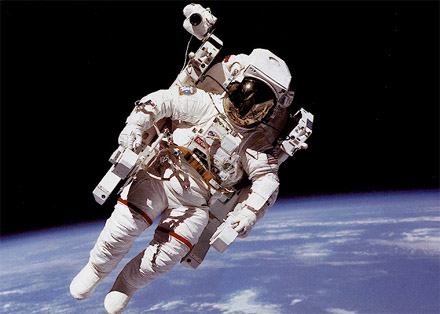 A U.S. astronaut flying high in space. [CREDIT: NASA]
As you go further and further from the surface of the earth, the atmosphere gradually fades until it's difficult to notice any air around you. No physical boundary clearly separates space from the atmosphere – even thousands of miles away from the planet, a few air molecules zoom around. As a result, it's difficult to put a precise total on the number of travelers who have tasted space.
The line distinguishing spaceflight from ordinary flight evolved from the efforts of Theodore Von Karman, a Hungarian-American physicist and engineer, in the 1950's. In ordinary flight, an aircraft relies on the atmosphere to create lift. Without air, the wings of an airplane and the helium or hot air of a balloon are useless.
Von Karman knew that as the earth's atmosphere became thinner and thinner, an airplane would have to fly faster and faster to generate the same lift, because there is less air for the aircraft to push against. At some critical height, the plane would need to travel so fast to generate lift that its motion would be more like a satellite, which orbits the earth in perpetual free-fall — without additional thrust or lift — due to the earth's gravity.
After consulting several experts, Von Karman found that this height was very close to 100 kilometers above the ground (62.1 miles), and it became known as the Karman Line. According to the list of human space travelers on Wikipedia, 448 people have traveled above the line. The Fédération Aéronautique Internationale (FAI), an international group that maintains records in flight and spaceflight, accepted the Karman Line, as did most of the rest of the world, but the U.S. Air Force did not.
Before Karman's line, the American flying forces had already established a less demanding distinction between space and the atmosphere: 50, not 62.1, miles. This height lies near the upper boundary of the mesosphere, the layer of atmosphere that turns falling debris into shooting stars known as meteors. Any pilot in the U.S. military who travels above 50 miles in altitude earns an astronaut badge, in recognition of space travel. According to the Wikipedia list, 454 people have passed this threshold. That total, however, does not include six pilots listed at Spaceline.org who earned their astronaut badges for flying X-15 jets more than 50 miles high.
For many years getting into space was difficult – you either had to be selected by NASA or the Soviet Space Program to get a shot. In the last decade, however, the situation has changed. The Russians moved first into the business of space tourism, and began ferrying paying passengers on their Soyuz spacecrafts in 2001, when onetime NASA rocket scientist Dennis Tito paid $20 million for a trip. Since then, three more space tourists, each spending millions of dollars for the journey, have traveled on the Soyuz.
In the future, space tourism may become even easier. SpaceShipOne, made by Scaled Composites, managed to win the $10 million Ansari-X prize in 2004 as the first successful human space vehicle not tied to a governmental space program. SpaceShipOne launched three times in 2004, barely crossing the Karman Line each time. Business tycoon Richard Branson's company, Virgin Galactic, wants to build on the success. He plans to build larger crafts to whisk passengers into space for $200,000 a seat.
A cheaper route to space is available for those with a little patience: Space Services, Inc., an American company, will send a small amount of your ashes into space for anywhere from $495 to $12,500, with prices varying by the distance from earth and the amount of time spent in space. For the cheaper launches, the ashes eventually return to earth or burn up in the atmosphere. According to Wikipedia (although their list includes a 2001 launch that failed to reach its proper orbit), 135 people have already had tiny amounts of their ashes carried into space, including Timothy Leary and Star Trek creator Gene Roddenberry. If you're feeling generous, and willing to count tiny bits of cremated remains, this rounds out the total number of space travelers to a whopping 595.
While opportunities for space travel continue to increase, it won't be cheap anytime soon. If you want to add your name to the list, start saving now.
About the Author
Discussion