Life Science
Does elevating your heart rate during exercise have the same effect on you as a fight or flight response?
- asks Anh Nguyen from San Jose, California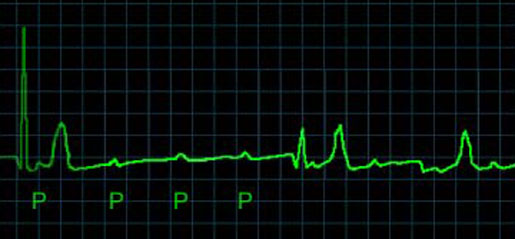 An electrocardiogram, or EKG, which measures the electrical activity of the heart. [CREDIT: NIH]
An off-duty police officer is playing basketball with his buddies. His heart rate is up and he's sweating, but he can still see and move well enough to drive around his defender, run toward the basket and score. When he gets tired, he takes a quick breather and drinks some water.
The same officer is on duty later that night. He's stopped a suspicious vehicle and is approaching the car from the passenger's side when he sees the car's occupant fumbling under his seat. The officer yells for him to freeze, bringing up his service pistol. The person in the car ignores him and comes up with a gun, brandishing the weapon. The officer's heart is pounding as time almost seems to stop. He has tunnel vision – all he can see is the danger in front of him. He squeezes off several rounds, although later he can't recall hearing his own gunshots.
The hypothetical officer's heart rate is similar in both cases. But while heart rate during exercise might be similar to that in a high stress "fight or flight" situation, the two situations affect our bodies in very different ways.
Your heart rate is controlled through your nervous system, specifically by the sympathetic and parasympathetic pathways. Simply put, the sympathetic nervous system prepares your body for action, while the parasympathetic nervous system prepares you for rest. Medical experts often use the analogy of an accelerator and a brake, as the systems work together to keep your heart rate and other bodily functions under control.
During exercise, the sympathetic and parasympathetic nervous systems gradually change your heart rate through the release of hormones and other chemical messengers. As muscles demand more energy, the sympathetic nervous system increases heart rate, blood pressure and breathing. The body eventually works up to a target heart rate for exercise – for example, a healthy 25-year-old would have a range of 117 to 166 beats per minute (bpm). After exercise, or during a rest period, the parasympathetic nervous system gently applies the brakes and brings you back down to a resting heart rate.
Body changes during a fight or flight response, however, are anything but gradual. That's because fight or flight is the body's on-the-spot answer to high stress situations, such as those experienced by emergency responders or soldiers in combat. In these instances, the sympathetic nervous system readies the body for action with a massive dose of hormones, such as adrenaline, boosting heart rate within a few seconds to a level that would take minutes to reach during exercise.
Because of the huge hormonal boost during fight or flight, the body experiences other changes at various heart rate levels that would not happen during exercise. Experts consider a flight or fight heart rate of 115 to 140 beats per minute optimal for sustaining rapid, coherent thinking and quick reactions. But above 140 bpm, the sympathetic nervous system begins shutting down certain "unnecessary" bodily functions in order to focus on survival.
• At 145 bpm, you lose most of your ability to do complex motor skills or movements – remember how people in movies fumble to get a door open during critical moments?
• At 170 bpm, tunnel hearing and tunnel vision kick in, a response that allows your body to focus all its attention on the immediate danger at hand.
• Above 170 bpm, your thinking is reduced to the primitive fight or flight response. Running (or charging) is at its peak performance. The vast majority of people also tend to lose control of their bladder and bowels at this stage because even those functions consume resources that the body prefers to save for fighting or running.
People whose duties put them in high-stress situations often train themselves to manage high-intensity stress, so that the fight or flight response doesn't completely hijack their actions. But if you're just shooting some hoops with some friends, there's no reason to stress.
About the Author
Discussion