Health
Why do I get a little bump on the tip of my tongue when I eat a lot of sugar?
- Asks Stephanie from Claremont, CA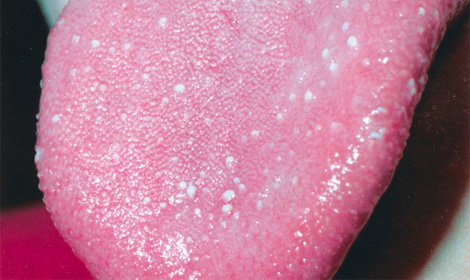 The result of having a bit too much sugar? [Credit: Robert Brannon]
You're at the movies, and the lure of a box of candy is too much for you to resist. You are so caught up in the action that before you know it, the box is gone. Soon, you start feeling a little sick, hyped up on all that sugar, and to top it all off there are a few small, yet slightly painful bumps on the tip of your tongue.
What exactly are those things?
Discounting the old wives' tale that blamed the bumps on telling lies (thus the name "lie bumps"), the real answer is likely transient lingual papillitis (TLP). TLP is an inflammation of the round, mushroom-shaped structures that house taste buds called fungiform papillae. There is no single cause of TLP, and many factors have been implicated, including certain foods, stress and gastrointestinal disorders.
Although some people report having the bumps after eating raw vegetables, acidic and sugary foods tend to be the main causes of TLP. TLP varies from person to person, which is why it is believed that many factors can bring about its onset. While you may get the annoying bumps with every sugary indulgence, your best friend may satisfy his or her sweet tooth while being unable to eat a lime. The good news is that TLP is not dangerous and typically clears up on its own in a few days. Rinsing with salt water or mouthwash is sometimes helpful, and good oral hygiene is never a bad thing.
TLP was first diagnosed as such in 1996 in the journal Oral Surgery, Oral Medicine, Oral Pathology, Oral Radiology, and Endodontology. Prior to 1996, there is little documentation of the condition, and there is still not much known about it except that while it may be a nuisance, it is not dangerous.
A related condition to TLP is ELP, eruptive lingual papillitis. This condition is almost identical except that it typically starts in children 5 years of age or younger, and unlike TLP, it has been found to spread to the child's family members. A 2004 study in the British Journal of Dermatology found that affected children experienced not only the typical bumps, but also difficulty in feeding, excessive salivation and in some cases fever and swollen lymph nodes. Like TLP, little is known about the cause of this condition, but since it was found to spread to family members, many doctors think it is an infection.
As a note of caution, not all tongue bumps are simple taste bud inflammation. If the bumps persist for more than a few days they could be an indication of something more serious, like the herpes simplex virus-1. The herpes virus is known to cause sores on the lips and tongue. These sores will differ from simple taste bud inflammation in that they will last longer and often ooze a yellowy liquid after a few days. The sores also often follow a fever or cold like symptoms. If you think you might have herpes, you should consult your doctor immediately.
To sum up, the bumps on your tongue are likely nothing more than simple inflammation. While there is no single cause, if you think the bumps might be due to excessive sugar intake, they probably are. So go ahead and splurge on those Sour Patch Kids! Your tongue is in no danger, even if your teeth might be.
About the Author
Discussion