Environment
The Snacks You Used to Step On
Four hours with New York's favorite forager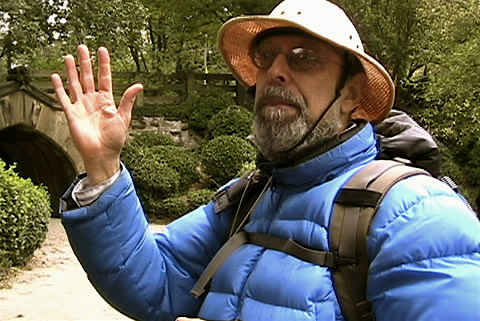 "Wildman" Steve Brill [Credit: Molika Ashford]
Six hooded strangers are trying to yank a sapling from a manicured hillside on the eastern end of Brooklyn's Prospect Park. On the count of three they fall backward, prize in hand, and cut the small tree's root into sections for a waiting crowd, who hold up the fragrant pieces for an ecstatic sniff.
The sapling is sassafras, and the crowd is a group of urban foragers led on a November afternoon by the self-taught naturalist "Wildman" Steve Brill, who has been captaining foraging tours of New York City parks since 1982. For a suggested donation of $12, Brill makes his living introducing people to the foods they may have been stepping on all their lives.
With a bachelor's degree in psychology, a beard and a pith helmet, Brill seems an atypical scientist. And it was only after a failed chess championship dream and a chance encounter with some Greek women picking wild grape leaves on a New York street that he took up naturalism. After reading some books on wild edible plants by "botanists that knew nothing about cooking and eating," he realized that these clinical identifications were only half of the story – and the other half was delicious. "I was hungry," he says.
It's technically illegal to forage in New York City parks without a permit, which makes sense considering most of the things you're likely to find. Brill himself was arrested in 1986 by two undercover park rangers who infiltrated his tour, he explains. After snapping photographs of him eating a dandelion the spies called in reinforcements. "Every park ranger in New York City popped out from behind the bushes," he remembers. The charges (criminal mischief) were eventually dropped against Brill, and the Wildman was probably only arrested because of his high profile. Other foragers are unlikely ever to be bothered.
In defiance of the rarely-enforced law, this Saturday's group finds more than six types of edible greens, several different roots, three varieties of mushroom and a tree full of ripe persimmons. Brill doesn't hide the dangers of eating poisonous plants, and all the foragers, however adventurous they may be, come to show him their specimens before taking a bite. "Everyone is responsible for what they eat," Brill makes clear.
This tour, like others, includes a little botany, a little medicine, a few recipes and a dash of politics. Under a black walnut tree, Brill explains that out of the many thousands of walnuts dropped by a tree, only two need to sprout to keep the population stable. Ankle-deep in a field of garlic mustard he shares a recipe for "the best pesto you've ever had in your life." To punctuate points and stories, he plays familiar tunes with his mouth and cupped hands – an instrument he calls the "brillophone."
Though Brill's knowledge of plant taxonomy and local flora is ironclad, he admits that many of his plant remedies are far from scientific. Under a spicebush whose leaves American Indians brewed for tea, he says that though there's no proof of its effectiveness, he'll be drinking a few cups a day if bird flu sweeps the nation – just in case.
The Wildman is also candid about the effects he has seen on the local flora as the climate has warmed. "In the 1980s we'd be here with thermals and the ground would be frozen," he says. According to Brill, local climate variations don't necessarily reflect global climate change, but that doesn't mean global climate change isn't happening. The bottom line is that it's warmer here now than it used to be. "It's better for my tours," he explains, "but it's certainly not worth the price."
In some ways, Brill is more of a facilitator than an educator – working both to bring people into the park and to bring them together. He leads some singles tours, through which he met the woman who is now his wife and the mother of his daughter, Violet. Clearly, naturalism can affect more than just the nutritional aspects of people's lives. And helping people look more closely at the natural world can have a broad impact as well, he explains: "Having contact with nature and enjoying the natural ecosystem, I think, encourages people to go after the politicians and business that are doing so much harm to our planet."
———
Brill leads tours from early March through late November. Registration information is available on his Web site: wildmanstevebrill.com.
About the Author
Discussion