Environment
Is ocean fertilization really a viable way to slow down global warming?
Asks Julie from Bloomington, Indiana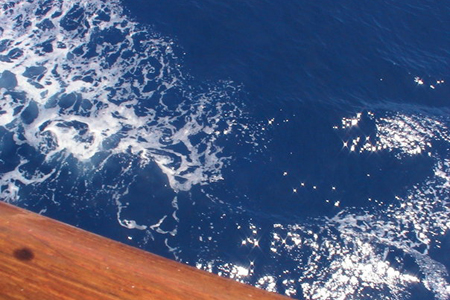 The clear blue Pacific. Could fertilizing our oceans to encourage algae growth help combat
global warming? [Credit: Molika Ashford]
Ocean fertilization, the process of seeding the ocean with iron to instigate rapid algae growth, called an algae bloom, has been studied as one way to fight global warming. The idea is that through photosynthesis, the process by which plants use sunlight and carbon dioxide to generate their own food, the algae will remove carbon dioxide from the atmosphere, storing it harmlessly in the ocean.
But despite this seemingly simple solution, recent research has demonstrated that ocean fertilization may do more harm than good.
"If someone can get it to work correctly, [ocean fertilization] could be very useful," says Michael Lutz, of the Rosenstiel School of Marine & Atmospheric Science at the University of Miami, Florida. "It's just the odds of that happening are pretty freaking low."
The main problem is that in order to effectively store carbon, the algae have to sink to the ocean floor. If this crucial sinking step does not happen, the algae will decompose near the ocean surface, reemitting carbon into the atmosphere.
Research has demonstrated that as much as 50 percent and as little as 5 percent of the original carbon taken up by algae sinks below surface waters of 100 meters. And as little as 1 percent may make it to the ocean floor, about 500 meters deep, according to the Woods Hole Oceanographic Institute in Massachusetts.
Algae are engineered to float, says Lutz. They store light oils and have gas vacuums that keep them from sinking. They were designed this way because like most plants, they want to be near sunlight, he says.
Phytoplankton that sinks (and escapes becoming a fish's lunch) does decompose in deeper water. The carbon dioxide could theoretically stay in the deeper waters for up to 100 years before circulating back to the surface, although this time frame is not completely understood and depends on how deep the algae is when it decomposes.
The other problem with ocean fertilization is that, even if it does work, it could have many unintended consequences. Some research shows that ocean fertilization counters its objective and actually adds greenhouse gases to the atmosphere.
One by-product of algae decomposition is nitrous oxide, which has 300 times the greenhouse gas effect of carbon dioxide, says John Cullen, oceanographer at Dalhousie University in Nova Scotia. Cullen says the effects of nitrous oxide could potentially counter any benefit obtained from ocean fertilization.
Another problem is that adding carbon dioxide to the water makes it more acidic. Already, acidification effects from atmospheric carbon dioxide mixing with ocean surface water have been felt by marine life. The acidity eats at the coral reefs and the calcium carbonate shells of crabs, lobsters and other sea creatures.
If effective, ocean fertilization would remove the carbon dioxide from the surface waters, but it would also just redistribute it to deeper water. And no one really knows how acidity would affect life in the deep sea.
Even under the best circumstances, ocean fertilization could sequester a total of about one billion tons of carbon, estimates Ken Johnson, oceanographer at the Monterey Bay Aquarium. Meanwhile, we are emitting between seven and eight billion tons each year.
The question that Johnson says needs to be answered is: "If we try to fix what we've screwed up, do we make things better or worse?"And at least for now, the science suggests that ocean fertilization is not the best option.
Also on Scienceline:
Learn about red tide—excessive algae blooms that become toxic.
Read about the effect of global warming on coral reefs.
A blog post about recent research on the effects of climate change on the oceans.
About the Author
Discussion