Health
Do you burn more calories when you think hard?
Asks Todd from Tulsa, Oklahoma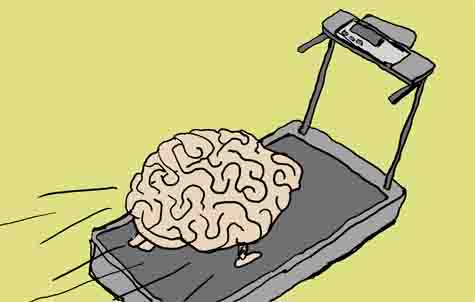 Can a mental workout produce a physical benefit? [Credit: Molika Ashford]
Although thinking hard often feels like a workout, you don't actually burn more calories like you do when you break a sweat. But you might feel hungrier anyway, according to a study published in the September issue of Psychosomatic Medicine.
Researchers from Canada's Université Laval found that strenuous mental activities, such as concentrating on an exam, may lead people to consume more calories than they burn during the task. Subjects completed one of three assignments of varying difficulty—relaxing, reading a text and completing an intense task on a computer—then ate a buffet lunch. Although the groups burned around the same amount of energy, students who performed the strenuous mental tasks, particularly the one on the computer, consumed significantly more calories than those who relaxed. The researchers hypothesized that this discrepancy could lead to weight gain.
"Computer-related activities represent a sedentary activity that is stressful and biologically demanding," says Dr. Jean-Philippe Chaput, a lead author on the study.
The students who had just finished the harder intellectual tasks ate around 200 more calories than did subjects who relaxed. This heartier appetite may be due to the increase of glucose levels in the blood that occurs after completing the arduous assignments, but not after relaxing.
Brain processes such as thinking are fueled by glucose, a simple sugar found in food. Prolonged thought requires more insulin, which may explain why completing the hardest task made subjects hungrier. Chaput and his team proposed that this dependence on glucose causes deep concentration to boost energy intake, since the brain quickly burns glucose stores and needs replenishment from food.
"Variations in glucose [in the bloodstream] may trigger episodes of hunger and higher food intake" in order to re-establish the balance of glucose in the bloodstream and keep it from rapidly increasing and decreasing, says Chaput.
Roller coaster glucose levels can lead to obesity. When the body releases insulin to mop up excess sugar in the bloodstream, blood sugar plunges. This fast drop increases appetite in an effort to bring blood sugar levels back up. After eating, the body releases even more insulin to get rid of extra glucose, and over time, this cycle of high and low blood sugar levels can impact metabolism, according to Loren Greene, an endocrinologist and obesity expert at New York University's Langone Medical Center.
"People who are very stressed and studying for an exam might be up more hours to munch," says Greene. The lack of sleep that often accompanies being overworked can also change the body's normal secretion of hormones, she says, increasing hunger and leading to cravings.
This new study explains the inclination to eat more when completing mentally difficult tasks and hopefully will give employees even more reason to exercise, according to Chaput. "[Mental work] deserves to be counterbalanced by an adequate physical activity regimen," he says.
So if night after night you've been up until the sun rises studying for exams and your pants seem tighter, you may have your brain to blame.
Also on Scienceline:
How can memories of food lead to weight loss?
Is coffee good for you?
Is probiotic yogurt a healthy choice?
About the Author
Discussion