Health
Sexing Up the Pill
A new birth control pill carrying a load of modified testosterone may boost sexual desire in women on the Pill.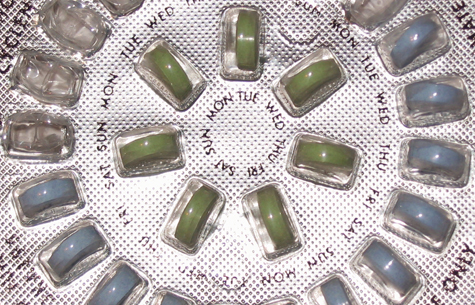 Standard birth control pills can put a damper on libido, but a new one might boost women's sex drive.
[Credit: Hilary Thomas]
Women with low sexual desire due to birth control pills may soon be able to recover their lost libido with a new type of oral contraceptive.
The drug, called the Pill-Plus, contains a low dose of a hormone resembling testosterone—the male sex hormone—to help avoid the mood changes and decreased libido that some women experience on typical oral contraceptives. It is still being tested in the clinic, but an early trial showed encouraging results in September, according to Illinois-based BioSante Pharmaceuticals, the company developing the Pill-Plus.
"It presents a really interesting option for women who want to take oral contraception and appreciate all the benefits, but are experiencing low testosterone," said Dr. Sharon Parish, an associate professor at the Albert Einstein College of Medicine and chairwoman of the Education Committee of the International Society for the Study of Women's Sexual Health, an organization of researchers and physicians. She is not involved with BioSante.
Testosterone's role in female sexuality is still not entirely clear, but many experts believe that sexual desire may dwindle if the hormone's levels become too low. In the recent clinical trial, the Pill-Plus brought testosterone levels back to normal in a group of 138 women who had low levels after taking conventional birth control pills. A larger trial, currently under way, is assessing whether it restores women's libido and prevents mood changes as well. The results are expected in 2009, and if all goes well the new contraceptive could be available as early as 2011, if approved by the U.S. Food and Drug Administration.
Nobody knows for sure how many women on current birth control pills are affected by low testosterone levels. Like men, women naturally produce testosterone—although in lower quantities—but production drops as they age. Adding to this decline, oral contraceptives further reduce the body's ability to use testosterone.
"In a 25-year-old woman, it probably doesn't matter," said Stephen Simes, president and chief executive officer of BioSante. "In a 40-year-old woman, that's when it begins to matter." He added that if a woman has a normal sex life, there is no reason to take the Pill-Plus.
BioSante, which does not make conventional birth control pills, estimates that 30 to 40 percent of all women on the Pill lack sufficient testosterone. But that number could be too high. Dr. Livia Wan, a professor of obstetrics and gynecology at New York University, said that in her experience with patients, sexual problems related to the Pill are "not very common."
But with some 12 million American women currently relying on the Pill for contraception, "not very common" could still mean hundreds of thousands of women—and quite a lot of money within a booming U.S. oral contraceptive market estimated by BioSante at $3 billion a year.
Large doses of testosterone-like compounds—as used by some bodybuilders, for instance—may produce unwanted side effects in women such as acne, excessive hair growth, deepening of the voice and clitoral enlargement. According to Simes, the low dose used in the company's pill is "quite safe" and did not cause any of these problems. Yet Parish, of the Albert Einstein College of Medicine, cautioned that there is no long-term safety data on testosterone treatment and that its role in breast cancer, if any, is still not clear. She added, however, that the treatment is "probably safe" when the hormone is maintained within its normal range in the body.
In 2011 BioSante also expects to begin marketing its flagship product LibiGel, a testosterone gel for women who have low sexual desire but are not on oral contraceptives. Complementing the Pill-Plus, the gel seems to be part of a larger strategy to duplicate the roaring, decade-long economic success of Viagra in the male sexual-health market. (Medications like LibiGel are sometimes referred to as "pink Viagra.")
Still, when asked about her advice to women on the Pill who experience low sexual desire, Wan of New York University is quick to point out that the problems are more likely to be linked to relationship issues than to birth control pills. On the Pill, she said in an e-mail, "most women enjoy sex more because they don't have to worry about getting pregnant."
Related on Scienceline:
Is the Pill safe for long-term users?
Is there ever going to be a male birth control pill?
About the Author
Discussion