Environment
Al Gore's movie 'An Inconvenient Truth' says sea levels could rise up to 20 feet. Is this true?
Asks Steve from Florida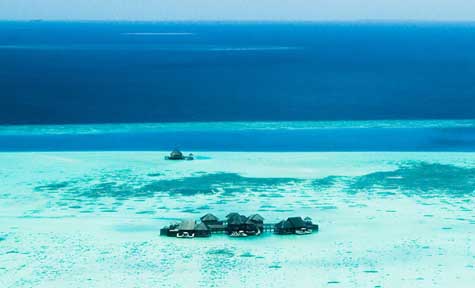 The Maldives, a group of Indian Ocean islands, could be threatened by even a meter rise in sea level.
[Credit: Nattu, flickr.com]
Some of the most memorable images from Al Gore's movie, An Inconvenient Truth, are the graphics that show how rising ocean levels will dramatically alter our planet's coastlines. As Greenland's ice sheets collapse, Gore predicts that our shores will be flooded and sea-bordering cities will sink beneath the water leaving millions of people homeless. His narration tells the audience that, due to global warming, melting ice could release enough water to cause at 20-foot rise in sea level "in the near future."
Although he doesn't give a clear time frame for the 20-foot sea level rise, Gore's statement seems to contradict several recent reports, including one published in 2008, that predict much smaller rises during this century.
Scientists say that the two main causes of rising sea levels are water expanding as it warms, known as thermal expansion, and melting land-based ice, such as ice from Antarctica and Greenland.
In 2007, the International Panel on Climate Change, an organization composed of scientists and policy makers around the world who monitor human-caused climate change, estimated that sea levels would rise 0.18 to 0.6 meters (0.59 to 2.0 feet) over the next 100 years. The IPCC based this prediction primarily on how much the ocean waters are expected to warm and expand.
The panel also factored in the ice melting from Greenland and Antarctica based on how much these bodies have melted in recent years—from 1993 to 2003. But the estimates do not account for any changes in the speed of the weakened ice that flows from the glaciers into the ocean—either from melting ice or iceberg break-off, which may happen in the future. The IPCC acknowledged the limitations of their projections and said that sea level rise could be higher if the ice sheets break down more rapidly.
The IPCC did not include changes in ice flow because these types of changes are not very well understood. However, a study published this year in the journal Science attempts to set an upper limit on sea level rise by 2100.
"We have estimated limits on sea level rise during the next century by considering simple constraints on glacier and ice sheet motion," says Joel Harper, an author of this study and a glacier expert at the University of Montana in Missoula. "Our work suggests that a 0.8-meter [2.6 feet] sea level rise is plausible, two-meter [6.5 feet] is only possible under extreme conditions, and more than two-meter is unlikely," he says.
To make their calculations, the researchers took into account the rate of ice flow from Greenland, Antarctica, and glaciers and ice caps from other parts of the world. They took current values of glacial ice-flow speeds and adjusted the values based on changes that they think could reasonably occur in the future, such as accelerated ice flow from certain glaciers. They then used these modified values to come up with low, medium and high estimates of future sea-level rise.
The researchers also determined that Greenland's glaciers—specifically, the ones with outlets under water—would have to move about 40 times faster than they do now to achieve a rise of two meters over the next 100 years. And this increased ice-flow speed would need to start immediately and continue for the rest of the 21st century.
"Even by assuming vastly accelerated rates of discharge, the glaciers can't surge fast enough to meet the required sea-level rise targets [of two to five meters] within a hundred years," says Vivien Gornitz, a geologist at Columbia University, who was not involved in this study.
While this new sea-level rise estimate is much lower than Gore's 20-foot prediction, it is still significant.
"An enormous number of people live within one meter of sea level. It is something like 145 million people," says glacier expert Harper. "Most of these are in third world Asia where they have few resources to adapt to change. Even in the US, the costs will be enormous," he adds.
The researchers think that knowing how high sea levels may rise will let countries gauge how much they need to spend on new infrastructure, such as levees, to prepare for changes to their coastlines.
Harper hopes that further research will lead to more precise estimates. "Learning more about the physics which govern glacier dynamics will be a big step," he says.
Related on Scienceline:

One meter or two?—Ask an ice shelf
Will dumping iron into the ocean slow down global warming?
Oceans in trouble: garbage, overfishing and acidification (oh my!)
About the Author
Discussion