Health
Doctor's Orders: Play Video Games
The Wii gaming system goes beyond playtime as a rehab tool for all ages.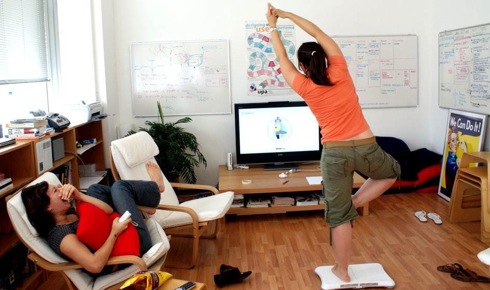 This customer practices a yoga pose using Wii Fit. Researchers say the gaming system could provide a new
kind of physical therapy for patients suffering from neurodegenerative diseases. [Credit: enfad, flickr.com].
In the past few months, Ben Herz bought 19 Nintendo Wii gaming systems. And no, he's not a video game addict. He's an occupational therapist at the Medical College of Georgia in Augusta, and one of a growing number of practitioners who have been toying with Wii as a tool for physical therapy.
Herz's research team used this system along with more traditional rehabilitation methods in a group of 30 patients with Parkinson's disease and found that it helped slow the progression of this debilitating disorder that affects an individual's ability to walk, speak and maintain balance.
"The clinical ramifications have been fantastic," Herz says. For example, a patient who could climb only one stair before stopping to rest can now conquer 24 in a row. And another individual who couldn't walk started dancing over the course of the eight-week treatment program.
Wii, and its offshoot Wii Fit, demand a lot of motion from players. Rather than responding to hand-held controller cues from a gamer sprawled on the couch, Wii games mimic a player's movements and display them on the screen. Wii Fit can track their progress on tests of endurance and balance over multiple sessions. And the Wii Fit balance board can improve coordination using exercises such as yoga stretches. Patients in Herz's study practiced boxing, golf and even cooking skills like cracking eggs with Wii's remote.
These qualities, Herz says, make Wii an ideal treatment option for his patients. Parkinson's causes certain neurons in the brain to die off or stop functioning. These neurons release the hormone dopamine, which coordinates muscle control. In patients with Parkinson's, muscle control and balance deteriorate over time as the disease advances. Although some drugs can treat the symptoms of Parkinson's, none have been able to halt its progression. The physical exertion involved in playing Wii, however, taps into the dopamine system and ameliorates the effect of the disease on the patients' neurons. "Exercise increases dopamine. That's what they're missing," Herz says.
Herz is optimistic that Wii can provide therapeutic benefits to patients with various debilitating conditions. Physical and occupational therapists work to rehabilitate patients with injuries from accidents, along with those with chronic illness. Wii could help both. Herz suggests it could be useful for individuals suffering from brain injury, stroke or orthopedic problems.
In Herz's study, patients still received traditional therapy in addition to their Wii sessions. These established strategies in occupational therapy incorporate often creative approaches to basic daily tasks, such as art projects that improve mental sharpness and physical dexterity. Wii helps to get the patients moving.
The video game system's emphasis on movement inspired another researcher to experiment with Wii. Judith Deutsch, a physical therapist and associate professor at the University of Medicine and Dentistry of New Jersey in Newark, led a case study that implemented this technology. Her team tested Wii with a single 13-year-old suffering from cerebral palsy, another condition that impedes the brain's ability to control movement. Deutsch wanted to determine if Wii could be used in occupational therapy, and indeed the teenager improved on tests of balance and visual perception. Over the course of 11 training sessions, he advanced from being able to walk 15 feet with crutches to 150. Deutsch's team has since started working on a study using Wii with a larger sample of stroke victims to get a broader picture of the game system's effectiveness than one subject can provide.
Despite limited published data on Wii's therapeutic success, Deutsch is optimistic. "The technology now offers us more options from a rehab standpoint," she says. "What I hope will happen is that we'll actually be able to figure out for what subset of patients this is useful."
One group to consider may be those who tend to relish video games: kids. Thomas Drake works at the Children's Seashore House of Children's Hospital of Philadelphia to help children regain muscle function after illness or surgery. He uses Wii to track some of his patients' progress as part of a mix of treatments to motivate these kids to become more involved in their recovery. "I don't know that there is objective proof that it is any better than traditional rehab," he says. "But certainly it's engaging; it's excellent to augment a traditional program." Still, he emphasizes, "there have been different [non-traditional] strategies like this for a long time. It doesn't necessarily beat regular therapy."
According to the researchers using Wii, the financial investment of purchasing one for rehab facilities or the home is relatively small on the scale of treatment costs. The system usually runs at around $250. Insurance companies will reimburse the treatment once it is shown to be a viable tool that contributes to a patient's recovery, Herz says.
Nor are Herz and Deutsch proclaiming Wii to be the sliced bread of physical and occupational therapy. First, they must convince the rehab community that a video game system can legitimately be used to treat patients, especially when there is a lack of quantifiable evidence that it succeeds. "People are going to see that it works," Herz says. "But I don't know if it's going to be completely accepted."
Another fundamental problem is that Nintendo did not design Wii with therapy in mind. For example, "some of [its] scoring systems are not that helpful for patients," Deutsch says. She covers scores on the screen so low marks don't discourage users. "What I'd like to see is … [physical therapists] at some point work with companies who develop this kind of technology."
Despite these drawbacks, it's far from game over for Wii as a therapy tool. Wii does have a leg up over traditional therapy methods in one respect. "It's fun," Herz says. "My mother made me go out and buy her a Wii." Make that 20.
Related on Scienceline:
How do motion-sensing video game controllers work?
Can a video game help you win a Nobel Prize?
Does playing violent video games really lead to violent behavior?
About the Author
Discussion