Life Science
DNA, Determination and a Dose of Fun
For researcher Jermel Watkins, forensic science plus high-schoolers and hands-on teaching is the formula for success.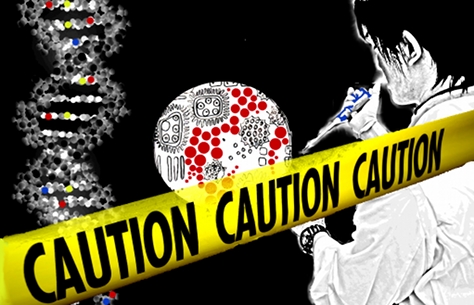 DNA CSI. Jermel Watkins teaches high school biology students about DNA through a crime scene
investigation style class at the Harlem DNA lab. [Credit: ynse, A Hermida, Eugene Zemlyanskiy and
Elizabeth Kane, flickr.com. Compiled by Shelley DuBois.]

Jermel Watkins is in charge of this class, but not because he's reciting a dry lecture or writing equations on a blackboard. Loud and large, Watkins patrols the room, passing out cups of salt water. And talking about waffles.
"You're going to take this stuff in your cup, put it in your mouth, and swish it around for 30 seconds," directs Watkins, 30, a biology instructor at the Harlem DNA Lab. Part of Cold Spring Harbor Laboratory's educational outreach program, the Harlem DNA Lab is a research facility aimed at New York City's public school students, who visit the lab with their middle- or high-school biology classes.
"Now spit it out," says Watkins. "Everything goes back in the cup. Whatever's left over from your breakfast – for me it was waffles – that goes in too."
Watkins and the students, a group of eight high-schoolers from Midtown Manhattan, are swishing with saline solution to collect their cheek cells. Later, in a CSI-like experiment, they will analyze DNA from the cells to get a glimpse of their own genetic fingerprints.
At first, the scientific methods seem foreign and awkward to the students: dropped pipettes clank against countertops, and unsure expressions wrinkle students' foreheads. But Watkins' clear, simple instructions, peppered with anecdotes tailored to the class, ensure the experiment flows smoothly. Explaining the perils of sample contamination, for example, he points to a girl who told the class she wants to become a forensic scientist: "This is important for you, because you might not be able to get very much DNA from the crime scene. You have to make sure that what you do get isn't mixed in with your own DNA."
Watkins, who holds a doctorate in pharmacology and is a stem-cell researcher at the world-renowned Cold Spring Harbor Laboratory on Long Island, NY, is as familiar with the intricacies of DNA as he is with those of teaching. After he graduated from Central Islip High School in 1994, Watkins worked with his father, a science teacher, to start a science research program at the school.
"I don't know if he chose this path, or if it was something that chose him," says his father, Jerry Watkins. "He loves the benchwork," he adds, a skill that became apparent as Watkins and his father taught summer research labs together. "Jermel was the guy behind the scenes, the one putting together all the chemicals and everything else for the labs."
Watkins was drawn to medicine and scientific research early in his life, when his mother became ill, explains his father. "He really decided he wanted to help find cures for people."
Watkins' desire to teach solidified throughout college and graduate school at Stony Brook University on Long Island, where he studied pharmacology. Yet he still desired a career as a research scientist.
"What the [Harlem DNA] Lab allows me to do is to have a buffer between the two," says Watkins. "The people to reach are high school kids. They're the ones that are going to make the decision to go to college to pursue a career in science." He adds, "I'd love to see more of them doing that."
Watkins thrives on the challenges that come with scientific research, and he tries to share his determination with the students. "When I have a research problem, I've got to find an answer," he says. "I try to show the students that they have to be able to – no matter what is happening – say, 'OK, I failed, but that's not necessarily a bad thing.'"
Watkins' determination is apparent to those who have worked with him. Daniel Bogenhagen, Watkins' doctorate advisor at Stony Brook, notes that Watkins' disciplined approach is reflected in all his pursuits, including "the fact that he persevered to obtain a Ph.D. and is also a fifth-degree black belt who works as a karate instructor." Watkins has also written two books on martial arts, according to his father.
Watkins brings that disciplined approach to the Harlem DNA Lab. "I've never seen them so focused for so long," says Petula Hanley, the students' science teacher. She adds that the analogies Watkins uses – like explaining that the saline solution they swished in their mouths is "like the stuff in an IV drip at a hospital" – help the students relate to the science they are learning.
The students agree. Jason, an eleventh-grader, says the DNA-fingerprinting experiment reminds him of the murder mysteries he's seen on TV shows like 48 Hours. "People lie all the time," Jason says. "This seems like…a good way to figure out who's telling the truth."
Regardless of whether he pursues a career in solving crime, though, Jason predicts Watkins' DNA lesson will stick with him. "I'll definitely remember him," says Jason. "At least every time I eat waffles."

Related on Scienceline:
Learning gets a green face.
Brain science offers clues about teen crime.
About the Author
Discussion