Life Science
Teeth Timing
Cycles of enamel growth on teeth and bone vary animal to animal.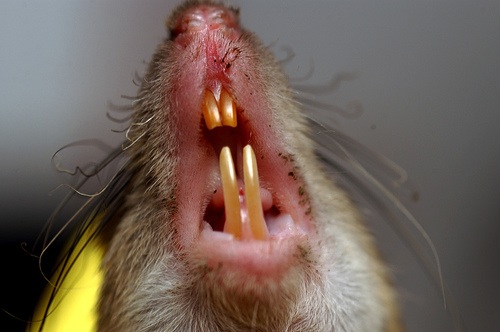 Studying teeth enamel from different animals could help a researcher at NYU understand what controls the growth of teeth and bones. [Credit: The International Rice Research Institute, flickr.com]
Bones and teeth. These are the only two places in a mammal's body that contain enamel. However, scientists have been puzzled for years about how the two separate sites coordinate the growth of new enamel cells.
According to new research, an area in your brain called the hypothalamus may be responsible. The study proposes that the brain has a time-keeping mechanism that synchronizes the enamel growth in bones and teeth when it's time to make more of these cells. The idea of biological rhythms is not new; circadian rhythms, for example, have been well established. The new research proposes that enamel grows in waves that occur over a period of up to several days, depending on the animal, and correlate to an organisms' pace of life — offering more clues about the brain's role during development.
"This has opened up a whole new field of research that was completely unexpected," said Timothy Bromage, a paleontologist at New York University.
Most people know enamel as the visible, mineralized tissue on the outside of teeth. Mammalian tooth enamel grows in waves, which, under a microscope, look like tree rings. The waves, known as the "Striae of Retzius," appear to grow in a regular pulse, between one day and eight days, depending on the size of the mammal. Like tree rings, a line marking a new layer of growth can be seen after each pulse. However, growth in most areas of the body operates on a daily clock.
"Cells wake up in the morning, make their daily amount of tissue and then go back to sleep," said B. Holly Smith, a paleontologist at the University of Michigan in Ann Arbor.
Curiously, bones grow in almost the same way as teeth. Bone enamel is made up of layers called lamella that also grow in regular pulses. But even though bones and teeth have the same enamel and grow in similar ways, no one has ever thought about why they are so similar or investigated the biochemical mechanisms involved in their growth.
Most people in the bone or teeth field haven't bothered to look for a connection, said Bromage, and just use the incremental growth pattern to date fossils. By studying the tusks on elephants, for example, scientists can glean all sorts of data about the major events that occur during these animals' lives, like when females gave birth to calves. This is because the growth pulses speed up or slow down depending on how stressed the animal is; the microscopic layers appear close when the animal is under stress and farther apart when it is not. Scientists have used the growth waves in teeth and bone for decades, but only as a tool for learning about how animals lived. Bromage is the first to try to understand why different sized animals have pulses of different lengths.
Bromage decided to compare the different wave pulses in animals big and small to see if he could learn anything about bone development. He compared the length of pulses to the animal's body size and found a correlation between how big an animal is and how fast its enamel grows. Small rodents, for example, have growth waves for their teeth and bone that last only one day. Larger mammals, like primates, have growth pulses that last between two and six days.
"That's when the bells were really ringing," Bromage said of his Eureka! moment.
He then looked at the pulses and found that they are also strongly correlated with bone density. The bigger the animal is, the less dense the bones, and the longer the growth pulse. According to Smith at the University of Michigan, larger animals have less dense bones because of the simple fact that they are large, and dense bones would make it difficult to move.
No one noticed this correlation before, said Bromage, because most animal research is conducted in small rodents. These rodents have pulses that last only one day, so scientists wouldn't have been able to observe such short pulses and their corresponding tightly-packed growth rings in teeth and bone. The longer pulses of primates, on the other hand, are easily counted under the microscope. Research on their enamel is limited, though, and despite the correlation, Bromage still isn't sure what controls the two.
But he has an idea: The hypothalamus is already known to regulate bone growth, so Bromage reasons that it must also be controlling the developmental rhythm. For example, every eight days in humans it signals for another round of bone growth to begin.
Right now, the idea of the hypothalamus controlling enamel growth is simply a hypothesis, and Bromage is a paleontologist, not a biochemist, so his theory of a long-term rhythm in biology still needs further analysis.
But Bromage is excited because now scientists are focusing on a previously ignored area in the field of bone and tooth development.
"Now we have a new book to open," said Bromage.
Related on Scienceline:
Healing the bones of professional athletes.
Scientists use teeth to trace man's evolution.
The body's clock could give clues to cancer.
About the Author
Discussion