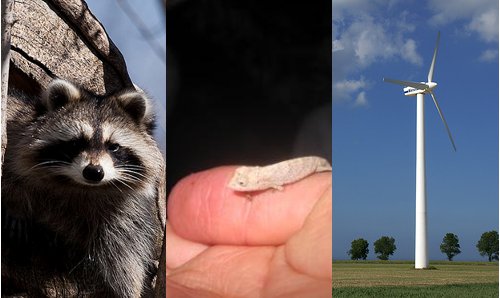 [Image Credit from left to right: liza31137 via Flickr, Taylor Kubota, freefotouk via Flickr]
From Taylor Kubota:
The house I grew up in features a maze of dog doors that were meant to be used by our various pets. Unfortunately, other animals decided these were an open invitation to our food and even our beds. The most prolific trespassers were, of course, the raccoons. Grist profiles these mischief-making masked bandits and their adaptations to city life.
This week, Wired featured a very cool slide show of rare books they viewed at the San Francisco Antiquarian Book, Print and Paper Fair. The ornate drawings of human anatomy, birds and bugs featured in these beautiful tomes could tempt any Kindle addict to head back to the bookstore.
As a lifelong stargazer and night sky enthusiast, I have a soft spot for John Glenn. This week, many different news outlets celebrated the 50th anniversary of Mr. Glenn's orbit around our world (three times). Not only that, but some people – including David Dobbs from Wired.com – reminded us just how cool Glenn was, even after watching fire balls zoom past his window on re-entry.
---
From Ashley Taylor:
This New York Times article about the Y chromosome, is Nicholas Wade's great lesson in metaphor. It helps answer "life's persistent questions"  about what distinguishes men and women.
This Slate article tells the story of a Eugene Hoskins, a man who lived a hundred years ago and whose peculiarities now look like signs of autism. I like the juxtaposition of Smith's biography with his psychological profile. Jesse Bering reminds us that science cannot be isolated from other aspects of life. Reductionist approaches are essential for science, but real life, as this article shows, is more complicated.
A chameleon that fits on your finger! A short sentence for a spot article about a tiny animal. Sindya Bhanoo's article highlighting the diversity of species in Madagascar recalls the 1998 Harper's article by David Quammen about how quickly that diversity is disappearing.
About the Author
Discussion