Life Science
The skin we're in
Skin color, it turns out, is little more than adaptation in action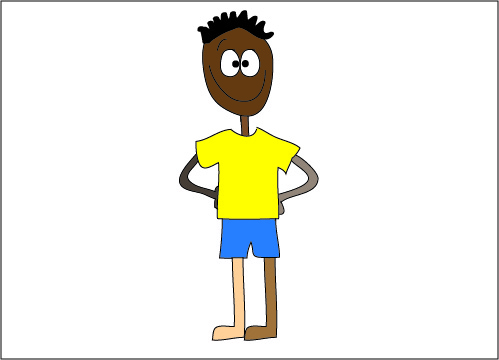 After all, it's only skin... [Image credit: Emma Bryce]
So here's a thought: How did different skin colors evolve? Evolutionary biologist Nina Jablonski wrote the most widely accepted theory in 2000, saying that it comes down to a practical combination of three things: skin, ultraviolet light and vitamins.

It started with skin…
The story begins in Africa, about two million years ago, when early members of the genus Homo began moving from the cool cover of forests onto sunnier open plains to find food. These early humans were densely covered in hair, which increased their body temperatures and made them slower hunters.
Thanks to genetic variation, some were born with less hair. Since those less-hairy hominids had a survival advantage, natural selection kicked in over thousands of generations, and body hair gave way to bare skin populated by sweat glands. These became the body's escape route for heat and created a further evolutionary advantage for these humans by making them more effective hunters and therefore, more attractive mates.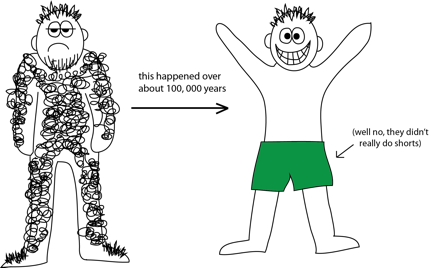 UV and vitamins
Moving to a sunnier environment meant greater exposure to ultraviolet light (UV) from the sun. UV breaks down folate, a vitamin that is vital for healthy pregnancies.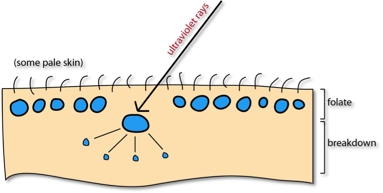 "When you don't have hair, you have to figure out other ways to protect the skin," explains Jablonski. This was especially important in the African tropics, where ultraviolet, carried in sunlight, hits the equator full-force.
Natural sunscreen
But just as some early humans got lucky by having less hair, some were also born with better protection from UV. Melanin is an ingredient in the skin that acts like a natural sunscreen, shielding folate from the harmful effects of UV light. The amount of melanin in skin determines its pigmentation: more of it makes darker brown skin, while less melanin makes paler skin. Those of our ancestors lucky enough to have more melanin were at a reproductive advantage, allowing them to spread the genes that encourage the production of darker skin.

But wait, there's more
We know that our ancestors started moving out of Africa about 80 000 years ago. "They didn't have a travel plan," says Jablonski, "they were just going where the resources went." They migrated north and south of the equator, where light hits the earth at increasingly slanted angles, resulting in weaker UV light. While this low angle made UV less damaging to folate, it also reduced bodily concentrations of Vitamin D, the "sunshine vitamin."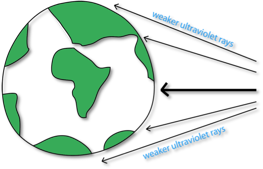 Vitamin D is made naturally in the body when UV in sunlight hits the skin. Just like folate, it is vital for reproduction. But because humans had developed higher melanin levels to protect them from the tropical sun, they left Africa with a powerful melanin buffer that dangerously shut out the delivery of Vitamin D-producing UV.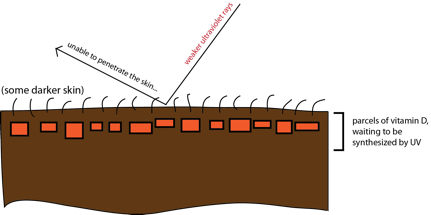 The spread of color
However, those born with less melanin (and lighter skin) could still produce Vitamin D in environments with less sunlight. Having less melanin was also safe at higher latitudes, because UV there is not strong enough to damage folate. So, once again, natural selection took over: The genetically lucky grew stronger, spreading their light-skinned genes. Wherever direct sunlight was scarce, populations became paler — something Jablonski calls genetic "fine-tuning." She explains: "We think that the transition was actually fairly short", maybe 5,000 years — which is quick in evolutionary terms. The serious health impacts of having darker skin in high latitudes created a powerful evolutionary pressure that sped up the change.

But does it make sense?
Why then are there indigenous darker-skinned populations in less sunny parts of the world — for example, the Inuit in northern Canada? The answer appears to be that their diets are so loaded with Vitamin D-rich seafood that they get a surplus of the vitamin, making lighter skin unnecessary. This made adaptation equally unnecessary, and so in these populations, it stopped the evolution of skin color in its tracks.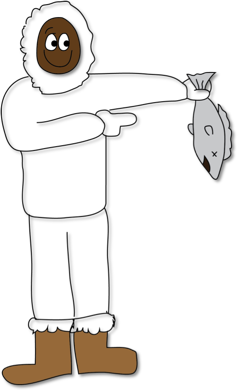 What we have learned
The links between ultraviolet light and vitamins are an evolutionary balancing act, the consequences of which are so clear that there are maps showing how skin color varies with distance from the equator, creating a sepia rainbow.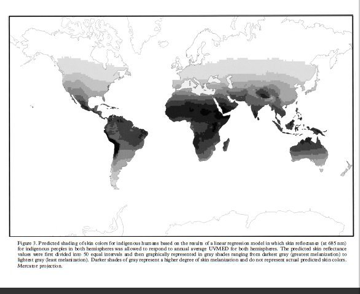 Why should we care about skin color? For at least two reasons. The first is that the evolution of skin pigmentation shows the importance of vitamin health. More importantly, understanding the real causes of skin color variation is a powerful way to challenge some deeply entrenched — and false — ideas about race and the acceptability of racial discrimination.
Jablonski's work shows that skin color, an attribute that has been at the center of so much conflict and suffering in human history, really is just skin deep. Our skin might make us look distinct on the outside, but it obscures a simple truth: Race is in fact nothing more than an environmental adaptation. It all boils down to sunlight and vitamins in the end.
About the Author
Discussion