Physical Science Blog
Getting out the vote in space
Astronauts have voted from space since 1997, but Sunita Williams and Kevin Ford didn't yesterday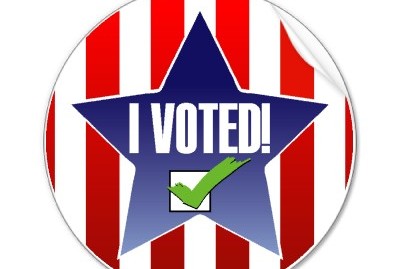 It's the ultimate absentee ballot? A vote from space [Image Credit: Don Berquist]
While Americans lined up outside polling stations on Tuesday, two Americans had the opportunity to vote from space – but didn't.
Aware that they would not be in the country on Election Day, Sunita Williams and Kevin Ford, astronauts on board the International Space Station (ISS), instead cast absentee ballots before boarding the Soyuz spacecraft in Russia.
Astronaut voting blasted off in the late 1990s after NASA astronaut John Blaha missed his opportunity to vote in the 1996 presidential election. Blaha left Earth for a four-month mission to the Mir space station in September of 1996, missing the election. Although he was a registered voter, he couldn't file an absentee ballot because the law at the time said that absentee ballots had to be sent in by U.S. mail. Obviously, that was impossible as he was not on the planet.

In response, Texas legislatures drafted a bill mandating that astronauts be given a way to vote, and the then-Governor, George W. Bush, signed it into law in 1997. Within a year after Blaha returned from the Mir station, a system for voting had been set up for astronauts, and David Wolf used it to vote during Houston's elections for mayor and city council members. Since then, five other NASA astronauts have cast votes from space.
The electronic system used by astronauts is simple. Mission control at the Johnson Space Center in Houston beams up an electronic email ballot that astronauts fill out and send back. This ballot is then securely sent to voting authorities.
The last two astronauts to vote from the ISS—Michael Fincke and Gregory Chamitoff—were in orbit during the 2008 presidential election.
Interestingly, Russian astronauts have never had trouble voting, even without an electronic ballot system. Although they do not have an electronic system, their votes are conveyed to a proxy who then casts the ballot on their behalf.
About the Author
Discussion