Environment
Click by scroll, gonna make this garden grow
Organic gardener and blogger Frank Meuschke cultivates crops online.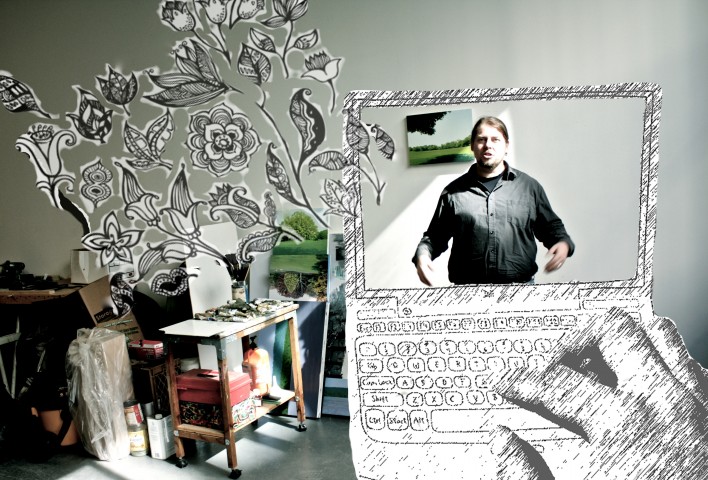 Altered photo illustration of Frank Meuschke in his sunlit Brooklyn studio. [Image credit and design: Becca Cudmore]
The sun has officially crossed the celestial equator, spring is here, and some of us are getting green thumbs. Even for New Yorkers living within the limits of 600 square feet, it's possible to do a bit of gardening.
To get started: Step inside, sit down and open your laptop.
Google search: "New York City Garden". And you're set — you're in Frank Meuschke's green corner of the blogosphere.
"Sunlight is the source," he informs city dwellers, suggesting they try herbs in their apartment windows. "If you have six hours of sunlight you can do basil." But if you're living in shade — perhaps in a north-facing unit — greens are your best bet.
New York City Garden is now seven years old and called one of the "Best New York Gardening Blogs" by Apartment Therapy and All Women Stalk, both city-centric websites. The blog evolved from a piecemeal scrapbook of photos and hand-cut blurbs Meuschke cribbed from Organic Gardening magazine. The scrapbook-turned-blog advises New Yorkers on such topics as how to prune your aster, make wholesome compost and grow garlic.
"Frank can pursue a subject down to its tiniest chemical detail," says fellow garden blogger Marie Viljoen. "He plants his crops in the same way, with acute attention to soil quality, seed type or garlic strain."
Meuschke, 44, spends most of his days at the New York Institute of Technology, running a model-building shop and teaching drawing to architecture students. He also finds time to paint landscapes inside his studio in Sunset Park, Brooklyn. But what Meuschke loves most is horticulture. He picked up gardening basics from his dad, whom he describes as a not very accomplished gardener with a loose wrist when it came to pesticide dusting.
The first in his family to graduate college, Meuschke outgrew his dad's chemical-sprinkling habits upon moving from the suburbs to the city in the late '80s. He eschews pesticides even for the rampant Colorado potato beetles that, come springtime, "march across the lawn and go right for the potatoes." Instead, Meuschke shakes the plants, the beetles fall to the ground and he picks them up — one by one — dropping them into a cup of soapy water. If not for his extraction, he says, the beetles would devour the tubers' energy-converting leaves. "And then you're left with small potatoes."
Meuschke's riding a growing wave of big-city horticulture, and it's not just in New York. "There's a renewed interest in urban gardening, farming and local food production," says Nina Bassuk, a professor of horticulture at Cornell University. "And that's a national trend."
The benefits of green space have never been more tangible, she says. In 2006, a well-known study identified a positive relationship between city greenery and human health. The Dutch researchers showed that green space is more than a luxury: "It makes the city livable," says Bassuk. Another benefit is that gardens and parkland help drain storm water — getting rain back into the ground rather than letting it run off the asphalt and into storm drains. And now, most people also know that growing and buying produce close to home reduces emissions of carbon dioxide linked to climate change.
Bit by bit, New York City Garden's page views have increased, too, fluctuating with the sun and the seasons. Its highest hitting month was last April, when it topped at more than 17,500 page views. "Not high by web standards," says Meuschke. "But not shameful either." His most popular page continuously is his weed atlas: "Our Weeds." The atlas includes bios and photos he's taken of weeds throughout the city's yards, sidewalk cracks, parks and piers. New York City's weeds, he writes, are common to most of eastern North America, expanding the relevance and breadth of the atlas.
Meuschke's first New York City garden was a humble one: Tomato plants atop a Williamsburg apartment building in the '90s. He recommends tomatoes as a low-maintenance crop for beginning urban gardeners. Rooftop gardens don't need to be pretty, he says. "You can grow in almost anything." Many people use plastic pots and buckets. Burlap sacks provide great drainage or, with a few wood scraps, you can screw together a planter, too.
First and foremost, says Meuschke, it's important to supply your plants with the correct range of nutrients. He doesn't recommend creating soil from scratch your first time. But the ambitious can start with a little compost, some Pearlite (the white fluffy volcanic pebbles in bagged soil) and coconut fibers. You can get away with packing peanuts, too. "The roots will go right down through it."
Meuschke's landlord made him deconstruct his debut rooftop plot in Williamsburg. "Landlords, they're always the same," he says, dismissing them as cost-obsessed. Nonetheless, he has a landlord to thank for his current plot in Kensington, Brooklyn.
In 2004, Meuschke's landowner was storing old, noxious telephone poles next to his Brooklyn home. "That was our landscape," says Meuschke. One day the landlord removed the poles from the side of the front stoop and agreed to let Meuschke garden the open space — as long as it wouldn't mean extra work for the landlord. "That's the kind of thing a landlord would say," Meuschke says with a smile. "The gardener would say, 'Why would I want you to take care of it? It's my garden!' "
Meuschke began digging. He spent all day tilling and filling the plot, a rare sight in the middle of Brooklyn. The soil there, he's sure, was poisoned in every way possible. There were layers of plastic that feral cats mistook as a litter box and broken glass from kids who once sat on the stoop aiming empty beer bottles at the house. He made his own soil to fill the unearthed plot and remembers what he first planted within it: Tulips. Pushing down the bulbs, crouched on both knees, Meuschke recalls hearing a neighbor's Russian-accented mumble from behind: "Too much effort."
Many of Meuschke's neighbors have concrete front yards and are perplexed by the time and effort he spends with his flowers. For him, though, it's about the learning process. What someone cares about defines the type of gardener they become, he says. So, if you're concerned most with how the world sees you, perhaps you maintain an irrigated front lawn. But manicured grass, to Meuschke, is more about showing off than learning anything. He draws parallels to another human status symbol: "You can have a dog or you can take your dog to dog shows, you know?"
A garden, he believes, is much more than the sum of its parts. When you decide to cultivate a plot, you begin meddling within a lattice of opposing life forces. Cats will relieve themselves on the blossoming English cucumbers, and swallowtail caterpillars will chomp off your carrot tops. Meuschke's learned that "everything wants what it wants," and a gardener's desire for red and ripe produce never takes precedence over an ant's craving for fructose.
Meuschke still spends the weekend gardening. His side yard is both "wild and wonderful, not manicured, but has structure within the looseness," says fellow blogger Viljoen. For food production, he and his wife Betsy participate in a community garden in Fort Tilden on the Rockaway Peninsula, tilling to the slow beat of ocean waves. And though he says community garden plots fill up fast around the city, he urges New Yorkers to sign up for one if they can. To Meuschke, "there's some information tucked away in there," lessons to be learned through the gardening process that can't be obtained from city concrete and asphalt alone.
About the Author
Discussion