Environment
Asian Carp: They just keep swimming
Two species of Asian carp are pushing toward the Great Lakes, leaving researchers scrambling to hold the invasive species back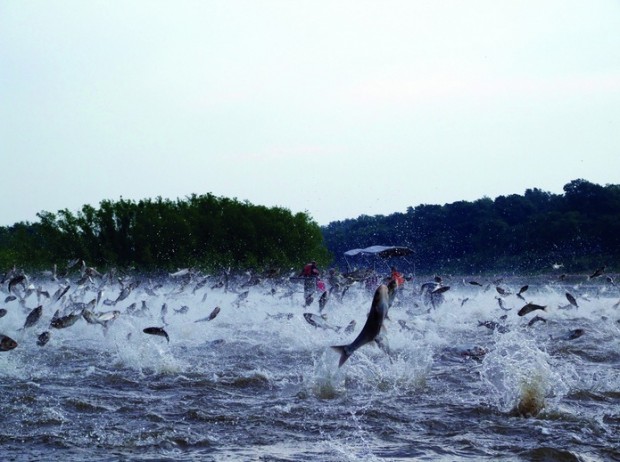 Spooked. Silver Carp can leap up to eight feet out of the water in response to loud noises. [Image credit: Wikimedia Commons]
Once upon a time, Asian carp were a solution, not a problem. Voracious filter feeders, the fish happily gobbled up poop, and so were introduced into sewage-treatment plants in the American South to clean retention ponds. It seemed like a fine idea until flooding at an Arkansas hatchery provided the perfect opportunity for a great escape. The fish made their way into the Mississippi, Missouri and Illinois River systems, crowding out native fish wherever they went. And now the carp has really hit the fan — they're nearing the largest group of freshwater lakes on the planet, and no one is sure how to stop them.
The Great Lakes support a $7 billion dollar fishing industry now under direct threat from the carp, which eat too much, reproduce too quickly, grow too fast and live too long — up to 25 years. Experts sketch a nightmare scenario in which the carp could eventually eliminate most other fish species from the Great Lakes, which is why a host of agencies and researchers are urgently searching for ways to slow them down. Their ideas range from the conventional (paying bounties to fishermen) to the downright weird (water guns that shoot bubbles), and from the scary (poison particles and electric barriers) to the potentially tasty (eating carp into submission).
Some of those ideas are in a 232-page report released earlier this year by the U.S. Army Corps of Engineers detailing an $18 billion plan to keep out invasive carp, along with 11 other Great Lake threats such as invasive zebra mussels. But that plan would take decades to implement, and no one knows where the money will come from — or whether it will succeed at keeping the carp out.
"This is a big deal," says James Garvey, a fish ecologist and professor at Southern Illinois University in Carbondale. "We've connected watersheds that were not connected before. Now species have a pathway between Lake Michigan and the Mississippi."
Of the four Asian carp species in U.S. waters, only two can be held culpable for ecological destruction. Outside of the retention ponds they were expected to keep clean, bighead carp (Hypophthalmichthys nobilis) and silver carp (Hypophthalmichthys molitrix) are the ones we label invasive, and their all-you-can-eat-buffet mentality leaves little for other organisms to feed on.
Asian carp even present a direct physical threat to humans because of their extraordinary jumping ability. When the fish are spooked by the noise that boat motors make, their knee-jerk reaction is to hurl upward and out of the water. This might not be so bad if it were just one or two fish making the leap, but Asian carp are both individually large — with some growing up to 110 pounds — and they travel in massive groups, and what makes one fish jump will make dozens of others nearby do the same — sometimes bonking nearby boats, and researchers. "They jump into the boat, they break things and now we actually have nets around the boats to keep us from getting hurt," says Duane Chapman, a fish biologist who heads the Asian carp research program at the U.S. Geological Survey (USGS).
To keep track of the number of carp swimming around, the USGS routinely captures a sample of fish from about six different sites along the Mississippi river system. In 1991, the number of silver carp in a single sample increased from one to 102 at a single site.
Native filter feeders such as paddlefish, gizzard shad and big mouth buffalo face major competition for scoring a meal of rotifers and other plankton.
So far, control efforts have focused on a tried and true method: fishermen. At Southern Illinois, Garvey and his team found that using contracted anglers to harvest the carp helped temporarily, but that the fish replenished themselves easily. "Fishing them is technology that is here now; it already exists," he says.
The USGS, meanwhile, is thinking outside the box by trying to develop innovative technologies that could really get under the skin of Asian carp. One project looks at using water guns that shoot air, creating bubbles that cause turbulence, annoying and deterring the fish from moving into a new region — a bubble barrier. Another research group at USGS hopes to design a poison particle that only carp can digest. The poison is mixed in with compounds that can only be broken down by trypsin, an enzyme that is abundant in carp. Both methods are currently being tested in the lab.
"We hope we can develop these tools and switch them over for use on other aquatics," says Cynthia Kolar, a fish biologist and science adviser at USGS. Kolar says that Asian carp have been in American rivers for more than 30 years. "There will be no silver bullet solution," she adds.
One idea that's already being tested is an electric barrier erected more than a decade ago near Chicago. The barrier emits an electrical current that only fish can detect. The bigger the fish are, the more uncomfortable the gradient makes them feel. A key issue with relying on electricity, though, is figuring out what to do if the power ever goes out.  There is also concern that the barrier, designed to keep Asian carp out of the Chicago Sanitary and Ship Canal, allows the fish to get by when ships pass through. Research by the U.S. Army Corp of Engineers also found that large passing ships could cause the electric field to fluctuate.
Garvey thinks that a smart approach to the carp issue would be to give them a predator. That could be fishermen plucking them from the water, perhaps incentivized by tweaking American appetites. "They are an excellent source of protein and to be honest, quite tasty," says Garvey.
In Asia, carp are eaten and enjoyed, despite being bony, which has helped keep populations low. Like Garvey, Chick enjoys the taste of carp but understands that the bones make it a hard sell to Western tastes. "People want their fish in a square patty between two buns. They want to be able to put the whole fish in their mouth in one bite," he says.
Chapman, of the USGS, warns that if the carp population keeps booming, the fish's food resources will inevitably decline, which could make future generations of carp less fleshy — and tasty — than they are now. Part of the solution, he says, is to start eating more carp now.
Food stops, like Dirk's Fish and Gourmet Shop in Chicago, are making small steps toward adjusting American palates to Asian carp by serving the fish as a delightfully seasoned burger. In 2009, the USGS and other agencies posted three-part video series on YouTube, called  "Flying Fish, Great Dish," that focused on preparing carp to eat. Chapman was the chef behind the counter.
Beyond carp burgers and filets, there are other uses for carp such as in fertilizer, fish meal and fish oil. But so far, these markets haven't been tapped, and Chick and Garvey agree that marketing efforts need to improve. What's needed, Chick and other experts say, is an intensified, multipronged plan of attack to prevent a carp breakthrough into the Great Lakes. "Step one will be just keeping them from going anywhere else," he says. "There isn't going to be one simple answer, but it's worth our efforts."
About the Author
Discussion