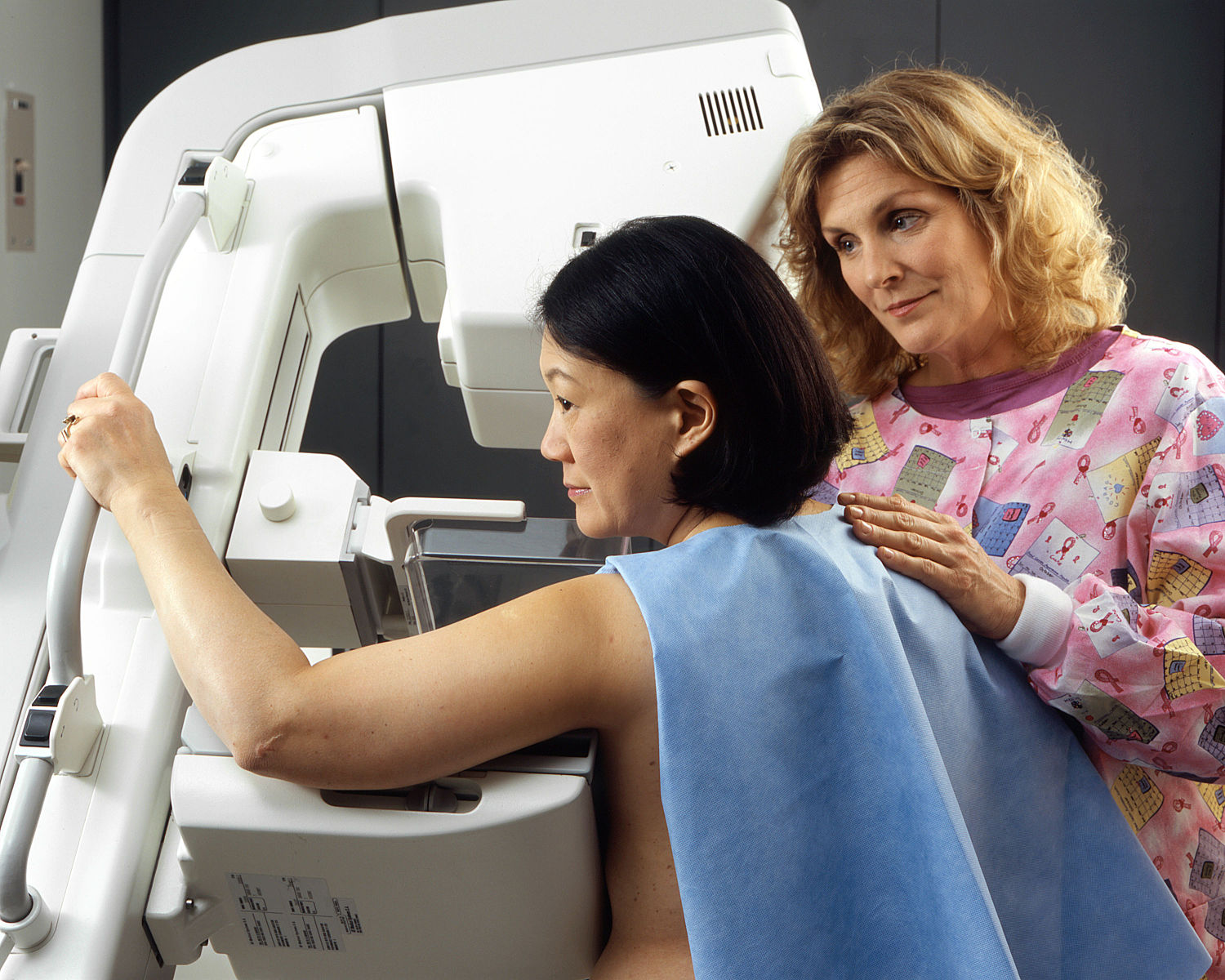 Mammograms can help detect breast cancer. Researchers are now studying how hormones can affect breast cancer development in premenopausal women who have a high risk of the disease. [Image credit: Rhoda Baer, National Cancer Institute, Wikimedia Commons ]
Women with certain genetic mutations that carry a higher risk of breast cancer may feel they have no choice but to undergo a double mastectomy, with all its physical and emotional devastation. But a new study suggests that a different approach could one day provide an alternative treatment.
In the United States, a woman's risk of developing breast cancer over her lifetime is approximately 12 percent. However, for some women, the likelihood is much higher – up to 65 percent by the time they turn 70. These are women who have inherited a mutation in the BRCA1 or BRCA2 genes. Because the risk of disease is so significant for these women, more than one in 10 make the drastic decision to undergo a double mastectomy.
Unsatisfied with the 'all or nothing' choice women have to face, researchers from University College London looked for an alternative way to prevent breast cancer. Their study, published in the October issue of EBioMedicine, observed for the first time how levels of sex hormones change during the menstrual cycle in premenopausal women with a BRCA1 or BRCA2 mutation. Elevated levels of sex hormones, such as progesterone, have been found to increase the risk of breast cancer developing.
While this hormonal link has been well established in post-menopausal women, it's been notoriously difficult to document it in younger women, says pathologist Louis Dubeau of the University of Southern California and one of the study's co-authors.
"Studying premenopausal women is much more complicated because hormone levels change depending on the day of the menstrual cycle," says Dubeau.
Yet studying this premenopausal link is imperative given that younger women are more likely to develop breast cancer than older women.
Researchers collected blood samples from more than 1,000 women, 391 of whom had a BRCA1 or BRCA2 mutation, between 2002 and 2010. They found that throughout the menstrual cycle, women with mutations had unusually low levels of a protein called osteoprotegerin (OPG), which is regulated by progesterone. Previous studies have shown that when OPG is low, there is a subsequent increase in the RANK ligand, a protein known to trigger breast cancer.
"The study is exciting as it suggests that hormones which control the RANK ligand could be involved in tumor development," says Geoff Lindeman, an oncologist at the Walter and Eliza Hall Institute of Medical Research in Melbourne, Australia. "It adds an extra piece to the jigsaw puzzle on whether OPG might be involved in the breast cancer pathway."
Franciso Esteva, an oncologist at the New York University Langone Medical Center, agrees that the results are significant, especially since the study was well designed and a large number of patients were involved. The results justify additional follow-up studies to see if we should target OPG and one day use it to treat women with BRCA1 or BRCA2 mutations, he says.
To translate these findings into actual therapies, researchers like Lindeman are now testing whether a drug called denosumab, which mimics the role of OPG in blocking the RANK ligand, can possibly prevent breast cancer from developing in the first place. Denosumab is currently used to treat osteoporosis and bone loss due to cancer. Lindeman's team in Australia is currently running a small clinical trial to evaluate how denosumab affects breast tissue in high-risk women. The study, involving approximately 40 participants, is very preliminary and it may be a few years before a much larger clinical trial, which would be needed to bring a drug to market, happens.
"The next big step that's missing is a large international prevention study," says Lindeman.
Perhaps then one day, women at a high risk of breast cancer may not have to sacrifice their breasts to save their lives.
About the Author
Discussion