Environment Blog
Dumpster dumplings
Mimi Cheng and Dan Barber are putting trash on your table — in a good way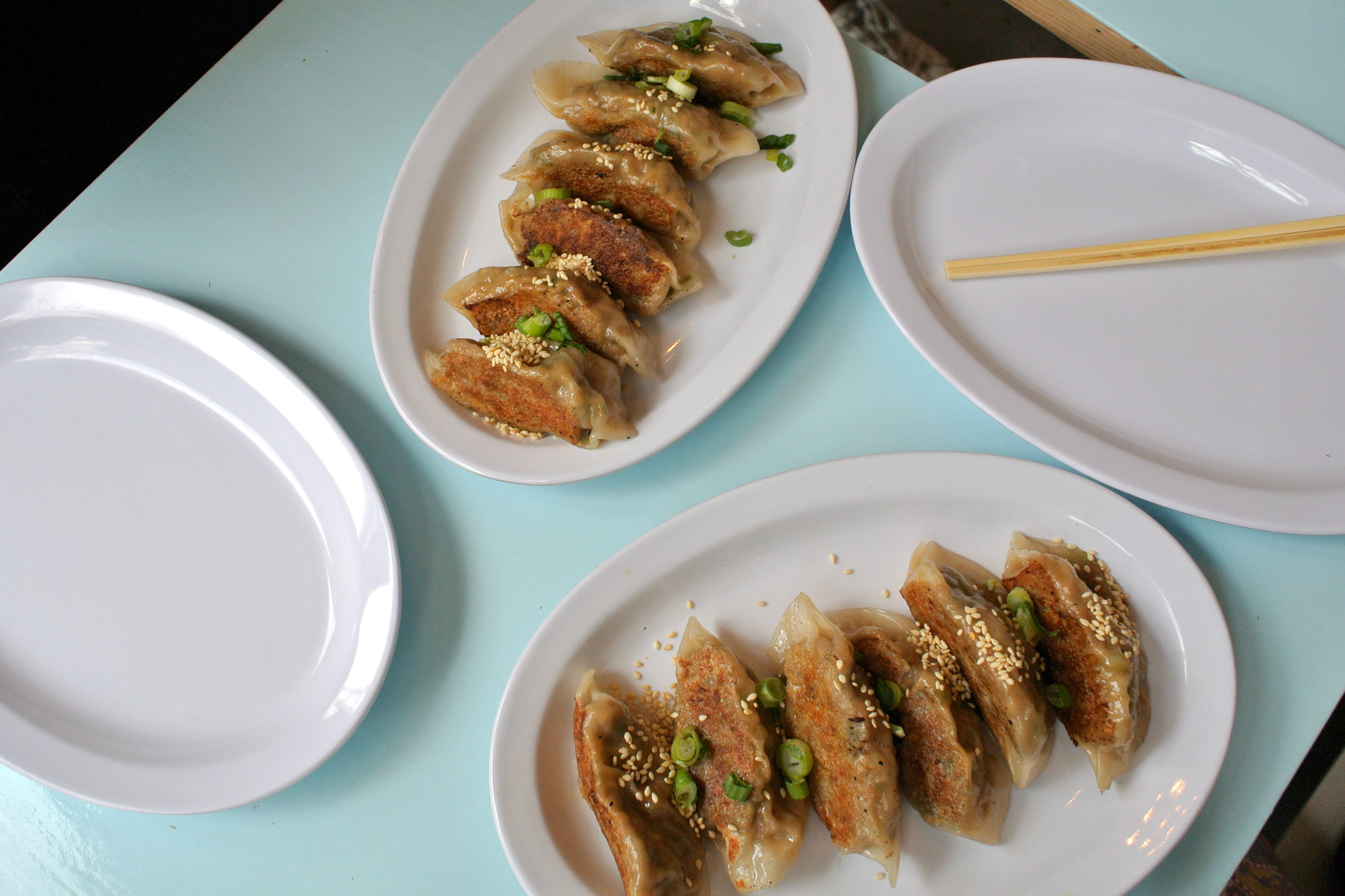 And not a whiff of garbage!
When our food waste dumplings were placed on Mimi Cheng's pale blue tabletops, we were skeptical.
They looked like your classic veggie dumplings – soft folds with crispy patches from the fry oil – but we knew that their insides were filled with stuff that usually ends up in the dumpster.
Though these dumplings were invented by legendary chef Dan Barber, they're made from food that kitchens usually trash: scallion and bok choy ends, kale stems, carrot peels, mushroom water, and some fresher ingredients like sriracha and miso for flavor. "We wanted to make a gourmet dumpling out of the things that we normally throw out at the end of the day," says Ben, our waiter. We dug in and though we could tell we were eating scraps, those scraps were…pretty good.
The vegetables inside were a little bit tougher than those in your average Campbell's soup, revealing their scrappy status. The dough was steamy and comforting, but the contents had a bit of spice and a lot of bitterness. This tension served to snap us out of our late-afternoon fog, but keep us warm when we had to head back out into the February wind.
Our eight dumplings reduced the 133 billion pounds of food American stores and restaurants throw away every year by just a few ounces. Though Mimi Cheng's impact might be small, its efforts are admirable — and necessary. Right now, a third of our total contribution to landfills is organic matter, which equates with a loss of $218 billion a year. Not only could that food be better used to feed hungry people, or be composted into soil that replenishes our parks, but when food decomposes in landfills it releases the greenhouse gas methane, which is a significant contributor to global climate change.
Mimi Cheng's is donating 50 percent of its proceeds from the food waste dumplings to City Harvest, an organization that rescues leftover food from restaurants and distributes it to food pantries, soup kitchens and other community programs. Our hearts were warmed as much as our stomachs.
But they're only serving up the dumplings through the end of February, so take your Valentine, Galentine, and all your Tinder dates here while you still can.
For other organizations around the world also turning food waste into foodie fantasies, check out:
Michelin-starred chef Massimo Bottura started this gourmet soup kitchen at the Expo Milano 2015, an international food exhibition. Bottura and 60 other renowned chefs used only the expo's leftovers to create innovative new dishes and raise awareness of issues of food waste and world hunger. Refettorio Ambrosiano continues as a non-profit in Milan today, operating a soup kitchen with only supermarket excess as ingredients, and working to start new soup kitchens on this same model.
With about a dozen restaurants across the United Kingdom, Europe and Australia, the Real Junk Food Project's Pay As You Feel Cafes have already won their blue ribbons and food waste reduction bona fides. The cafes receive their food from a variety of sources, including "food banks, restaurants, cafes, food photographers, events and functions," according to the website. And instead of paying in cash, eaters can pay in time by volunteering at the same cafe where they just ate.
Food For All, a Boston, Massachusetts-based app
At the end of every business day, restaurants are faced with tons of leftovers, from extra bread baskets to uncooked asparagus. This app, currently in its "incubation" period at Harvard University, allows users to fill up on those leftovers at a discount. The developers hope this will prove to be a sustainable business model that takes otherwise wasted food off restaurateurs' hands and allows people to fill up on a cheap and eco-friendly meal.
Eleanor Cummins contributed to this report. 
About the Author
Discussion