Health
Death with dignity
When end-of-life wishes collide with untenable costs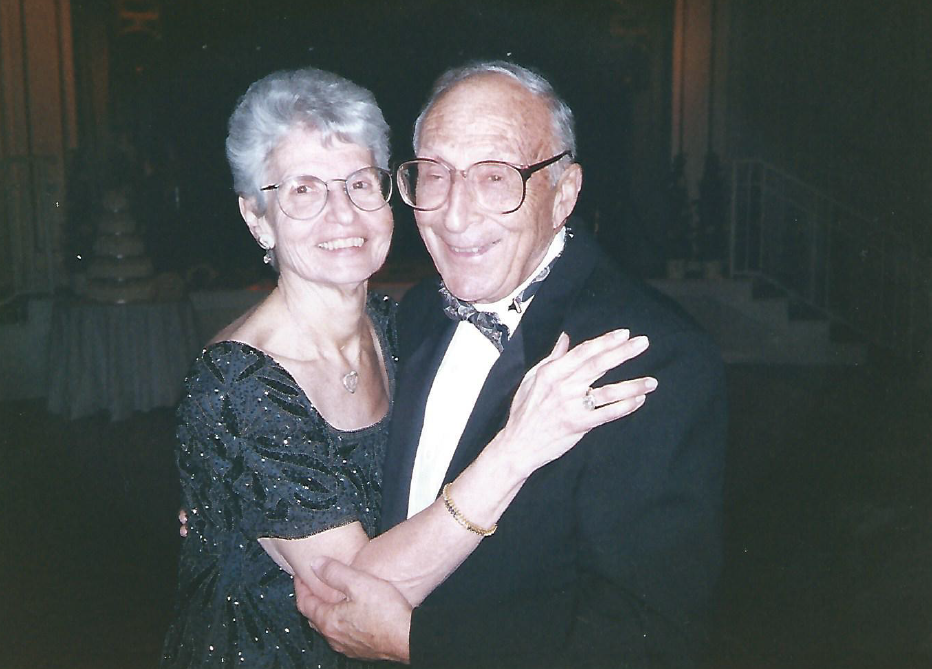 My grandmother and grandfather celebrating their 50th anniversary. [Image credit: Abigail Fagan]
Intellect was the core of my grandmother's identity. Rita loved reading biographies, watching dramas, and traveling to new countries. But about ten years ago, her mind began to deteriorate. Now she cannot read, speak or recognize people — the antithesis of her previous intellectual self.
Then she lost the ability to eat. When a piece of food went down the wrong pipe three years ago, her lungs filled with fluid and the pneumonia that followed brought her and the entire family to the hospital. The doctor suggested we consult a palliative care specialist and let her die peacefully. The alternative was to insert a feeding tube.
Rita had recorded her end-of-life wishes. The document reads, "I feel especially strongly about the following forms of treatment … I do not want tube feeding." But the same document also assigned her health care decisions to my grandfather. And he couldn't let her go. "She doesn't know how great the new technology is," he stressed.
Despite Rita's explicit wishes, she sits on the couch now, her vacant gaze fixed to the TV screen where Mary Poppins plays on repeat. She doesn't comprehend that the vivid world in which Julie Andrews sings and dances is one she used to inhabit too.
For some, innovative devices like Rita's feeding tube are a medical miracle. For others, they prolong a painful and unwanted existence. Even though Rita wanted to die at the natural time, she lost the mental capacity to execute that decision.
When faced with a terminal illness, many mentally competent people recognize the harrowing challenges ahead. These challenges span from loss of autonomy, like my grandmother's case, to physical deterioration and excruciating pain. To allow these patients more freedom in determining their future, six states have legalized physician-assisted dying.
But even that path has hurdles, as the price of the conventional life-ending medication Seconal has ballooned to upwards of $3,000 under pharmaceutical giants prowling for profit. The steep price has driven doctors, mortally-ill patients and health care experts to wrestle with financial inequality at the final moments of life.
"It's an example of inequities in our health care system. People have a right to do something but they don't have a right to get it at a reasonable price," says Dr. Stuart Youngner, a professor of bioethics and psychiatry at Case Western Reserve University.
Washington state legalized physician-assisted dying in 2008, and the price of Seconal has gradually risen from a few hundred dollars to over $3,000, according to a study published in JAMA Oncology. The highest increase was in 2015, when the Canadian pharmaceutical company Valeant Pharmaceuticals acquired the drug and doubled its price from $1,500 to $3,000.
The increase occurred a month after aid-in-dying legislation was introduced in California, potentially expanding Seconal's market. Valeant Pharmaceuticals stated that the price was determined by multiple factors including generic alternatives and development costs. (Although the drug has been available since the 1930s.)
This certainly isn't the first time Valeant has garnered criticism. State and federal agencies have launched multiple investigations into the company's troubling prices and practices. And Valeant isn't the only culprit. In December, the Senate investigated high drug prices, and the constant need for pharmaceutical companies to repay investors created a "business model that harms patients, taxpayers and the U.S. health care system," according to their report.
"What does it mean with yet another instance of pharmaceutical companies seeming to increase the cost of medicines to artificially drive up prices?" asks bioethicist Dr. Robert Arnold, director of the Palliative and Supportive Institute at the University of Pittsburgh Medical Center. "It seems to me that that question isn't unique to this issue. That question has happened an enormous number of times over the last couple years."
"As a society," he continues, "how do we deal with these issues of man-made shortages of medicine?"
A team of doctors in the Northwest grappled with just that question. Doctors at End of Life Washington counsel terminally ill patients and their families about end-of-life options. Some clients couldn't afford Seconal. Others couldn't fathom shelling out thousands of dollars to simply die a peaceful death. So seven doctors got together to create a less expensive life-ending medication.
"We all felt responsible for giving patients another option that would be affordable," says Dr. Therese Law, the medical director of End of Life Choices Washington and a retired physician of 35 years who helped develop the medication.
The team participated in meetings and conference calls over the next few months. They discussed various compounds and dosages that could be used for the lethal mixture. The medication would be prescribed by a physician and obtained at a compounding pharmacy, which dispenses medications whose components and dosages are tailored to the individual patient.
"I think it was a very careful deliberation between pharmacists and prescribing physicians and cardiologists. We talked about various different medications and their effects and their side effects," Law says.
The doctors had to continuously assess the medication. A few family members reported that the first combination led to a painful burning sensation in the person's throat. The second version made some deaths take too long. The doctors are currently gathering data to research a third protocol.
"Their intent I do not challenge, nor do I challenge the patient's desire to have this done. I'm wondering about if their execution of their goals might not be optimal … Is there a better way of approaching the problem?" says Dr. Maurie Markman, the president of Medicine and Science at Cancer Treatment Centers of America.
Part of the problem is that a perfect parallel does not exist. Canada legalized euthanasia last year, in which a doctor uses a lethal injection to hasten a patient's death. In Europe, drugs called barbiturates are often used, but Americans can't purchase them, as the European Union applied sanctions to limit barbiturate exports to the United States in opposition to its death penalty.
Should physicians devote their time to helping patients circumvent pharmaceutical greed? This doesn't seem like the way doctors should spend their time or the way patients should get their healthcare. And Seconal represents a particularly poignant example, since terminally ill patients have often spent an enormous amount of money on medication already.
"In a sense it's ironic, because a lot of the critics of physician-assisted suicide are worried that poor people will be taken advantage of," Younger says. "It looks like in this case poor people will be discriminated out of it, not discriminated into it."
My grandmother is stuck in a manmade medical purgatory, a state she never would have chosen for herself. To some it represents progress, but to me, it's hard to watch. As society continues to propel medicine forward, we need to allow people choice in how they die. And the right to a dignified death should extend to everyone — regardless of how much money is in their wallet.
About the Author
Discussion